Southern Baptist Messianic Fellowship
Annual Meeting Lodging Information
Shalom to all. "The grace of the Adonai Yeshua Ha'Mashiach, and the love of Elohim, and the fellowship of the Ruach HaKodesh, be with you all."
Come join us as we worship together, Jew and Gentile, one Body and one spirit. Please check our SBMF News Pages, on our web site, about this function. There may be changes to the meeting details.
Let us hold fast the profession of our faith without wavering; (for he is faithful that promised;) And let us consider one another to provoke unto love and to good works: Not forsaking the assembling of ourselves together, as the manner of some is; but exhorting one another: and so much the more, as ye see the day approaching. [Heb 10:23-25 KJV]
Come and worship with us this June in Louisville, KY.
---
Lodging Information for the SBMF 2009 Annual Meeting
There are several ways that you can search for lodging accommodations. Below are some ideas that may be helpful.
SBC Lodging Information:
Making your lodging reservations for the SBMF Annual Meeting.
The SBMF Annual meeting will be coming up soon in Louisville, KY. We recommend that you contact the SBC Housing Agency for reservations via the following ways.
The 2009 SBC Annual Meeting will be held at the Kentucky Exposition Center, 937 Phillips Lane, Louisville KY, on June 23-24, 2009.
Hotel Reservation Forms are now available. Online Hotel Reservations are also now OPEN..
http://www.sbcannualmeeting.net/sbc09/pdf/2009SBCAMHousing.pdf
https://resweb.passkey.com/Resweb.do?mode=welcome_gi_new&groupID=143786
Other Lodging Resources:
Since I was elected to serve the SBMF saints, I have been required to travel some. I check all the budget motels whenever we travel. Here are some of the web pages that I look at to plan my trips. We have joined as members of Choice Motels, Wyndham Rewards, SideStep, Priority Club and a few others. This helps on prices. The discount can be from $5 to $80 per night depending on the situation. It is worth checking.
http://www.wyndhamrewards.com/index.cfm
http://www.sidestep.com/s/hotels.jsp?completed=true&searchid=BfZXpW
http://www.ichotelsgroup.com/h/d/pc/1/en/home
http://www.motel6.com/accormaps/M6ProximityResults.aspx?searchtype=C
http://travel.yahoo.com/hotels
---
We look forward to a wonderful time in Worship, learning and fellowship. Come to Louisville and spend time with us as we work together to build up the saints to bear fruit.
Please check this SBMF News Page for potential changes. We don't want you to miss any of the blessings of the Pastors Conference or the SBC Annual Meetings. http://www.sbmessianic.net/2009SBMFAM.shtml
Please let us know if you are going to attend. We need to make plans for the size of the meeting room and refreshments. SBMF2009@sbmessianic.net
---
Go ye therefore, and teach all nations, baptizing them in the name of the Father, and of the Son, and of the Holy Ghost: Teaching them to observe all things whatsoever I have commanded you: and, lo, I am with you alway, even unto the end of the world. Amen. [Matt 28:19-20 KJV]
---
We believe that we are what we eat. Eat Life from the Tree of Life. Be filled with the Light and Life of Yeshua. Read the Word.
Blessed is he who reads and those who hear the words of this prophecy, and keep those things which are written in it; for the time is near. [Revelation 1:3 NKJV]
Baruch Ha'ba B'Shem Adonai
Blessed is he who comes in the name of the L-rd! [Ps 118:26 NKJV]
---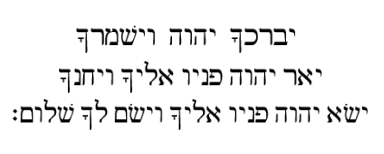 The L-rd bless you, and watch over you; The L-rd make His face shine on you, And be gracious to you; The L-rd lift up His countenance on you, And give you peace. [NASU Numbers 6:24-26]
Shalom Alechem