Southern Baptist Messianic Fellowship
2008 Annual Meeting Photographs
---

The 2008 SBMF Leadership
The Southern Baptist Messianic Fellowship met in a business session in Indianapolis June 7 prior to the Southern Baptist Convention annual meeting and elected the following officers.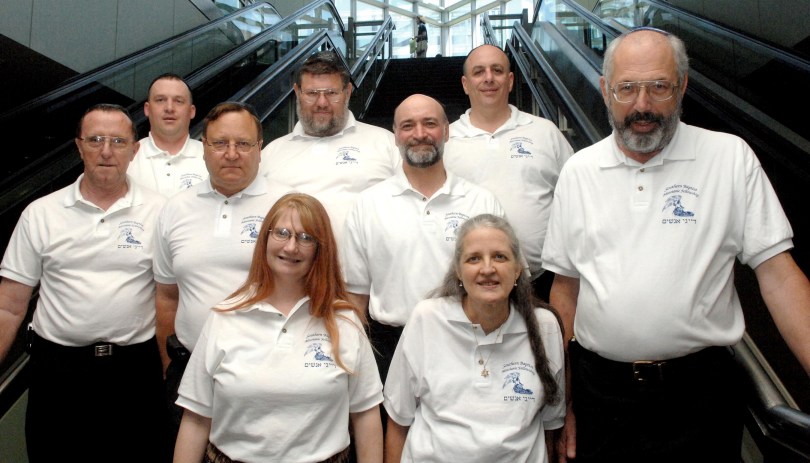 They are (from left to right, front row): Connie Saffle, SBMF Secretary, Shalom Adonai Messianic Baptist Fellowship, Wichita, Kan.; Penny Isbell, SBMF Treasurer, Beth El Shaddai Fellowship, Bessemer, Ala.; and Rabbi Jay Isbell, SBMF Missions Development Manager, serving Beth El Shaddai Fellowship, Bessemer, Ala. and the Alabama Disaster Relief. Middle row: Rabbi Hal Garrett, Nominating Committee, North American Mission Board Messianic Missionary, serving First Baptist Church, Hardy, Ark.; Rabbi H. Bruce Stokes, SBMF Training Development Manager, The Disciple Center, Anaheim, Calif.; Rabbi Ric Worshill, SBMF President, NAMB Endorsed Public Safety and Disaster Relief Chaplain, serving Police Shomreem Ministry, Lindenhurst, Ill. Back row: Rabbi Michael Saffle, SBMF Vice-president, Shalom Adonai Messianic Baptist Fellowship; Randall Clark, Nominating Committee, NAMB Endorsed Chaplain, serving Hargrave Military Academy, Denville, Va.; Rabbi Jay Fielding, Ministry Development Manager, serving Congregation Beth Chaim, Marietta, Ga. Not pictured is Brian Hawkins, Nominating Committee member, Congregation Beth kol Ha'darech ha'Mashach, Columbus, Ga.
See published article by Jonathan Blair at: 2008 SBC Annual Meeting in Indianapolis, IN.
These are your SBMF Officers and they are looking forward to serving you as you serve the saints and the Kingdom of Mashiach.
The SBMF brothers and sisters building the booth on the SBC exhibit floor.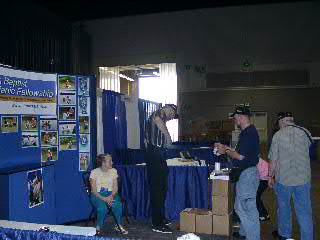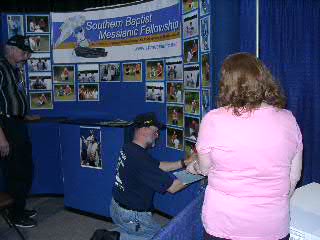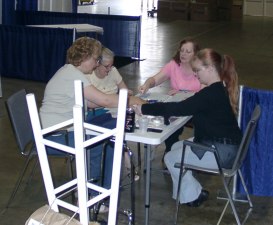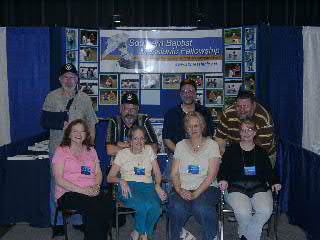 The SBMF brothers and sisters in worship and study.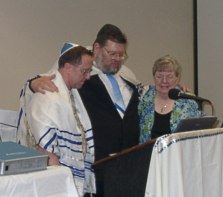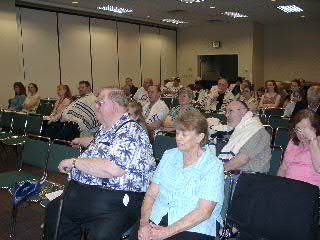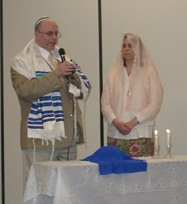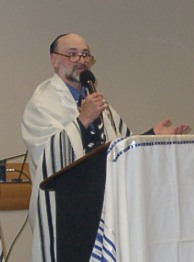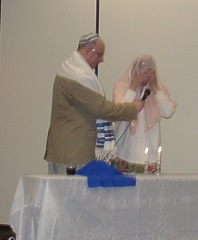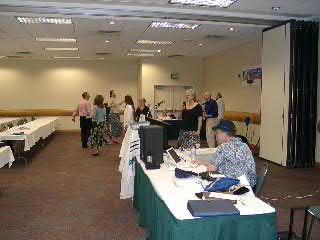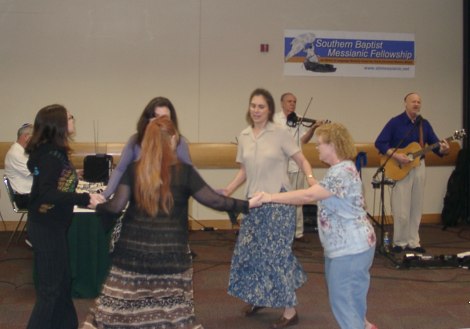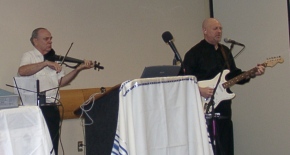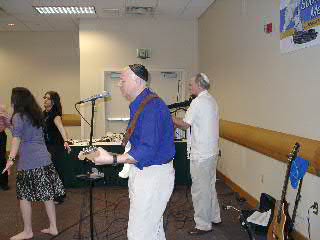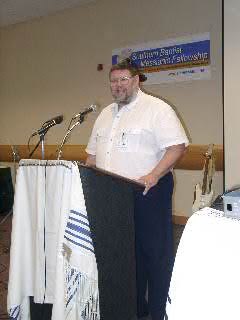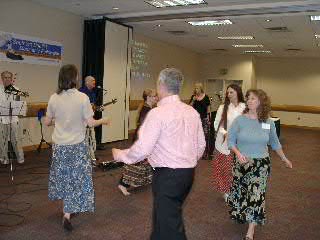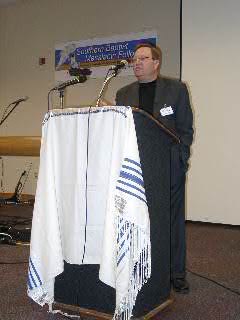 Davidic Worship Dance Training & Fellowship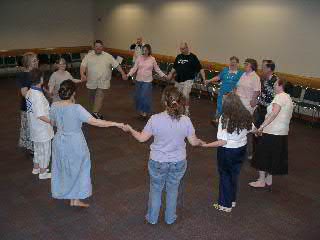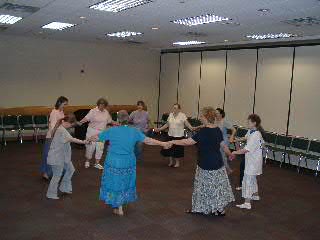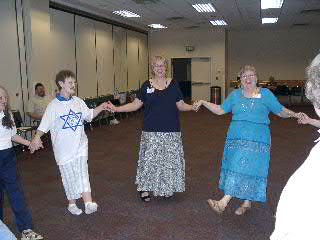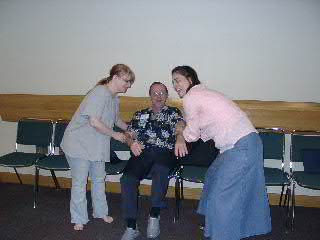 The Booth In Operation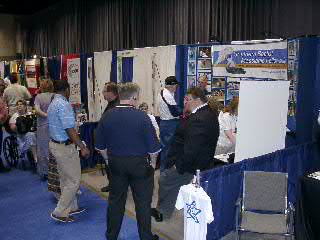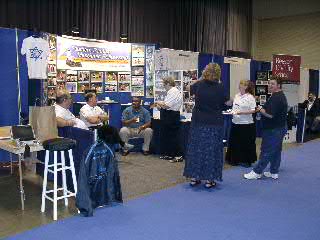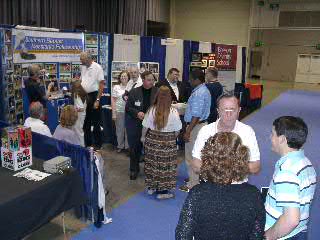 More photos will be posted as they are sent to us.

Shalom Alechem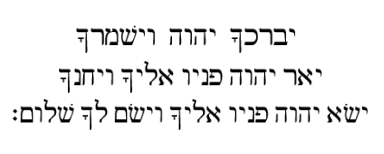 The L-rd bless you, and watch over you; The L-rd make His face shine on you, And be gracious to you; The L-rd lift up His countenance on you, And give you peace. [NASU Numbers 6:24-26]
---
What a wonderful time we had in Worship, fellowship & study
Hineh matov umahnaim, shevet akhim gahm yahchad.
Behold how good and pleasant it is for brothers to dwell together in unity. [Psa.133:1]
If you need to know more please contact us. If you are seeking the Face of G-d and looking for His Mashiach to come, please contact us. If you don't know who Yeshua is and who He can be in your life, please contact us.
Baruch Ha'bah B'Shem Adonai. [Psalms 118:26]
Blessed is He Who comes in the Name of the L-rd. [Matthew 23:29]
Be safe, be healthy, be blessed, be found in Yeshua.
---