Southern Baptist Messianic Fellowship
News - September 1, 2005

Shalom to all. "The grace of the Adonai Yeshua HaMeshiach, and the love of Elohim, and the fellowship of the Ruach HaKodesh, be with you all."
Good News:
The voice of one crying in the wilderness: "Prepare the way of the L-RD; Make straight in the desert A highway for our G-d. Every valley shall be exalted And every mountain and hill brought low; The crooked places shall be made straight And the rough places smooth; The glory of the L-RD shall be revealed, And all flesh shall see it together; For the mouth of the L-RD has spoken. [Isaiah 40:3-5 NKJV]
Baruch HaBah B'Shem Adonai. (Psalms 118:26)
Blessed is He Who comes in the Name of the L-rd
. (Matthew 23:29)
I pray that all is well with you all. G-d is so good. He is blessing us all the time.
---
Praise Report From: Rabbi Edwin Farrar
The article came out and we are very happy with it. It was very well written and also kind to us. I don't believe I could have asked for a better article as our début to the metro's Jewish community. It will be interesting to see what comes from the article. I plan on having the article scanned into an electronic document; when (if) I get this accomplished, I will send the article out.
Thank you all for your prayers, they made the difference. I am sure the Lord was guiding my words and kept me from uttering something against my neighbor. The reporter asked me about my views of the other two Messianic synagogues on the Kansas side. After giving him my reply, he made the statement of, 'nothing worth writing there'.
Thank you all again for your prayers.
May we reach our brethren and neighbors for the Messiach;
---
Prayer Request From: Jorge Sedaca
I have a prayer request you can share with the SBMF family.

As you know, we have tried to get a Messianic work started in Flint, Michigan, the last few years, but were unable to for several factors. Well, the Lord might be giving us a new opportunity now. A couple of months ago someone contacted me via email asking questions about my Jewish faith and Messiah. The person did not identify himself as a believer, so I responded all his questions but also asked him some questions myself. As it turned out, he is a Jewish believer attending one of our Southern Baptist churches in the area! I met with him for lunch and he was very excited to meet another MJ in Flint. He is married to a gentile believer, but both seemed interested in starting a Bible Study to reach the Jewish community.

Then last week, my wife Marta and I had dinner with a dentist and his wife who are also attending another of our SB churches in the area. They are both gentile, but have a passion to share Jesus with the Jews and to educate churches about Israel in G-d's plan, etc. We are praying that all three couples can come together to start an intentional outreach to our Jewish brothers and sisters. There are approximately 6,000 - 8,000 Jews in our area, with 3 synagogues but no Messianic Congregation yet.

Please pray with us as we make plans to join G-d in what He is doing. Especially pray for me, that my hectic schedule with my work for the Baptist State Convention of Michigan will not stand in the way of starting and developing this work.

Thank you and blessings upon you and yours.

In Yeshua,

Jorge Sedaca
---
Praise Report From: Bill Liniewicz for Radio India
Brother Bill called me and told me that some gifts to Radio India have come in and they have some of the money needed to get the process started in frequency assignment. The government can start working on the license. Brother Bill will be going over to India in October. They are praying for the funds for the transmitter equipment and antenna installation. Baruch HaShem Yeshua.
Check their web site out. http://www.radioindiaministries.com/
---
Kol Dodi Calendar September 3, 2005
meeting @ Calvary Baptist, 101 Bowling Ave. , Nashville
Shabbat (Saturday) – Oneg fellowship w/ Q & A follows
Saturday : Pre-Service Shabbat Fellowship @ Portland Brew, Murphy Rd. – come buy another's coffee / tea
Friday Night Outreach in Hillsboro Village after Shabbat Dinners – meet at Fido's (Coffee shop) call 243-1231 if coming
Wednesday & Sunday "Jewish Roots" Classes
(10 wks; P. Ken Alpren, Instructor; cost of textbook required):
beginning September 7, Weds. Brentwood Baptist
beginning September 11, Sun. ClearView Baptist, Franklin
*Prayer for Jewish People's Salvation Weds. ; Sun. .
September 24, Saturday – "Durant" in Concert at Kol Dodi
September 26, Monday – Come minister w/ Kol Dodi at Villa Maria Manor, Whitebridge Rd., Nashville (every 4th Monday)
October 3 & 13 Rosh ha Shannah & Yom Kippur Services (evenings) location tba
October 22, Saturday – Richard Ayal Frieden, founder HeartRock TV & JAMM in Israel speaks at Kol Dodi
Onegs – contact Lotti lotti.kaihani@state.tn.us re. food & how to help
Upcoming Holiday Celebrations / Observances 5765-5766 (2005-2006)
(actual Service dates posted nearer to Holiday )
October 3-4

Rosh Ha Shannah (Trumpets / Jewish New Year)

October 12-13

Yom Kippur (Day of Atonement)

October 17-23 Sukkot (Tabernacles)

December 25- January 1

Chanukah (Dedication / Festival of Lights)

March 13-14

Purim (Lots – Book of Esther)

April 12-13

Pesach (Passover)

May

Yom ha Atz Ma-ut (

Israel

's Independence Day)

June 1-2 Shevuot (Weeks / Pentecost)
---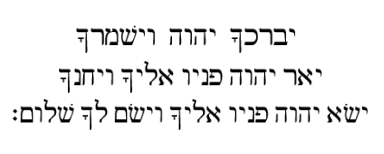 The L-RD bless you, and watch over you; The L-RD make His face shine on you, And be gracious to you; The L-RD lift up His countenance on you, And give you peace. [NASU Numbers 6:24-26]
Shalom