Southern Baptist Messianic Fellowship
News - September 1, 2005

Shalom to all. "The grace of the Adonai Yeshua HaMeshiach, and the love of Elohim, and the fellowship of the Ruach HaKodesh, be with you all."
---
Yom Kippur Tov / Chag Sameach
Have a good Day of Atonement found in Yeshua
But G-d commendeth his love toward us, in that, while we were yet sinners, Christ died for us. Much more then, being now justified by his blood, we shall be saved from wrath through him. For if, when we were enemies, we were reconciled to G-d by the death of his Son, much more, being reconciled, we shall be saved by his life. And not only so, but we also joy in G-d through our L-rd Jesus Christ, by whom we have now received the atonement. [KJV Romans 5:8-11]
---
Good News:

Do you not say, 'There are yet four months, and then comes the harvest '? Behold, I say to you, lift up your eyes and look on the fields, that they are white for harvest. [John 4:35 NASU]

Baruch HaBah B'Shem Adonai. [Psalms 118:26]

Blessed is He Who comes in the Name of the L-rd

.

[Matthew 23:29]

I pray that all is well with you all. G-d is so good. He is blessing us all the time.
---
Praise Report & Prayer Request From: Rabbi John Denson
The New Work In Hazel Park Michigan
Calvary Baptist Church, Hazel Park, MI. (Suburb of Detroit) is sponsoring a new Messianic work.
A Note From John:
My wife Donna and I are starting a new ministry called "Shalom Ministries. The vision of Shalom Ministries is to reach out to the Jewish people with the Good News about the Lord Jesus. But, we will be doing this in a unique way.
Donna and I have been in the ministry over 25 years. Recently we were trained by and served with CJF (Christian Jew Foundation) ministries. We left CJF ministry with their blessing to start a new and unique work. What is unique about this new ministry? This is the first ministry to the Jewish people led by African Americans. Why is this important? Not only are we reaching out to the Jewish community with the Gospel, but at the same time we want to challenge Christians in the Black Church to fulfill the Scriptures. I believe that the words of Paul still apply to every Christian – that all of us are to preach the Gospel to the Jew first (Romans 1:16). I also believe that it is part of the calling of all Christians to make a special effort to make the Jewish people jealous of our relationship with the God of Israel and the Jewish Messiah, and the salvation that we enjoy (Romans 11:11). There are thousands of Black Christians who could be a powerful source for Jewish Evangelism if only they are properly challenged and motivated to fulfill their God given calling. I also think that this would do wonders for the Black Church as well, since God promises to bless those who bless the Jewish people.
Fund Raising Reception
Date: Saturday, October 29, 2005
Time: 7:00 PM
Place: Calvary Baptist Church 24520 North Chrysler Drive Hazel Park MI.
(just north of nine mile off I-75 )
R.S.V.P. by: by calling (248) 618-9080
May we reach our brethren and neighbors with salvation in Messiach
---
Prayer Request From: Jorge Sedaca
The New Work In Flint Michigan
Please be in prayer for Jorge Sedaca and the brothers and sisters who are in the process of a new work in Flint Michigan. Contact Jorge and see if he needs any help.
---
Ministry Report From: Bill Liniewicz for Radio India
Brother Bill is leaving for a ministry trip to India next week. Please be in prayer for this mission of Yeshua. Baruch HaShem Yeshua.
Check their web site out. http://www.radioindiaministries.com/
---
Holiday News from Rabbi Ken Alpren at Kol Dodi
YOM KIPPUR October 12 (Wednesday) Services from 7 - @ AmeriSuites Hotel, Nashville / Brentwood – I-65 exit 74A Old Hickory Blvd. east - on right behind Shoney's (615) 661-9477. We do not charge for seats. Sorry, no childcare available.
October 15, Saturday - Pastor Fred Johnson (Calvary Baptist) speaks at Kol Dodi – let's show our appreciation & also pray for the Outreach going on at the "Beresheet" New Age Festival in Galilee. at Calvary Baptist, 101 Bowling Av., Nashville
October 22, Saturday – Richard Ayal Frieden, founder Jerusalem Street Productions & the JAMM in Israel speaks at Kol Dodi! www.heartrock.org
*Also Pastor Ken & Dennis share testimonies about the Outreach at Israeli New Age Festival in Galilee ! at Calvary Baptist, 101 Bowling Av., Nashville
---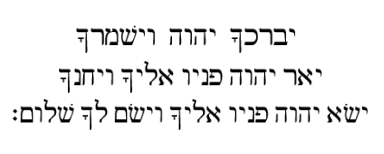 The L-rd bless you, and watch over you; The L-rd make His face shine on you, And be gracious to you; The L-rd lift up His countenance on you, And give you peace. [NASU Numbers 6:24-26]
Shalom