Southern Baptist Messianic Fellowship
2009 Annual Meeting In Louisville, KY.
Please Check This Page For
Meeting News Updates
This Page Will Change As News Becomes Available. We have published this page to give you a heads-up on the basic plans.
---
The 2009 SBMF Encampment
Will Be In Louisville Kentucky
Another Year Of Continuing - To Build Up The Saints
For Zion's Sake We Will Not Keep Silent
SBMF Annual Meeting News, From Your President And Servant

The Erev Shabbat Worship Service, Shabbat Yeshiva and the Saturday evening business meeting are being planned down to the last detail. We are meeting on June 19th, 20th & 21st, 2009. Please pray for us as we plan another year of Praise Worship, Yeshiva Study and Fellowship.

Erev Shabbat Worship starts at 7:00 p.m. on June 19, 2009 (Sivan 27). Setup will start at about 3:00 p.m.

Shabbat Yeshiva Worship starts at 9:00 a.m. on June 20, 2009 (Sivan 28). Registration starts at 9:00 a.m.

Davidic Dance Training & fellowship is between 2:00 PM and 4:00 PM on June 21, 2009 (Sivan 29).

All of our meetings will be at the Kentucky Exposition Center, South C205 on Level Two 937 Phillips Lane, Louisville, KY.
Bo hal'alu Adonai imanu.
עָלֵיֽנוּ
| | | | |
| --- | --- | --- | --- |
| הַכֹּל | לַאֲדוֹן | לְשַׁבֵּחַֽ | עָלֵיֽנוּ |
Aleinu l'shabeach la'Adon hakol
It is our duty to praise the L-rd of all,
---
Good News - SBMF Encampment is Coming in June:
For Zion's sake I will not keep silent, And for Jerusalem's sake I will not keep quiet, Until her righteousness goes forth like brightness, And her salvation like a torch that is burning. [Isaiah 62:1-7 NASV]
---
Our Guest Speaker From the SBC North American Mission Board Will Be:
Jorge Sedaca, Church Planting Group, NAMB
| | |
| --- | --- |
| | Jorge Sedaca (Multicultural Church Planting Coordinator - Resource Development & Delivery Team Church Planting Group, NAMB) will come and preach a segment on our work with NAMB and a subject that is on his heart to charge the SBMF kadoshim. Brother Jorge is a long time SBMF Member and dear friend. |
Jorge Sedaca is serving, on staff, as coordinator for Resource Development & Delivery in the Church Planting Group of the North American Mission Board, 4200 North Point Parkway Alpharetta, GA 30022. Brother Jorge is serving as our SBMF, NAMB liaison.
Recently, Brother Jorge served as a North American Mission Board missionary for the Baptist State Convention of Michigan as Language Ministries Leader. Prior to that, he served as Music Minister at the Oak Park Baptist Church in New Orleans, Louisiana. He was the Multi-Ethnic Catalytic Missionary with the New Orleans Baptist Association in New Orleans, Louisiana. He also served as Minister to Internationals at the First Baptist Church in Baton Rouge , Louisiana and Music Professor at the International Baptist Theological Seminary in Buenos Aires , Argentina .
Jorge was born in Barcelona , Spain . He attended the Buenos Aires Conservatory of Music in Argentina. He continued his education at the Southwestern Baptist Theological Seminary, Ft. Worth, Texas receiving his Master of Music.
Jorge and his wife, Marta, have three children, Alejandro, Julieta and Daniel.
The North American Mission Board (NAMB) is the Southern Baptist Convention (SBC) mission agency which, in cooperation with state conventions, assists SBC churches in reaching the United States , Canada , and their territories with the gospel of Jesus Christ. The Board oversees the work of more than 5,000 missionaries who are supported through the Cooperative Program and the Annie Armstrong Easter Offering® for North American missions.
---
The Guest Speaker For This Years Yeshiva Day Will Be:

Dr. James M. Hamilton Jr.

Associate Professor of Biblical Theology

Southern Baptist Theological Seminary
| | |
| --- | --- |
| | Dr. James M. Hamilton, Jr. serves as Associate Professor of Biblical Theology. He previously served as Assistant Professor of Biblical Studies at Southwestern Baptist Theological Seminary's Houston campus and was the preaching pastor at Baptist Church of the Redeemer. He studied English at the University of Arkansas, theology at Dallas Theological Seminary, and earned the Doctor of Philosophy degree from The Southern Baptist Theological Seminary. |
Dr. Hamilton is the author of many scholarly articles, which have appeared in journals such as Trinity Journal, Westminster Theological Journal, Themelios, Perichoresis, Tyndale Bulletin, Southern Baptist Journal of Theology, and Journal for Biblical Manhood and Womanhood. His first book, God's Indwelling Presence: The Ministry of the Holy Spirit in the Old and New Testaments, was published in 2006, and he has contributed chapters to many other books. Dr. Hamilton and his wife, Jill, have three sons. He blogs at www.jimhamilton.info, where his writings can be found on the pages for "Books," "Articles and Essays," and "Book Reviews."
---
The SBMF Annual Meeting Music Worship Leader will be:
Alicia Smith - Messianic Psalmist
Humble Hearts Ministries
Worship Leader

Recording Artist

Hebraic Roots Teacher

Singer/Songwriter

Sister Alicia Smith will lead us in music worship this year at our Southern Baptist Messianic Fellowship Annual meetings. Alicia is a Messianic Psalmist, singer, songwriter. She serves as a worship leader at Rockford Area Messianic Havurah, 1894 Daimler Rd. Rockford, IL. 61112. Web page is located at www.rockfordmessianic.com

Alicia's music is heard on many of the radio stations in Israel, the USA and all over the world. Some of the Radio stations are Voice of Jerusalem, Moody Broadcasting Network, Kol Ha'Yeshuah, Heart of Israel, One in Messiah and several other Christian radio networks.

We have heard her on Sirius.
Alicia will be leading us in music worship this year. I would like to mention that one of Alicia's gifts is the telling of the story, the Hadassah. The Character of Hadassah the Storyteller is brought to life by Messianic Jewish singer/songwriter Alicia Smith. This "living history" program is set in Biblical times surrounding the events of Jesus' earthly ministry and shortly after his death and resurrection.
Alicia Smith is a Spirit filled Messianic Jewish singer/songwriter with a love for G-d and sharing His Word and the music that He has blessed her with. Born Alicia Rivera on December 10, 1956 in San Jose, California, she learned to love music at an early age. Having been born without a right hip-socket due to a birth defect, Alicia's early years were difficult because of surgical corrections and arthritic pain. Due to physical limitations, Alicia was drawn to a form of expression that knew no such limitations: Music. Her gifting in this area brought much recognition, but as she states, "What is it all for?"
After "wandering in the desert" for a season, the L-rd revealed Himself to Alicia in a profound way and called this Prodigal Daughter of Zion into an intimate relationship with her Messiah, Yeshua (Jesus) and to fulfill the calling of her Levitical heritage. She was now appointed to sing for the King.
Since that day in October of 1995, G-d has been "sitting as a refiner and purifier of silver" in her life and has poured out songs for His worship and praise numbering over 100. Alicia has been the Worship Leader at Temple Shalom Yisrael Messianic Jewish Congregation for five years and now through Humble Heart Ministries, shares teaching, testimony and the music which the L-rd has given her in churches, messianic congregations and fellowships across the nation. Her heart's desire is that all would come into a deep and intimate relationship with the G-d of Abraham, Isaac and Jacob through the Hope of Israel, Messiah Yeshua and know the love that G-d has for His people.
Alicia has recorded two solo CD's to date: "Humble Heart" and "Shabbat – A Taste of Heaven".
Alicia recently attended the Gospel Music Association's "Music In The Rockies" and was awarded an official endorsement from CMP – Christian Music Presenters and has appeared in many venues across the nation as well as television, radio, the "On The Waterfront" festival in Rockford, IL and at the "Pageant of Peace" Christmas concert on the Ellipse in front of the White House at Washington, DC.
Alicia resides northwest of Chicago with her husband and son.
Humble Heart Ministries
PO Box 401
Belvidere, IL 61008
(815) 544-0640
www.alicia-smith.com
---
Phil Adams
Multiethnic Church Support Manager
LifeWay Christian Resources
Brother Phil Adams will be bringing a brief message to us during our 11:00am to 11:15am announcements.
Brother Phil has been working on having several publications translated into several languages. He needs our help for the Hebrew translations.
---
Looking For Our Meeting Room
In the past the SBMF meeting rooms have been a wee bit hard to find. The problem was the enormous size of the convention centers and the numerous numbers of rooms for each SBC event. Not This Year. This year we were able to locate our room using a map provided by the Kentucky Exposition Center web site. This year we are publishing the maps to help direct you to our meetings. Below are two maps that will help you find our meeting place.
Enter Gate #1 off of Phillips Lane. If you are driving try to park at the South end of Lot "A" or Lot "N". We expect that the South "C" Wing lobby doors will be designated for our building entry.
Map of the Kentucky Exposition Center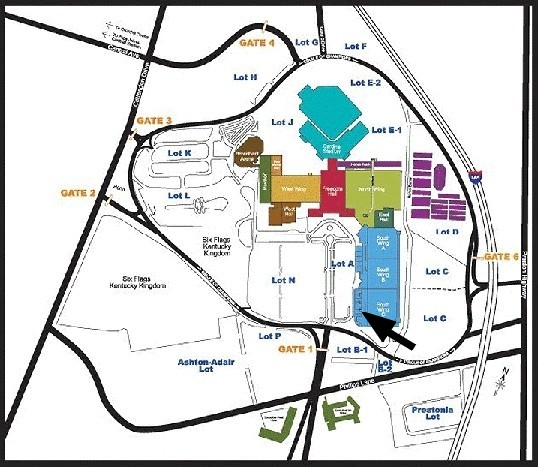 Southern Baptist Messianic Fellowship

2009 Annual Meetings

The Kentucky Exposition Center

937 Phillips Lane
Louisville, KY 40209-1398

(502) 367-5000

Our room is C205 on the 2nd Level.

Located in SOUTH WING "C"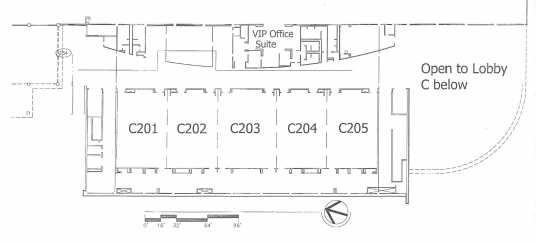 ---
Event Schedule
Erev Shabbat Worship Service
This event is assigned room C205 on Level Two in the Kentucky Exposition Center.
7:00pm Welcome
Shabbis Lights
Kiddish Bar'choo (Call to Worship)
Prayer for the meetings
Praise & Worship Music
Open Torah Blessing
Reading
Closing Torah Blessing
Preaching
Praise & Worship Music
Closing
Announcements
Closing Prayer
Aaronic Blessing
Fellowship
Room to be locked up at 10:00pm
Shabbat Yeshiva Morning Session
This event is assigned room C205 on Level Two in the Kentucky Exposition Center.
9:00am to 9:30am – Doors open for registration and fellowship
9:15am to 9:45am Welcome
9:45am to 10:15am Music Worship
10:15am to 11:00am – NAMB Missionary "Jorge Sedaca"
11:00 to 11:15 Announcements - Phil Adams, LifeWay
Lunch Break
11:15 to 1:00pm Lunch
Shabbat Yeshiva Afternoon Session
This event is assigned room C205 on Level Two in the Kentucky Exposition Center.
1:00pm to 1:20pm Worship Music
1:20pm to 1:25pm - Intro to Guest Speaker
1:25pm to 4:30pm - Dr. James Hamilton Jr. SBTS
4:30pm to 4:45pm – Announcements
Supper Break
4:45pm to 7:00pm Supper
SBMF Annual Business Meeting
This event is assigned room C205 on Level Two in the Kentucky Exposition Center.
7:00 p.m. Welcome & Prayer
7:15pm to 7:45pm Worship Music
7:45pm to 9:30pm Business Meeting
Old Business
Reports
New Business
Evaluation of E.B. Officers Assignments
Evaluation Of The 2008 SBC Exhibit Floor Booth
Election Of The 2009 Executive Board
Mazel Tov & Prayer For The New SBMF President & His Wife
Comments From The New President's Wife
Comments From The New President
Closing Prayer
Worship Music
Sunday Davidic Dance Training, Fellowship
This event starts at 2:00PM on Sunday June 21, 2009 (Sivan 29) and it will end at 4:00 PM. This event is assigned room C205 on Level Two in the Kentucky Exposition Center.
Come join us as we worship together, Jew and Gentile, one Body and one spirit. Please check our SBMF News Pages, on our web site, about this function. There may be changes to the meeting details.
Let us hold fast the profession of our faith without wavering; (for he is faithful that promised;) And let us consider one another to provoke unto love and to good works: Not forsaking the assembling of ourselves together, as the manner of some is; but exhorting one another: and so much the more, as ye see the day approaching. [Heb 10:23-25 KJV]
Come and worship with us this June.
---
SBC Lodging Information:
Making your lodging reservations for the SBMF Annual Meeting.
The SBMF Annual meeting will be coming up soon in Louisville, KY. We recommend that you contact the SBC Housing Agency for reservations via the following ways.
The 2009 SBC Annual Meeting will be held at the Kentucky Exposition Center, 937 Phillips Lane, Louisville KY, on June 23-24, 2009.
Hotel Reservation Forms are now available. Online Hotel Reservations are also now OPEN..
http://www.sbcannualmeeting.net/sbc09/pdf/2009SBCAMHousing.pdf
https://resweb.passkey.com/Resweb.do?mode=welcome_gi_new&groupID=143786
Other Lodging Resources:
Since I was elected to serve the SBMF saints, I have been required to travel some. I check all the budget motels whenever we travel. Here are some of the web pages that I look at to plan my trips. We have joined as members of Choice Motels, Wyndham Rewards, SideStep, Priority Club and a few others. This helps on prices. The discount can be from $5 to $80 per night depending on the situation. It is worth checking.
http://www.wyndhamrewards.com/index.cfm
http://www.sidestep.com/s/hotels.jsp?completed=true&searchid=BfZXpW
http://www.ichotelsgroup.com/h/d/pc/1/en/home
http://www.motel6.com/accormaps/M6ProximityResults.aspx?searchtype=C
http://travel.yahoo.com/hotels
---
We look forward to a wonderful time in Worship, learning and fellowship. Come to Louisville and spend time with us as we work together to build up the saints to bear fruit.
Please check this SBMF News Page for potential changes. We don't want you to miss any of the blessings of the Pastors Conference or the SBC Annual Meetings. http://www.sbmessianic.net/2009SBMFAM.shtml
Please let us know if you are going to attend. We need to make plans for the size of the meeting room and refreshments. SBMF2009@sbmessianic.net
---
Prayer Requests From Your SBMF President: Ric Worshill
Please pray about attending our time of worship to the L-rd in Louisville, Kentucky this June. Bo hal'alu Adonai imanu.
Please continue to pray for your Executive Board as we work with the North American Mission Board, to make your SBMF more resourceful to you in your ministries.
Again we want to thank the SBC Executive Committee, Convention Relations Staff as they help us with arrangements for our meetings. They have been such a blessing to us. Please lift them up in your prayers as they work hard to make the SBC Annual Meeting and all of the associated events a wonderful experience for all who attend. Please keep them in your prayers.
Please pray for us to find another way to let our Southern Baptist Brothers and Sisters know that the SBMF exists. NAMB is not going to sponsor us for a booth this year. They told me that they are only giving permission for two ministries to have booths this year. We were not selected this year. This is sad as we started to make headway last year on the SBC Annual Meeting Exhibit Floor. We must find another way to advertise the ministries and missions affiliated with the SBMF. We also need to find other ways to develop strong local Church partnerships within the SBC. We can't do this work alone. There are many SBC brothers and sisters who don't know that we exist. They support Jewish evangelism ministries outside the SBC. We need the prayers and support of the SBC saints to accomplish the task of bringing the Good News of Yeshua to the Jewish people in our communities.
As I said last year. Please pray, there is lots of work to do. To accomplishment the goal of G-d's Economy and to Gain His Testimony through the Body (ha'kadoshim - the saints), we must build up the saints in one accord, founded on His Word and we need help from our brothers and sisters in SBC to accomplish this task.
Also please pray for the ministries listed on the ministries web page, as they fight the good fight to lead others to the Truth.
Click here to see a list of some SBMF affiliated ministries
Baruch Ha'Shem Yeshua (Praise the Name of Jesus)
We are looking forward to seeing you at the 2009 SBMF Annual Meetings. Unless we hear the Shofar sound and a call from above, "Come up here". Then we look forward to seeing you up there.
Baruch Ha'bah B'Shem Adonai
Blessed is He who comes in the name of the L-rd.
Come Yeshua come.
---
Shema Ysrael Adonai Elohaunoo, Adonai Echad
Hear Israel the L-rd our G-d, the L-rd is One
To Him who loves us and released us from our sins by His blood — and He has made us to be a kingdom, priests to His God and Father — to Him be the glory and the dominion forever and ever. Amen. BEHOLD, HE IS COMING WITH THE CLOUDS, and every eye will see Him, even those who pierced Him; and all the tribes of the earth will mourn over Him. So it is to be. Amen. "I am the Alpha and the Omega," says the Lord God, " who is and who was and who is to come, the Almighty." [Rev 1:5-8 NASU]
I was in the Spirit on the Lord's day, and I heard behind me a loud voice like the sound of a trumpet, saying, " Write in a book what you see, and send it to the seven churches: to Ephesus and to Smyrna and to Pergamum and to Thyatira and to Sardis and to Philadelphia and to Laodicea." Then I turned to see the voice that was speaking with me. And having turned I saw [Rev 1:10-12 NASU]
Remember it is about position. John heard, he turned, and he saw. To truly see you need to turn to Yeshua. I heard - I turned - I saw - I found Salvation in Yeshua.
The L-rd is knocking at the door of your heart. Will you let him in?
Baruch Shem K'vod Malchooto lay'olam vay'ed
Bless His Glorious Name Whose Kingdom is Forever and ever
Have you told someone about Yeshua? Have you brought Light into a dark life by the Word of Life, Who is the Light of the world.
---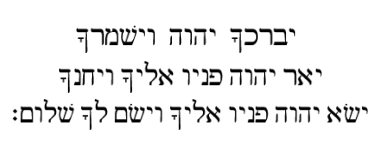 The L-rd bless you, and watch over you; The L-rd make His face shine on you, and be gracious to you; The L-rd lift up His countenance on you, and give you peace. [Numbers 6:24-26]
Shalom Alechem