Southern Baptist Messianic Fellowship
2014 Annual Meeting In Baltimore, MD.
Please Check This Page For
Meeting News Updates
Page Updated 05/24/14
This Page May Change As Event News Becomes Available.
Come to the SBMF Encampment this June in Baltimore, MD.
Two days of wonderful worship, praise, study, teachings and fellowship.
Visitors Are Welcome
Ho-doo Li'Adonai key tov, key le'oh-lahm chas-doe.
Give thanks to the L-rd for He is good, and His loving kindness endures forever.
[1 Chron. 16:34,41; 1 Chron. 20:21; Psa. 106.1; Psa. 118:1; Psa. 136:1,3]
---
The 2014 SBMF Encampment
Will Be Meeting At:
Hilton Baltimore Hotel
Peale Room on Level 1
401 W Pratt St, Baltimore, MD 21201
(443) 573-8700
June 6th to the 7th, 2014
This Years Theme: Kingdom Purpose
Your SBMF Leadership is working on the details of our next annual meetings. Please check this page for further information, yet to come.
We pray that all is well with you. G-d is so good. Be healthy, be safe, be blessed, be found in Yeshua Ha'Mashiach.
---
SBMF Membership News
Dear fellow workers in Messiah's fields:
The single membership only was in effect until our meetings in New Orleans, last year. After that meeting the group membership fees will apply to congregational membership.
Individual membership will still cost $25 per year.
Congregational membership of a congregation of up to 50 people will cost $250 per year. With this type of membership we will need each congregation to submit a list of those members names, addresses, phone numbers and email addresses, who wish to be listed as SBMF members.
For a congregation of 50 to 100 members the congregational membership cost will be $350 per year. With this type of membership we will also need each congregation to submit a list of those members names, addresses, phone numbers and email addresses, who wish to be listed.
There is one restriction related to voting. Only active members, attending the SBMF Annual Meetings will be eligible to vote on any SBMF business.
Please make the check out to "SBMF" and mark in the notes field "Membership". Mail your 2013 dues to SBMF in care of Hal Garrett, Eastwood Circle, Walnut Ridge, AR. 72476
We are looking forward to being with brothers and sisters in Messiah.
May you be blessed! See you in June!
---
Shalom Y'all. Greetings from the Southern Baptist Messianic Fellowship.
"The grace of the L-rd Jesus Christ, and the love of G-d, and the fellowship of the Holy Spirit, be with you all." [2 Cor. 13:14 NASU]
Come join us as we worship together, Jew and Gentile, one Body and one spirit. Please check our SBMF News Pages, on our web site, about this function. There may be changes to the meeting details.
As you may know the Southern Baptist Messianic Fellowship will be holding their 2014 SBMF Annual Meeting, in downtown Baltimore, just before the SBC Annual Meetings in June this year. The plans for the meetings are not complete yet. We do have a tentative schedule planned. Here is a rough schedule of events.
On Erev Shabbat, Friday evening June 6th, we plan to have an evening worship service with worship music and a teaching. The speaker for this event will be the SBMF Missions Development Manager, Dr. (Rabbi) Michael Herts . The Music Worship will be by Neal and Kim Surasky. This will begin at 7:00pm.
Our Saturday June 7th meetings will be a combination of music worship, teachings and a business meeting. Here is the tentative schedule.
8:00 am Setup and Worship Team Warm Up (Worship Team)
9:30 am Music Worship by Robert (Bob) Frost
10:15 am A short break
10:30 am to 11:15 am Teaching on the Biblical Covenants by
Dr. H. Bruce Stokes
11:20 am to 12:10 am Teaching on the Biblical Covenants by
Dr. H. Bruce Stokes
12:10 pm Prayer for our lunch
12:15 pm Lunch, Off Site (Off site, on your own, but that may change)
1:30 pm Music Worship by Robert (Bob) Frost
2:00 pm to 2:50 pm Q & A on the Covenants by Dr. H. Bruce Stokes
3:00 pm Business Meeting Worship & Prayer (Music Worship First)
3:15 pm SBMF Annual Business Meeting
5:00 pm Dinner, Off Site, (Independent & off site)
7:00 pm Havdalah Service ( Rabbi Mike Saffle and his wife Connie)
7:15pm Music Worship by Robert (Bob) Frost
7:45 pm Evening Preaching by Mark Habofcovich, NAMB
8:45 pm Closing Worship Songs and Announcements
9:30 pm Meetings end.
We will close the room after cleaning up at about 10:00 pm
The L-rd is providing all of our needs. We look to Him for His supply.
Please join us for this wonderful time of worship. praise, study, and fellowship.
---
The SBMF Worship Leaders for Our Erev Shabbat Service during our Annual Meeting will be:
Rabbi (Chazan) Neal and his wife Rebbetzin Kim Surasky
| | |
| --- | --- |
| | Neal was raised in a traditional Jewish home. He first heard about the Messiah during his senior year in high school, but it wasn't until years later that he accepted Yeshua (Jesus) into his life. He met and fell in love with his with Kim at the end of his tour of duty in the US Army. During the planning for their wedding, they were both introduced to Messianic Judaism, and they began their walk with the Lord together. |
Neal and Kim joined the staff of Chosen People Ministries in 2006, and in 2007, Neal was inaugurated as the rabbi of Kehilat Sar Shalom, (Congregation of the Prince of Peace) in northern Virginia. He was promoted to the position of Washington, DC Branch Director in 2010, and continues working toward his Master of Divinity degree at the Feinberg Center for Messianic Jewish Studies. Kim has served on the Leadership Advisory Team for Chosen People Ministries, and is currently the worship director and leader of the women's ministry at the congregation. She is working toward a degree in ministry leadership at Moody Bible Institute, with an emphasis in women's ministry.
Together, they have ministered all over the country, Cuba and Israel.
Kehilat Sar Shalom http://kehilatsarshalom.org/
---
The SBMF Worship Leader for Our Shabbat Service will be:
Brother Robert Frost
Bob currently serves as the Worship Leader at First Baptist Church in Winthrop Harbor, Illinois.

Brother Bob has a passion and love for the minor key and scales of Jewish and Messianic Music.

He is passionate about the local church, which he affectionately calls "the hope of the world".
Prior to leading music worship at FBC Winthrop Harbor he served as the Music Worship Director at CrossView Church in Antioch, IL. Before that Brother Bob served as the Worship Director at Ascension Lutheran Church, Interim Worship Director/Band Leader at Willow Creek North Shore - Northfield, IL, Hawthorn Hills Community Church, Skokie Valley Baptist Church, Christ Church Lake Forest and Winnetka Bible Church.
Bob grew up in Southern California where he found a love for music. He received his B.A. degree from Whitworth University in Spokane, Washington with emphases in vocal, choral, instrumental teaching and conducting. Bob made his way back to Southern California receiving an advanced certificate in Operatic studies from the University Of Southern California. He has been a teacher, salesman, and worship leader.
Brother Bob has a wide range of music skills. His skills range from Opera, Classical, Orchestral, Contemporary Christian, Historic and Modern Christian Hymns, Southern Gospel and Liturgic Hymns.
Bob currently resides in Evanston, Illinois, and has been married to the love of his life, Tiley Martin Frost, for 35 years.
Bob and his wife Tiley serve in ministry together.
FBC Winthrop Harbor, http://www.fbcwh.com
---
2012 SBMF Erev Shabbat Speaker will be:
Dr. Michael Herts.
Dr. Herts currently serves as the SBMF Missions Development Manager. Dr. Herts will be speaking on: "Isaiah 6: Insights and Applications from the Call of Isaiah"

Dr. Herts grew up in a Conservative Jewish home and accepted Yeshua (Hebrew for Jesus) as his Messiah, Savior, and Lord in 1981. He has been married to his awesome wife Debbi for 22 years and together they have three wonderful children, a cat, and a dog.
He is the founding leader of B'nai Avraham Messianic Fellowship in Hampton, Virginia, which is a member congregation of the Southern Baptist Conservatives of Virginia (SBC).He joined the Staff of Chosen People Ministries in 2010. He earned a doctorate in Clinical Psychology (Psy.D.), a Masters in Education (M.Ed.), and is currently working on his Masters of Divinity (M.Div.).
In addition to leading B'nai Avraham Messianic Fellowship and working for Chosen People Ministries, Dr. Herts speaks in churches and Messianic Congregations throughout the country, and has a radio show that is broadcast three times a week out of Natanya, Israel. He also is on the staff of Genesis Counseling Center.
B'Nai Avraham Messianic Fellowship: Chosen People Ministries:
---
Our Shabbat Morning Teaching will be given by:
Dr. H Bruce Stokes
| | |
| --- | --- |
| | Brother H. Bruce Stokes, Ph.D. is Dean of the School of Behavioral Sciences at California Baptist University in Riverside. He is the Pastor/Teacher of the DiscipleCenter in Anaheim Hills. As a Psychological Anthropologist, Dr. Stokes has focused on the integration and application of Biblical Truth to the behavioral sciences. He has lectured, written and counseled in the area of marriage and family, parenting and the establishment of Christian homes. |
Brother Bruce has been our guest speaker for a SBMF Annual meeting Yeshiva before. Dr Stokes will be speaking about the Biblical Covenants.
Brother Bruce is currently serving as the Vice-President of the SBMF Southern Baptist Messianic Fellowship.
Dr. Stokes also teaches at Golden Gate Baptist Theological Seminary at the Brea campus in southern California, and served on the translation committee for the up-date of the New American Standard Bible. He is also a published author.

His Ph.D. dissertation at University of California, Riverside was an anthropological perspective on the Messianic Movement in the United States and Israel. He serves as the Vice president of the Union of Messianic Jewish Congregations and as an advisor to the Administrative Board to the International Messianic Jewish Alliance. He is a frequent speaker at Messianic conferences is published in several Messianic publications.
Dr. Stokes is a member of the Southern Baptist Messianic Fellowship.
About The DiscipleCenter
The DiscipleCenter was formed by Christians who are committed to the unity of Messianic Jews and Gentiles and of Judeo-Christians and Hebrew Christians. Drawing from the traditions of Judaism and Christianity, the DiscipleCenter attempts to stay connected to the traditional church and connect to Israel through Messianic and traditional Jewish institutions.

The DiscipleCenter was developed under a specific Ministry Philosophy and Ministry Purpose with a clear Doctrinal Distinctive.
---
The Shabbat Evening speaker will be: Mark Hobafcovich
Southern Baptist Convention, North American Mission Board, Mobilization and Networking Specialist
Brother Mark serves with the SBC North American Mission Board (NAMB). Throughout the years he and NAMB have supported the ministries of the Southern Baptist Messianic Fellowship.

Brother Mark has arranged his schedule to arrive in Baltimore at 6:00PM. As soon as he is able to arrive at the Hilton Baltimore, he will speak during our closing session.
Mark was born in Romania and at the age of twenty he immigrated to Australia. On his very first day in the new country (1981) was invited by a layman to a local church where he heard the Gospel message and responded with faith to Christ. He married Christine, a school teacher and they have two daughters, Hadassah and Elizabeth. He attended Victoria Bible College (Melbourne, Australia) and Baptist Theological College (Brisbane, Australia)
He served as a church planter and was ordained into the Christian Ministry and the Lord called him to the United Stated to serve as church planter in Nashville, Tennessee. He also served as Church Planting Missionary with Nashville Baptist Association where during this time more than sixty churches were added to the fellowship of the association. Mark also served as National Church Planting Missionary with the North American Mission Board of the Southern Baptist Convention with responsibilities throughout the United States, Canada assisting Southern Baptist in planting churches among all people groups.
Mark began his ministry with the North American Mission Board in 1997 and serves as the North American Mission Board, Senior National Coordinator for Mobilization working with churches, associations and state conventions in mobilizing Southern Baptists as a missional force to impact North America with the Gospel of the Lord Jesus Christ through evangelism and church planting.
Throughout the years, Mark was involved in mission work in Europe, Australia, South America, United States and Canada. Mark's prayer is that every person in every community will have the opportunity to hear the gospel, respond with faith in Christ, and participate in a healthy reproducing church where disciples are made and multiplied. Mark believes that making disciples of all peoples of the world (Matthew 28:18-20) is not only the Lord's commandment but also our privilege as His followers and it ought to be our first preoccupation.
North American Mission Board
4200 North Point Parkway
Alpharetta, Georgia 30022
Mobilization and Networking Specialist
Office: 770-410-6228
Email: MHobafcovich@namb.net
WWW: www.NAMB.net
---
Come Worship With Us. SBMF President, Rabbi Ric Worshill
Brother Ric Worshill

has served the local Church, his local SBC association, NAMB and the SBMF since 2001. He started serving the SBMF as the assistant to two prior SBMF presidents. He was elected and served four years as the President. Then he then served for three years the Vice-President. This last year he served again in the office of SBMF President. Brother Ric is a Jewish believer in Yeshua as Mashiach. He has a heart for anyone who doesn't know the Yeshua (Jesus) as Savior.
Ric has been married to his beloved wife Gwenn for 42 years. They have two grown children and seven grandchildren.
The most compelling part of his ministry service is his zeal to build up the believers in Christ and prepare them for service in the mission fields. His time in the SBMF has been dedicated to helping missionaries get trained up for the mission fields and helping congregational planters start successful new congregations.
Brother Ric specializes in Emergency Services Police Chaplaincy. The chaplaincy ministry where he serves is centered on critical incident crisis intervention. This is specific to the emotional and spiritual care of people in crisis. A large portion of this chaplaincy service is to law enforcement personal. Brother Ric also ministers to people in SBC Disaster Relief Chaplaincy. He and his wife Gwenn are both SBC North American Mission Board Endorsed Police and Disaster Relief Chaplains. They serve the Illinois Baptist State Association as chaplains, Operational Stress First Aid (OSFA) instructors and they are trained SBC Disaster Relief Unit Leaders (Blue Caps). Gwenn and Ric serve on two Critical Incident Stress Management Teams in their home state. Their ministry serves several local law enforcement agencies in Illinois and Wisconsin. Ric is a 29 year veteran law enforcement officer and he has served in law enforcement chaplaincy for over 26 years. Ric is ordained in pastoral ministries and as Messianic rabbi.
Police Shomreem Ministries Web Site www.shomreem.org
Police Shomreem Ministries - Chaplaincy on FaceBook
---
If you haven't heard about our fellowship's activities, lots has happened to the function of the SBMF. Several of the past years the SBMF has had a booth on the exhibit floor of the SBC Annual Meetings. The last few years the SBC Executive Committee has supplied us with a location for a booth on the SBC Annual Meeting, Exhibit Floor. Last year we were located right next to the NAMB booth and the SBC Executive Committee TV Station. This was a powerful accomplishment that was a result of all the SBC ethnic ministries leaders working together. Please look at the SBMF News pages located at:
http://www.sbmessianic.net/News062412SBMFAM.shtml and http://www.sbmessianic.net/News062411SBMFAM.shtml
In the past several years the SBMF has helped several new congregational leaders start new works all over North America. Right now we have affiliated new works in Detroit, Michigan, Kenner Louisiana, Valparaiso Indiana, Eagle River Alaska, Calgary AB Canada, Woodstock Georgia and Meridian Mississippi. There are also three other SBC Messianic new works that are in the planning and training stages. The SBMF has changed from years ago. We have partnered with other Messianic associations and ministries to form a sound and grounded minister and ministry training program. We have also found local SBC churches to help by supporting some of these new works. We are working with two SBC seminaries, MWBTS and NOBTS, to start Messianic leadership schooling programs. These two programs will be available on-line soon. As you may know the Pasche Institute is at Criswell Collage.
The Southern Baptist Messianic Fellowship works along side several Jewish evangelism ministries. These Messianic associations and ministries are sound and grounded Christian groups. We have developed partnerships with many members of the Lausanne Consultation on Jewish Evangelism (LCJE), Jews for Jesus, UMJC, Chosen People Ministries, the Association of Messianic Congregations, New Covenant Forum, Light of Messiah Ministries, Word of Messiah Ministry, several SBC Church Planting Strategists and brothers from the Russian and Polish Messianic ministries. This is the short list. Our President also serves on the Multi-Ethnic Advisory Council of the Southern Baptist Convention, Executive Committee. The SBMF is a multi-denominational body of believers who work together to bring the Gospel to all people groups and specifically the Jewish people group. The SBMF is sponsored by the Southern Baptist Convention and we work closely with all the SBC Entities and affiliates.
Please come join our brothers and sisters at the Southern Baptist Messianic Fellowship and the Southern Baptist Convention Annual Meeting in Baltimore, MD.
Some of us will also need to stay someplace where we have access to travel to the Baltimore Convention Center, One West Pratt Street, Baltimore, MD 21201. If you are interested in serving in the Many Faces Of SBC Booth please contact us.
Please feel free to contact us if you are interested in attending. We are looking forward to meeting and seeing brothers and sisters from all over North America and abroad.
The L-rd bless you, and watch over you; The L-rd make His face shine on you, and be gracious to you; The L-rd lift up His countenance on you, and give you peace. [Numbers 6:24-26]
Your brothers and sisters in Yeshua, servants and fellow bond-servants in the L-rd.
The Executive Board and members of the Southern Baptist Messianic Fellowship
So come and worship with us this June.
---
We look forward to a wonderful time in Worship, learning and fellowship. Come to our meetings and spend time with us as we work together to build up the saints to bear fruit.
Please check this SBMF News Page for potential changes. We don't want you to miss any of the blessings of the Pastors Conference or the SBC Annual Meetings. http://www.sbmessianic.net/2014SBMFAM.shtml
Please let us know if you are going to attend. We need to make plans for the size of the meeting room and refreshments. Contact The SBMF
---
Lodging Information:
Making your lodging reservations for the SBMF Annual Meeting.
There are several other motels in the area that are not on the SBC lodging list. We can help with making recommendations to you.
You will need to arrange land transportation to and from the SBMF and SBC meetings. Some of us will have vehicles there during our stay. Some rides to and from the motels may be available.
We also recommend that you look at the SBC Housing page if you plan on attending the SBC Pastors Conference and the SBC Annual meeting.
Clich this link for SBC Housing Information to make housing reservations. There are sevaral other motels in the area that have real good rates.
---
I am telling the truth in Christ, I am not lying, my conscience testifies with me in the Holy Spirit, that I have great sorrow and unceasing grief in my heart. For I could wish that I myself were accursed, separated from Christ for the sake of my brethren, my kinsmen according to the flesh, who are Israelites, to whom belongs the adoption as sons, and the glory and the covenants and the giving of the Law and the temple service and the promises, whose are the fathers, and from whom is the Christ according to the flesh, who is over all, G-d blessed forever. Amen. [Romans 9:1-5]
Brethren, my heart's desire and my prayer to G-d for them is for their salvation. [Romans 10:1]
For I am not ashamed of the gospel, for it is the power of G-d for salvation to everyone who believes, to the Jew first and also to the Greek. For in it the righteousness of G-d is revealed from faith to faith; as it is written, "But the righteous man shall live by faith." [Romans 1:16-17]
Do you not say, 'There are yet four months, and then comes the harvest'? Behold, I say to you, lift up your eyes and look on the fields, that they are white for harvest. [John 4:35]
Go therefore and make disciples of all the nations, baptizing them in the name of the Father and the Son and the Holy Spirit, teaching them to observe all that I commanded you; and lo, I am with you always, even to the end of the age. [Matthew 28:19-20]
And He said to them, "Go into all the world and preach the gospel to all creation. [Mark 16:15]
For Zion's sake I will not keep silent, And for Jerusalem's sake I will not keep quiet, Until her righteousness goes forth like brightness, And her salvation like a torch that is burning. [Isaiah 62:1]
But you, be sober in all things, endure hardship, do the work of an evangelist, fulfill your ministry. [2 Timothy 4:5]
---

This Site Is Under Construction
---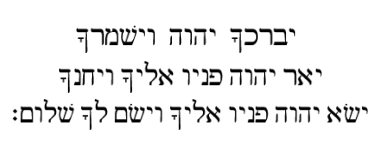 The L-rd bless you, and watch over you; The L-rd make His face shine on you, and be gracious to you; The L-rd lift up His countenance on you, and give you peace. [Numbers 6:24-26]
Shalom Alechem