Southern Baptist Messianic Fellowship
2015 Annual Meeting In Columbus, OH.
Please Check This Page For
Meeting News Updates
Come to the SBMF Encampment this June in Columbus, OH.
Visitors Are Welcome
Let us hold fast the profession of our faith without wavering; (for he is faithful that promised;) And let us consider one another to provoke unto love and to good works: Not forsaking the assembling of ourselves together, as the manner of some is; but exhorting one another: and so much the more, as ye see the day approaching. [Hebrews 10:23-25 KJV]
---
SPECIAL NOTICE
The 2015 SBMF Annual Meeting Encampment
Will Be Meeting At:
The Golden Coral - North, In Columbus, OH
3710 West Dublin Granville,
Columbus, OH, 43235, (614) 799-9579
June 14th, 2015 at 1:30PM
The Restaurant Charges For The Meal
This Years Theme: Time Is Short For Those Who Are Lost
I am telling the truth in Christ, I am not lying, my conscience testifies with me in the Holy Spirit, that I have great sorrow and unceasing grief in my heart. For I could wish that I myself were accursed, separated from Christ for the sake of my brethren, my kinsmen according to the flesh, who are Israelites, to whom belongs the adoption as sons, and the glory and the covenants and the giving of the Law and the temple service and the promises, whose are the fathers, and from whom is the Christ according to the flesh, who is over all, G-d blessed forever. Amen. [Romans 9:1-5]
Brethren, my heart's desire and my prayer to G-d for them is for their salvation. [Romans 10:1]
Meeting Plans For Our 2015 SBMF Annual Meeting
This year we needed to change the format of our meetings as several of our members and leaders will not be able to attend. There are several mission trips and ministry obligations scheduled that weekend.
Our plan is to have a luncheon meeting and then we will all go to the SBC Pastors Conference together or meet at the Pastors Conference.
Please contact us and let us know if you will attend. We will need to make reservations at the restaurant.
Attendees will receive a coupon to help towards this luncheon if they are current in membership or intend to pay at the luncheon. If your congregation has a current congregational member each member will also receive a coupon towards the cost of this luncheon meeting. Non-member guests are also welcome. Click on this link to contact the SBMF you're your reservation. Contact The SBMF
There is a charge for the luncheon
Page Updated 06/02/15
This Page Will Change As Event News Becomes Available.
Come to the SBMF Encampment this June in Columbus, OH.
Ho-doo Li'Adonai key tov, key le'oh-lahm chas-doe.
Give thanks to the L-rd for He is good, and His loving kindness endures forever.
[1 Chron. 16:34,41; 1 Chron. 20:21; Psa. 106.1; Psa. 118:1; Psa. 136:1,3]
---
SBMF Membership News
Dear fellow workers in Messiah's fields:
The single membership only was in effect until our meetings in New Orleans, last year. After that meeting the group membership fees will apply to congregational membership.
Individual membership will still cost $25 per year.
Congregational membership of a congregation of up to 50 people will cost $250 per year. With this type of membership we will need each congregation to submit a list of those members names, addresses, phone numbers and email addresses, who wish to be listed as SBMF members.
For a congregation of 50 to 100 members the congregational membership cost will be $350 per year. With this type of membership we will also need each congregation to submit a list of those members names, addresses, phone numbers and email addresses, who wish to be listed.
There is one restriction related to voting. Only active members, attending the SBMF Annual Meetings will be eligible to vote on any SBMF business.
Please make the check out to "SBMF" and mark in the notes field "Membership".
You may pay your dues at our Annual Meeting Luncheon when you attend.
Mail your 2013 dues to SBMF in care of Hal Garrett, Eastwood Circle, Walnut Ridge, AR. 72476
We are looking forward to being with brothers and sisters in Messiah.
May you be blessed! See you in June!
---
Lodging Information:
Making your lodging reservations for the SBMF Annual Meeting.
There are several other motels in the area that are not on the SBC lodging list. We can help with making recommendations to you.
You will need to arrange land transportation to and from the SBMF and SBC meetings. Some of us will have vehicles there during our stay. Some rides to and from the motels may be available.
We also recommend that you look at the SBC Housing page if you plan on attending the SBC Pastors Conference and the SBC Annual meeting.
Clich this link for SBC Housing Information to make housing reservations. There are sevaral other motels in the area that have real good rates.
---
Please let us know if you are going to attend. We need to make reservations at the restaurant. Contact The SBMF
---
Again like last year we will need people to volunteer to serve in the Many Faces Of SBC booth on the exhibit floor of the convention. Please contact us if you are willing to serve in our booth. The SBC Executive Committee supplies us with a booth each year where we share the booth with several other SBC Ethnic Fellowships. Contact The SBMF
---
I am telling the truth in Christ, I am not lying, my conscience testifies with me in the Holy Spirit, that I have great sorrow and unceasing grief in my heart. For I could wish that I myself were accursed, separated from Christ for the sake of my brethren, my kinsmen according to the flesh, who are Israelites, to whom belongs the adoption as sons, and the glory and the covenants and the giving of the Law and the temple service and the promises, whose are the fathers, and from whom is the Christ according to the flesh, who is over all, G-d blessed forever. Amen. [Romans 9:1-5]
Brethren, my heart's desire and my prayer to G-d for them is for their salvation. [Romans 10:1]
For I am not ashamed of the gospel, for it is the power of G-d for salvation to everyone who believes, to the Jew first and also to the Greek. For in it the righteousness of G-d is revealed from faith to faith; as it is written, "But the righteous man shall live by faith." [Romans 1:16-17]
Do you not say, 'There are yet four months, and then comes the harvest'? Behold, I say to you, lift up your eyes and look on the fields, that they are white for harvest. [John 4:35]
Go therefore and make disciples of all the nations, baptizing them in the name of the Father and the Son and the Holy Spirit, teaching them to observe all that I commanded you; and lo, I am with you always, even to the end of the age. [Matthew 28:19-20]
And He said to them, "Go into all the world and preach the gospel to all creation. [Mark 16:15]
For Zion's sake I will not keep silent, And for Jerusalem's sake I will not keep quiet, Until her righteousness goes forth like brightness, And her salvation like a torch that is burning. [Isaiah 62:1]
But you, be sober in all things, endure hardship, do the work of an evangelist, fulfill your ministry. [2 Timothy 4:5]
---

This Site Is Under Construction
---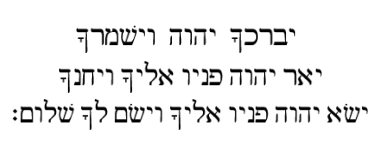 The L-rd bless you, and watch over you; The L-rd make His face shine on you, and be gracious to you; The L-rd lift up His countenance on you, and give you peace. [Numbers 6:24-26]
Shalom Alechem