Southern Baptist Messianic Fellowship
Just for fun. October 20, 2005

Shalom to all. "The grace of the Adonai Yeshua HaMeshiach, and the love of Elohim, and the fellowship of the Ruach HaKodesh, be with you all."
---
Chag Sukkot
Have a good day in His house
Then the LORD spoke to Moses, saying, "Speak to the children of Israel, saying:' The fifteenth day of this seventh month shall be the Feast of Tabernacles for seven days to the LORD. On the first day there shall be a holy convocation. You shall do no customary work on it. For seven days you shall offer an offering made by fire to the LORD. On the eighth day you shall have a holy convocation, and you shall offer an offering made by fire to the LORD. It is a sacred assembly, and you shall do no customary work on it. [Leviticus 23:33-36 NKJV]
---
Good News:

Blessed is he who reads and those who hear the words of the prophecy, and heed the things which are written in it; for the time is near. [Rev 1:3 NASU]

And behold, I am coming quickly. Blessed is he who heeds the words of the prophecy of this book. [Rev 22:7 NASU]

Baruch HaBah B'Shem Adonai. [Psalms 118:26]

Blessed is He Who comes in the Name of the L-rd

.

[Matthew 23:29]

I pray that all is well with you all. G-d is so good. He is blessing us all the time.

I have found that we are what we eat. So feast on the Tree of Life. Be filled with Light and Life. Read the Word.
---
Good Advice From: Rabbi Edwin Farrar
He thought you might like this, and I posted it for you..
How to stay safe in the world today.
1. Avoid riding in automobiles because they are responsible for 20% of all fatal accidents.
2. Do not stay home because 17% of all accidents occur in the home.
3. Avoid walking on streets or sidewalks because 14% of all accidents occur to pedestrians.
4. Avoid traveling by air, rail, or water because 16% of all accidents involve these forms of transportation.
5. Of the remaining 33%, 32% of all deaths occur in Hospitals. So, ... above all else, avoid hospitals.
BUT, ... You will be pleased to learn that only .001% of all deaths occur in worship services in church, and these are usually related to previous physical disorders. Therefore, logic tells us that the safest place for you to be at any given point in time is at church!
...And....Bible study is safe too. The percentage of deaths during Bible study is even less.
So,...for SAFETY'S sake - Attend church, and read your Bible.
IT COULD SAVE YOUR LIFE!
---
Praise Report From: Ric Worshill
Rabbi Stuart Lee, Mazel Tov
Baruch HaShem Yeshua (Praise the name of Jesus). One of our own SBMF brothers was elected to an Executive Board position in his local SBC association. Rabbi Stuart Lee (Worship Leader of B'nai Ohr Beth Tefilah, Lindenhurst, IL.) was elected to the post of Church Development Manager for the Lake County Baptist Association, Lake County Illinois. Please lift him up in your prayers. He is our dear brother and we wish him well.
---
Prayer Request From: John Denson
The New Work In Flint Michigan
Brother John is asking for our prayers for the new work in Detroit Michigan. Please contact John and see if he needs any help. John and Donna are praying for love offerings to help get this ministry started.
---
Prayer Request From: Jorge Sedaca
The New Work In Flint Michigan
Please be in prayer for Jorge Sedaca and the brothers and sisters who are in the process of a new work in Flint Michigan. Contact Jorge and see if he needs any help.
---
Ministry Report From: Pastor Bill Liniewicz for Radio India
Pastor Bill is in India. Please be in prayer for this mission of Yeshua. Baruch HaShem Yeshua. Pray for the safety of our brother. Photos from the jungle.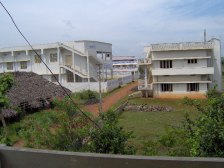 The Seminary Accommodations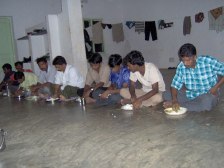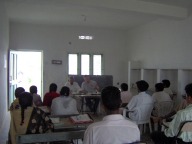 Food for the physical body Food for the spirit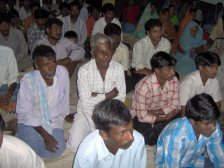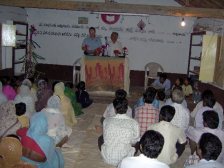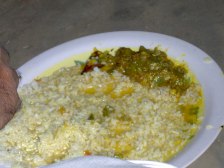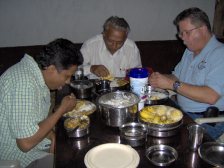 Yummmmy
A note from Pastor Bill
Well last night we drove over two hours to get to a remote village for a communion service. Since Pastor Abraham planted this church back in 1988 almost the whole village have converted to Christianity. There is an unused Hindu temple in the middle of town but since there are no lights I couldn't get a good picture. After teaching and the communion many of the villagers ask for special prayer and come forward. Then they pay us the pastor's wages of a full meal and whatever produce we can carry home.
Tonight we'll have 3 jungle Shabbat services in villages far apart, we should be home by 5am. in time to get ready for the Sunday service in Pastor Abraham's home church. They are expecting over 3,000 to fill the church to hear a message from G-d brought from the USA, please pray for me.
Today is milder with the "realfeel" temperature of 105f, it's very sticky at night, but I'm so exhausted I don't notice till morning. I'm trying to teach them American recipes but we're lacking the ingredients.
G-d Bless
Brother Bill
Check this web site out. http://www.radioindiaministries.com/ or for the Jungle Journal at: http://radioindiaministries.blogspirit.com
---
Holiday News from Rabbi Ken Alpren at Kol Dodi
October 22, Saturday – Richard Ayal Frieden, founder Jerusalem Street Productions & the JAMM in Israel speaks at Kol Dodi! www.heartrock.org
*Also Pastor Ken & Dennis share testimonies about the Outreach at Israeli New Age Festival in Galilee ! at Calvary Baptist, 101 Bowling Av., Nashville
---
News From Randy Weiss at CrossTalk.org
Dr. Randy Weiss is taking a tour group to Ha'aretz Yisrael on November 6th to the 15th. If anyone is interested please go to the CrossTalk.org web site or If you want more details you can visit the website, www.letsgotoisrael.com.
I don't know if there are openings available.
---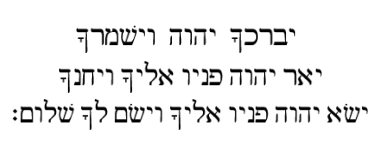 The L-rd bless you, and watch over you; The L-rd make His face shine on you, And be gracious to you; The L-rd lift up His countenance on you, And give you peace. [NASU Numbers 6:24-26]
Shalom