Southern Baptist Messianic Fellowship
Ministry News March 15, 2015
Shalom Y'all. Blessings and Peace
---
The Encampment is Coming in Columbus, OH. this June.
Don't forget, make your plans now.
"Ho-doo Li'Adonai key tov, key le'oh-lahm chas-doe."
"Give thanks to the L-rd for He is good, and His loving kindness endures forever."
[1 Chron. 16:34,41; 1 Chron. 20:21; Psa. 106.1; Psa. 118:1; Psa. 136:1,3]
Be healthy, be safe, be filled, be blessed, be found in Him. Our G-d is an awesome G-d.
Event News Flash
The Lausanne Consultation On Jewish Evangelism (LCJE), North America will be meeting on April 19th to the 23rd, 2015 in Vancouver, BC, Canada.
If you are a current member of the Southern Baptist Messianic fellowship or your congregation has a group membership, you are a member of the LCJE. Our members who are up to date in their dues are able to attend this event at the member registration fee.
Please look at the link below and see if you would like to attend this conference, attended by leaders and members of many of the Messianic Associations around the world like CPM, J4J, CJF and several others.
If you have any questions please contact me or look at the link listed below.
Posted By SBMF President Ric Worshill
http://www.lcje-na.org/
The news about the 2015 SBMF Annual Meeting is also published in another web page at this site. If you have any questions, please contact us by clicking on the following link. . Contact The SBMF
---
"Therefore, since we are surrounded by such a great cloud of witnesses, let us throw off everything that hinders and the sin that so easily entangles. And let us run with perseverance the race marked out for us, looking unto Jesus, the author and finisher of our faith, who for the joy that was set before Him endured the cross, despising the shame, and has sat down at the right hand of the throne of God." (Hebrews 12:1-2)
"Let us hold fast the profession of our faith without wavering; (for he is faithful that promised;) And let us consider one another to provoke unto love and to good works: Not forsaking the assembling of ourselves together, as the manner of some is; but exhorting one another: and so much the more, as ye see the day approaching." [Hebrews 10:23-25]
"Do you not say, 'There are yet four months, and then comes the harvest'? Behold, I say to you, lift up your eyes and look on the fields, that they are white for harvest." [John 4:35]
"Go therefore and make disciples of all the nations, baptizing them in the name of the Father and the Son and the Holy Spirit, teaching them to observe all that I commanded you; and lo, I am with you always, even to the end of the age." [Matthew 28:19-20]
"And He said to them, "Go into all the world and preach the gospel to all creation." [Mark 16:15]
"But you, be sober in all things, endure hardship, do the work of an evangelist, fulfill your ministry." [2 Timothy 4:5]
---

This Site Is Under Construction
---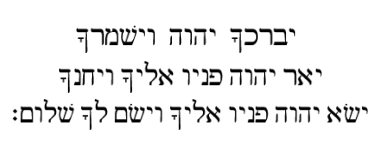 The L-rd bless you, and watch over you; The L-rd make His face shine on you, and be gracious to you; The L-rd lift up His countenance on you, and give you peace. [Numbers 6:24-26]
Shalom Alechem