Southern Baptist Messianic Fellowship
News November 21, 2006

Shalom to all. "The grace of the Adonai Yeshua HaMeshiach, and the love of Elohim, and the fellowship of the Ruach HaKodesh, be with you all."
---
Good News:
And behold, I am coming quickly. Blessed is he who heeds the words of the prophecy of this book. [Rev 22:7 NASU]
The voice of one crying in the wilderness: "Prepare the way of the L-RD; Make straight in the desert A highway for our G-d. Every valley shall be exalted And every mountain and hill brought low; The crooked places shall be made straight And the rough places smooth; The glory of the L-RD shall be revealed, And all flesh shall see it together; For the mouth of the L-RD has spoken. [Isaiah 40:3-5 NKJV]
Baruch HaBah B'Shem Adonai. [Psalms 118:26]
Blessed is He Who comes in the Name of the L-rd
. [Matthew 23:29]
I pray that all is well with you all. G-d is so good. He is blessing us all the time.
---
SBMF Prayer Request:
Please pray for Vice President Jay and I as we work to take the SBMF into the next level of Jewish Evangelism. We are praying and working to make the SBMF more viable and resourceful to our members and the Body as a whole. As soon as we have news or information to report we will publish the news flash on this site or e-mail the members directly.
Please lift Jay Fielding & Beth Chaim in Georgia up in your prayers. We are working with the Noonday Baptist Association, praying to start this new work in their association. The Noonday Baptist Association is evaluating brother Jay and Michele to see if they meet the qualifications for mission status in their association. Please lift this new work for the Kingdom up in your prayers. Jay and Michele have been a blessing to us since we met before the SBMF Annual Meeting this last June. We have some of our most experienced SBMF brothers working with Jay to prepare him and Michele for this ethnic language work of Jewish evangelism.
Please continue to lift Congregation Valley of Blessing up in your prayers. They still need a Southern Baptist Church willing to bless them with hospitality, so they have a place to worship in central Greensboro.
Please pray for Brian Hawkins (Adat Ha'derech Kol Mashiach - Congregation The Way Of The Messiah) as he has started this new Messianic work in the Phoenix City, AL. area. Brian is a new member of our fellowship. We will be looking into helping him get the training and guidance that he needs to lead this new work. We hope to start him in the SBC / NAMB Missionary status evaluation process via the local SBC association.
We are still looking for a Messianic Minister to start a new Messianic Work in New York City, NY. Please lift this area of new work up in your prayers. We do not have a Southern Baptist Messianic Fellowship work in this area.
Please pray for our Missionaries who are outside the USA in the line of fire. We have dear brothers and sisters in several countries outside the USA. They need your prayers.
A local SBC Church in Dodge City, KS has pledged to help support a ministry in Israel. We are looking forward to build the bridge between the Ministry in Israel that is in need and this Church. Please pray for this love gift.
---
Ministry News from Beth Shalom Messianic Congregation & Baytown Baptist Church, Baytown TX.
We have purchased a 3.6 acre location for our Baytown Baptist Church, a Messianic church, Our Sukkot celebtation was held under a 20'X40' sukka on the new Baytown, Texas, property. Ted Tedford and I are co-pastors of both congregations. We meet Motzi Shabbat, boker yom rishon, and erev yom revii.
We haven't been able to purchase a location for Beth Shalom Messianic Congregation as yet. Below is a copy of our weekly Messianic up-date for Beth Shalom which has used the fellowship hall of Rice Temple Baptist Church of Erev Shabbat for the past 4 years. We teach Hebrew classes from 6 to 6:45 P.M., have worship, praise, & Bible classes from 7 to 8:30 P.M., with an Oneg Shabbat afterwards.
THE TORAH AND THE PROPHETS STUDY, 7 PM
It is Important to study the Torah and HafTorah because of the following passage from the Brit Hadasha:
And Lazarus said to Abraham, "I have five brethren; (send Lazarus back from the dead) that he may testify unto them, lest they also come into this place of torment. Abraham saith unto him, They have Moses and the prophets; let them hear them. And he said, Nay, father Abraham: but if one went unto them from the dead, they will repent. And he said unto him, If they hear not Moses and the prophets, neither will they be persuaded, though one rose from the dead." (Luke 16:28-31)
THANKSGIVING PLANS
In the Jewish community we have a holiday or a Holy Day each month of the year with the exception of November, during which we normally celebrate the American holiday, Thanksgiving. This year WE WILL NOT be meeting on the Friday evening after Thanksgiving, but will celebrate with our families at home. We will resume the regular Erev Shabbat service on December 1st. This marks the first time in 9 years that we have not met on Erev Shabbat.
CHANUKAH PARTY DECEMBER 15th, 7 PM
Men: Bring a gift for a man.
Ladies: Bring a gift for a lady.
Children: Bring a gift for a child.
---
Ministry News from Shalom Ministries (John Denson)
Greetings in the name of our Messiah, Yeshua! Thank you so much for your prayers and your support during my illness. We are happy to report that I had a limited stay in the hospital and well on my way to a full and total recovery. Donna and I deeply appreciate your concerns.
Ministry Report
Our Messianic weekly bible studies are going extremely well. The attendance is growing and people are being challenged to look at the Bible from a Jewish perspective. We have completed two new dvd's which we are really excited about. One of the dvd's was made with Rabbi Loren Jacobs (our board chairman). The other is an interview with me. They are now being edited and should be available to our supporters by the first week in December. We have a new ministry team whom the L-rd has sent to help us in various aspects of the ministry. We now have ministry, prayer, financial, and media coordinators; also evangelism team leader. These are volunteers who not only give of their precious time, but financial support as well.
Messianic Family Seminar
Our Messianic Family Seminar was a major success. It was well attended. bible principles were shared from a Jewish perspective. And all who participated were enthused and excited. We are looking forward to a series of these workshops in the coming years. It is one of the components that makes Shalom Ministy unique. A special thanks to Calvary Baptist Church of Hazel Park for hosting this successful event.
Jewish Fellowship
Donna and I have talked and visited with over 75 unsaved Jewish people. It is wonderful how G-d gives us favor and tremendous opportunities to share our faith. Please continue to pray for their hearts to be softened and receptive to the Gospel. We spent the Jewish holidays, celebrating with Congregation Shema Yisrael.
Reception
We are planning a major Shalom Ministry Fundraising Reception on friday December 1 at 7:pm . We are honored to have as our keynote speaker, David Brickner, executive director of Jews for Jesus. David is an extraordinary, gifted brother and we are confident that he will challenge the audience that evening. We trust that all of our local supporters will be in attendance that night and bring people that will be open to giving to this ministry. For additional information, see enclosed brochure.
Shalom Ministry is also in the planning stages of putting together the first African-American led Jewish evangelistic campaign in Michigan. The campaign will take place in the summer of 2007. Please pray and continue to pray for this awesome effort.
Prayer Request
We ask that you continue to pray for our family, especially or youngest son, Michael. He is in the mountains of Canyon de Chelly in Arizona, taking pictures with an excavation tour group. The mountains are the homes of the Native-Americans in that area. Pray for Donna's mothers' health. We ask that you pray for the Shalom Ministry Art Program. This is a new concept, which will be led by my wife Donna. We are praying that the L-rd will give wisdom and resources.
Most importantly, pray for this ministry, that G-d will touch the hearts of many black pastors that we have and will come in contact with in the future. Pray that G-d will give them a passionate heart for Jewish evangelism. These several months we have collected names of unsaved Jewish people. People that family and friends have requested their need for the Messiah. We are inserting a list of names and asking that you give fervent prayer, that they may know Yeshua, as their Messiah.
Remember, we are going up against strongholds that have been rooted for centuries. Again thank you for your on going support and prayers.
Please make all checks to Shalom Ministry and send to Po Box 19695 Detroit MI.48219 http://www.shalomministry.com/
---
Ministry News and Prayer Request from Moscow Russia:

Russian Outreach

Our vision is to see Russian Jews gathered into vibrant Messianic congregations being a light to the nations.

Praises:
I survived 3 Russian lessons in one week. I was exhausted by the end of the last lesson yesterday but glad for the opportunity to continue to study the language. On Wed. my teacher and I had our lesson at the Puskin museum where we saw a Rembrandt exhibition. I especially enjoyed that cultural experience.
Last night, Friday, for dinner I had a family of American colleagues who are good friends. I hadn't seen them since before I left for the States in June so it was great to be able to spend some time with them. They also brought me some things from the U.S. that I have been waiting for for quite some time. So that was a blessing too.
This week in my Bible study we had a very lively discussion about whether or not Jesus is the son of G-d. One of the women who attends our group meets regularly with Jehovah Witnesses and they have influenced her view on Jesus' identity. I was very grateful for the believers who were there who were able, along with me, to be able to point her to some of the Scriptures that talk about Jesus as G-d. I think that next week we will do a study specifically on that topic. I see that Elena is really seeking for truth but has been tossed around by many false doctrines. Praise G-d that she is willing to come to our Bible study weekly. Please pray that she will read the Bible and another Christian book that I gave her and come to the conclusion that Jesus is indeed Messiah and L-rd.
Last Saturday, at the congregation that I attend a Jewish believer came an excellent message on 'the church'. She grew up in a Hassidic Jewish family and not only knows a lot about Judaism but is very talented in sharing stories. I was just fascinated by the way that she shared her message. I was also excited about the fact that I could understand most of what she said in Russian.
Prayer Requests:
This week I met with a colleague from another Jewish ministry to plan a Thanksgiving celebration for the members of my English club and the young Jews that he work with. The joint Feast of Tabernacles celebration that we did last month was a great success so we are hoping that this will be also. Please pray first of all that we will be able to find a place to host it and then that all the details that go into planning something like this will fall into place.
Monday, November 6th is a public holiday and also a day off of language study for me. I have lots of administrative things to do and am hoping to get some of them done on Monday. Please pray that I will make good use of the time and that G-d will give me direction as to which things are most important for me to get down at this time.
On Wed, November 8th I will be meeting with the other IMB team leaders who serve here in Moscow. I always find these meetings to be encouraging, especially as we take time to pray for each other and our ministries. Please pray that G-d will guide us as we share and make decisions about our joint cooperation. The last few meetings we have not had much time to spend in dedicated prayer. So please pray that we will have time to do that this time.
I'm not sure if this fits as a praise or a prayer request. I'll let you decide. This week we had our first snow of the season. When I woke up on Monday morning everything was covered with white. It was beautiful but was all melted within a day or so. The weather has hovered around freezing all week but is supposed to get much colder this week-end. So it looks like winter is on the way.
I pray that G-d richly blesses you and fills your heart with the warmth of His love this week.
---
The Omega Letter Intelligence Digest: by Jack Kinsella
Vol: 62 Issue: 11 - Saturday, November 11, 2006
"A Man After G-d's Own Heart"
In Paul's sermon at Antioch, in which he briefly recounts the history of Israel, he refers to the statement made by G-d concerning David:
"I have found David the son of Jesse, a man after My own Heart, who will do all My will." - (Acts 13:22 [cf. 1 Samuel 13:13-14]) It is especially interesting, given the fact that David is among the patriarchs with the most checkered past. The portrait of King David painted by Scripture is hardly the picture of what one might consider 'a man after G-d's own heart'.
At various times during his lifetime, he was deceitful and corrupt, a widely despised tyrant who lacked for justice, and a murderer.
From the slaughter of seven sons of Saul to the murder of one of his most loyal lieutenants, whose wife he seduced, David was no paragon of virtue.
What was there about David that caused G-d to extend such a sweeping compliment as to pronounce him a man after His own Heart? David understood his relationship with G-d like few others in Biblical history. After committing adultery with Bathsheba and then having her husband, Uriah killed, the prophet Nathan stood before King David and accused him before G-d.
"And the L-rd sent Nathan unto David. And he came unto him, and said unto him, There were two men in one city; the one rich, and the other poor.
The rich man had exceeding many flocks and herds: But the poor man had nothing, save one little ewe lamb, which he had bought and nourished up: and it grew up together with him, and with his children; it did eat of his own meat, and drank of his own cup, and lay in his bosom, and was unto him as a daughter.
And there came a traveler unto the rich man, and he spared to take of his own flock and of his own herd, to dress for the wayfaring man that was come unto him; but took the poor man's lamb, and dressed it for the man that was come to him.
And David's anger was greatly kindled against the man; and he said to Nathan, As the L-rd liveth, the man that hath done this thing shall surely die: And he shall restore the lamb fourfold, because he did this thing, and because he had no pity.
And Nathan said to David, Thou art the man." (2nd Samuel 12:1-7) Note that Samuel carefully records that "the L-rd sent Nathan unto David" to convict him of his sin. In his prayer of contrition in Psalm 51, David reveals much of what it was that caused G-d to pronounce him a 'man after His own heart.'
"Have mercy upon me, O G-d, according to Thy lovingkindness: according unto the multitude of Thy tender mercies blot out my transgressions." (Psalms 51:1)
David understood that his relationship with G-d was 'according to His lovingkindness' and not according to David's definition of what G-d should do. He also understood that his sin, as horrendous as it was, could be blotted out, not by some act of David's, but solely due to the 'multitude of G-d's tender mercies'.
David appeals; "Wash me thoroughly from mine iniquity, and cleanse me from my sin. For I acknowledge my transgressions: and my sin is ever before me." (v.2.3) David knew that G-d knew what his sins were, but the important point was that DAVID knew what his sins were, and the importance of honest confession before G-d.
David understood also that his sin was against G-d, that it was deliberate, and that the reason his sin haunted him was because of its offense before G-d. David understood that, since it was a sin against G-d, only an act of G-d could blot it out. Nothing David could do to make restitution would ever be sufficient.
"Against Thee, Thee only, have I sinned, and done this evil in Thy sight: that Thou mightest be justified when Thou speakest, and be clear when Thou judgest." (v.4) David understood that there was no 'wiggle room' before the L-rd and that G-d's justice is as absolute as His mercy.
But David was also a realist; "Behold, I was shapen in iniquity; and in sin did my mother conceive me."
David understood the dual nature of fallen humanity, that which caused the Apostle Paul to cry out, "O wretched man that I am! who shall deliver me from the body of this death?" (Romans 7:24) Paul explained, "For we know that the law is spiritual: but I am carnal, sold under sin. For that which I do I allow not: for what I would, that do I not; but what I hate, that do I." (Romans 7:14-15) Having expressed his frustration with his own struggle with his dual nature, Paul summarized that which David understood, saying, "So then with the mind I myself serve the law of G-d; but with the flesh the law of sin." (Romans 7:25) David prayed, "Behold, thou desirest truth in the inward parts: and in the hidden part thou shalt make me to know wisdom."
G-d's truth is that nothing we can do by our own effort will ever make restitution for our past sins. Each of us shares the same conflict between the carnal nature and the spirit.
Paul's equation of the sin nature to 'the body of this death' refers to a particularly brutal form of execution sometimes practice under the Romans. The condemned would be chained to a corpse, and food and water withheld until the condemned either died or resorted to cannibalism.
That is how Paul viewed the cohabitation of the spirit with the sin nature of the flesh.
David trusted G-d to lead him, even when he was out of fellowship, having faith that 'in the hidden part' -- in his spirit, G-d would 'make him to know wisdom'.
David's understanding of the grace of G-d as expressed in his prayer in large part, fits with G-d's description of him as being a man after His own Heart.
It was this understanding of unmerited grace that formed the centerpiece of the ministry of Jesus. One of the L-rd's earthly titles is the "Son of David."
David expresses his understanding of how the process of forgiveness operates in G-d's economy.
"Purge me with hyssop, and I shall be clean: wash me, and I shall be whiter than snow. Make me to hear joy and gladness; that the bones which thou hast broken may rejoice. Hide thy face from my sins, and blot out all mine iniquities. Create in me a clean heart, O G-d; and renew a right spirit within me." (v. 7-10) Note the role David plays in his redemption. Admit, confess, repent and trust. To 'repent' means to change one's mind about sin. David saw himself as King of Israel, and therefore, whatever he did was above reproach.
David sat on his throne, and passed judgment on the wicked rich man of whom Nathan spoke. Until he realized Nathan was speaking about HIM, at which point he changed his mind about his sin and laid himself bare before the L-rd.
All the rest of the redemptive process David placed in the Hands of G-d. 'Purge me, wash me, forgive me, bless me and renew me.'
Even his sense of conviction came through a direct message from G-d through Nathan, just as we are directly convicted by G-d through His indwelling Holy Spirit.
David's only role in his redemption was to trust in G-d to make the changes that David knew he could not effect himself.
David accepted the earthly consequences of his sin, such as the death of his son, but with the clear understanding that the spiritual consequences of his sin were forgiven.
"While the child was yet alive, I fasted and wept: for I said, Who can tell whether G-d will be gracious to me, that the child may live?
But now he is dead, wherefore should I fast? can I bring him back again? I SHALL GO TO HIM, but he shall not return to me." (2nd Samuel 12:22-23)
What made David a man after G-d's own heart was his understanding of the consequences of being out of fellowship with G-d, and how to get back into right fellowship with G-d.
Ask Him.
"Restore unto me the joy of Thy salvation; and uphold me with Thy free spirit." It is the joy of knowing one is saved and in fellowship with the L-rd that shines through and attracts the lost.
Having been spiritually restored, notes David; "THEN will I teach transgressors Thy ways; and sinners shall be converted unto Thee."(v. 11-12)
Often, I read in the forums of members lamenting their ineffectiveness for Christ and wondering what it is they are doing wrong. Spend a few minutes meditating on these two verses with me.
G-d restores our joy, G-d then subsequently upholds us with His Spirit. THEN we find ourselves effective witnesses, teaching people His ways, and leading the lost to Christ.
It is deceptively simple. Trust G-d. Be joyful. Allow Him to lead you and not the other way around.
David makes it clear that the redemptive process is in G-d's Hands, understanding grace so well that he could see past the Temple rituals of the Mosaic Law and peer into G-d's Heart, saying, "For thou desirest not sacrifice; else would I give it: thou delightest not in burnt offering. The sacrifices of G-d are a broken spirit: a broken and a contrite heart, O G-d, thou wilt not despise." (v. 51-16-17) One of the most debilitating emotions to one's Christian witness is the weight of the guilt we heap on ourselves for being what we KNOW we are in our own 'inward parts'.
David understood, in his spirit, that G-d's forgiveness is total and absolute, and leaves no spiritual residue of guilt. At the Cross, the Son of David cried out in a loud voice, 'Tetelestai!' which means, 'paid in full'.
Jesus promised, "Come unto Me, all ye that labour and are heavy laden, and I will give you rest. Take My yoke upon you, and learn of Me; for I am meek and lowly in heart: and ye shall find rest unto your souls. For My yoke is easy, and My burden is light." (Matthew 11:28-30)
The Omega Letter is published daily by Jack Kinsella at www.omegaletter.com
---
Check out the below SBMF recommended Messianic ministries for details of .
SBMF Members Ministries, Congregations and Worship Service Information
Dallas, TX.
Deer Park, TX
B'rit Avraham Messianic Congregation
Christian - Jewish Unity Congregation
Riverside County area of Southern California
Marietta, GA
Bessemer, AL.
Hampton, Virginia
West Side of Central Nashville, TN.
Princeton, WV
Detroit, MI.
Greensboro, NC
Lindenhurst, IL.
Pasche Institute Of Jewish Studies
A Ministry Of Criswell College
Dallas, TX.
Not all of our affiliated Messianic congregations or our member's ministries have web sites. Some of of our members have not yet requested us to post links to their web sites. If you are a member of the SBMF and would like a link to your web site posted and linked, please contact us at the SBMF.
---
---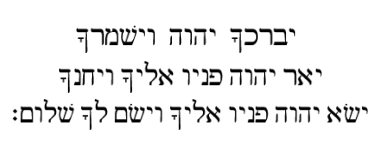 The L-rd bless you, and watch over you; The L-rd make His face shine on you, And be gracious to you; The L-rd lift up His countenance on you, And give you peace. [NASU Numbers 6:24-26]
Shalom