Southern Baptist Messianic Fellowship
News Update April 2, 2008

Shalom to all. ďThe grace of the Adonai Yeshua Ha'Mashiach, and the love of Elohim, and the fellowship of the Ruach HaKodesh, be with you all.Ē
---
Don't Forget - The SBMF Encampment is Coming in June:
I thank my God, making mention of you always in my prayers, hearing of your love and faith which you have toward the Lord Jesus and toward all the saints, that the sharing of your faith may become effective by the acknowledgment of every good thing which is in you in Christ Jesus. [Philem 6 NKJV]
Baruch Ha'bah BíShem Adonai. [Psalms 118:26]
Blessed is He Who comes in the Name of the L-rd. [Matthew 23:29]
Let us hold fast the confession of our hope without wavering, for He who promised is faithful. And let us consider one another in order to stir up love and good works, not forsaking the assembling of ourselves together, as is the manner of some, but exhorting one another, and so much the more as you see the Day approaching. [Hebrews 10:23-25]
We pray that all is well with you. G-d is so good. He is blessing us all the time. Be blessed, be healthy, be found in Him.
---
Ministry News from Rabbi Mike Saffle, Shalom Adonai Messianic Baptist Fellowship, Wichita
We have a major blessing to tell you all about. We have been praying about live music for our Seder this year (many of you know we are still using 'canned' music for our services!), but HaShem had not given any leading toward any solution. Well, some dear friends - the Hanes Family (also known as Messianic music group Zemer Levav!!) - called today, and are not only coming to Shalom Adonai to play for our Seder, but are also giving us a concert during our Shabbat Service that morning! We are so blessed by their music and friendship. If you know Zemer Levav's music you know why, and if you don't, I highly recommend you check out their website http://www.zemerlevav.com and take a quick listen. Their CDs are available through Lederer and Integrity Music. We thank Yeshua for His provision, and for His leadership.

Shalom, May you all be blessed this Pesach season!

---
Ministry News from Rev. Randall S. Clarke, Chaplain, Hargrave Military Academy
This year has been very interesting. We started some new things this year, for example we had our first Spiritual Emphasis Weekend in the fall and we had our first Chapel winter retreat in February.


During the course of this year we have had 152 cadets and one teacher make a public decision. Some were first time professions of faith in Christ and others were rededications. Many were inquiries wanting to know more.


I am really excited by the growth of our Thursday night Bible study group called Fellowship of the Word. During this past year I have seen this growing steadily. In the fall we would run between 15 & 20. Now we are running between 23 & 30. The great thing is that we are seeing new faces show up. One of them was a pretty strong atheist at the start of the year and now he is hungry to know the truth about the Lord.


I am having some difficulties that I would rather share with you by phone, but overall the Lord is doing great things.
---
Ministry News form Jim Hendricks, Israels Fullness
Israel's Fullness is a Messianic ministry providing evangelistic Bible studies for both Jewish and non-Jewish people. These Bible studies can be used both for personal growth and evangelistic outreach. They are designed to be one-on-one studies, but can be taught to large or small groups.
One of the opportunities we have in promoting the gospel of Yeshua among Jewish people is on campuses. Israel's fullness has been endeavoring to plant a ministry at Virginia Tech, in Blacksburg, VA.
We currently have a Bible study with a few students off campus, but this needs to be expanded and eventually be on campus. We are praying for someone who would be able to raise their own support and work with this ministry.

We may be contacted at www.israelsfullness@verizon.net, or phone 540-525-4116.

---
Ministry & Outreach News From Ruth, Our Sister Missionary In Russia
Our vision is to see Russian Jews gathered into vibrant Messianic congregations being a light to the nations.
Praises:

On Wed. Donna and I went to look at a place to hold camp. We both really liked it and feel like it is the place that God wants us to use. I have contacted them and asked if we can make a reservation. They couldnít give me an immediate answer but promised to call back today or tomorrow. Please pray that if this is the right place that God will work out all the details and we will be able to use it.

Plans for Passover are starting to come together. We will be helping with two celebrations-one on April 19th and one on April 26th. I am really looking forward to what God will do through those celebrations. They are always a wonderful opportunity to share the Gospel with Jewish people. Please be praying for the planning meeting that we will be having on Thursday, April 3rd. Also please be praying that God will draw many Jewish people to these celebrations.

On Saturday I attended another Purim celebration. The hall that we used held 80 people and the place was full. Many Jewish people who are not yet believers were there and had an opportunity to hear the Gospel and respond. Praise God for the work He is doing in that area of the city. Please pray for those people who attended to follow up on the commitments that they made to the Lord that day.

Thank you so much for praying about the wrong numbers that I was getting last week. After I asked you to pray I went back to getting an average of one wrong number a day. Isnít it exciting to hear how God answers our prayers! Praise the Lord!

Last Thursday I went to the post office and found out that I had 5 boxes waiting for me to pick up. Keep in mind that I donít have a car and I live about 7 minutes from the post office. Rather than just picking up a few packages at a time I decided to pick them all up at once. When I saw all these big boxes I realized that there was no way I could get them home by myself. I was too far from the street to flag down a taxi. So finally I decided the only thing I could do was stop a passerby and ask him to help. It took a while to find someone who looked sober, strong and trustworthy but the first man I asked agreed to help. Moscow is a mega-city where people donít normally pay much attention to others needs or problems so I was pleasantly surprised to find someone to help. He carried the boxes to my apartment door and when I thanked him and offered him some money for helping he refused it and walked off. What a blessing to know that there are still some Good Samaritans in Moscow. What a blessing to have friends to send me packages also.

Thanks for your prayers for my friend that had the medical tests. He has been given medical clearance and is moving ahead in the ministry direction that God is calling him to.

I have made contact with colleagues in the cities in Siberia where we will be visiting and they have all agreed to host us or find a place for us to stay and show us around their cities. I am so grateful for their hospitality and Godís provision. Please continue to pray for us as we buy our train and plane tickets and move forward with our plans.

Last Friday I was able to be involved in street evangelism with some Russian believers. We stood near a Metro (subway) station where there were lots of Jewish people on their way to synagogue to purchase matzah. I was able to give out about 150 tracts, to Jews and non-Jews and was able to engage several people in conversation. One Jewish woman is a retired English teacher and wants to attend my English club or Bible study. Please pray that she will call and come. It seems like her heart is open to the Lord. Her name is Stella.

Prayer Requests:

One of my friends is having major surgery on Tuesday, April 1st. Please pray that the surgery will go well and that the tumor that the doctors remove will not be cancerous.

We are making progress in getting work permits. It is not the perfect option but seems to be the best at this time. Please pray for Donna and I as we get our paperwork together in order to get the process started. We need to get our new visas by mid June so please pray that all will be ready by then.

Our first Passover celebration will be on Saturday, April 19th. We are still in the process of inviting people to come and reminding those who we invited earlier. It is not normal for people to RSVP for things so we have no idea how many people will come. The hall we are renting holds 60 so that is how many we are planning for. Please pray that God will bring those that He wants to hear the message of the Lamb who has been sacrificed. Please pray that many young Jews will attend. Wed. Donna and I will be shopping for Passover. Friday we, and another friend will be doing food preparations and Saturday is the celebration itself. Please pray that God will richly bless all that we do and help us to get things done in an orderly fashion. If any of you live in or near Moscow and would like to attend our celebration please let me know and Iíd be glad to give you the details.

Following the Passover celebrations I would like to have a 4 week Bible study to give people an introduction to the Bible. Why only 4 weeks? In mid May Donna and I will be going to Siberia so I wonít be here to lead the group. In June people begin taking vacation and it is very hard to keep anything going through the summer. My goal in having this short Bible study is to seek out some people who would be interested in participating in a house church in the Fall. This has been put on hold as I have sought those who God wants to be a part of the group. One of my projects for this week will be deciding what Bible study to do for these 4 weeks. Please pray for Godís wisdom. Also pray that He will call out some people who are hungering after him to be a part of this Bible study.

We are still waiting to get confirmation on prices from the place where we will have camp this summer. I sent an e-mail with the requested changes last week but have not gotten a reply. Please pray that I will be able to talk with the camp administrator today and get the prices confirmed. We need to do this before we can advertise the camp so that we know how much we will charge people.
I hope that you are as encouraged as I am to see all the ways that God has answered your prayers. Please keep them a coming and may God richly bless each of you this week. If you have special prayer needs please let me know so that I can pray for you as well. I would consider that to be a great honor.
In the Lamb,
Ruth
---
Ministry News from Rabbi Edwin, Baruch HaShem Jewish-Christian Synagogue, Peculiar, MO
We have done a Yeshua in the Passover teaching for the pastors of the Clay-Platte Baptist Association. We are also scheduled to do teachings for some local congregations in the KC area and will have an open to the public Seder teaching on April 20th.
We are also working with a local charitable organization Adam's House of Hope to gain some property in Independence. If this succeeds, we will move from out in the wilderness into Independence. Our local is our biggest determent to growth at this time.
We are also hosting an Jan 2009 Messianic Israel trip which is open to any who what to go with us.
Both the Independence, MO move and the Israel trip our or primary prayer areas at this point.
http://www.baruchhashem-peculiar.com/
---
Flood Disaster News from Rabbi Hal Garrett, MIshkan Ministries, Cherokee Village, Arkansas
Hal and Esther live in Cherokee Village in Northern Arkansas. The flooding around the Mississippi river and connecting rivers has decimated the areas around this major waterway. Homes, businesses, local churches, farms and entire communities have been destroyed. Here are some of the photos that Hal and Esther sent to me.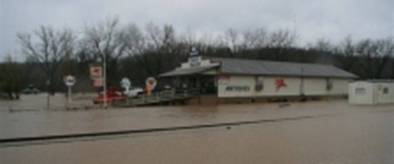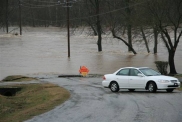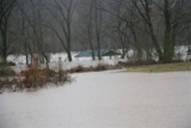 Please pray for our brother and sister. Please pray that the local churches in this area are filled with the Holy Spirit and His supply to help those in the tribulation of disaster to find the only Savior, Yeshua HaíMashiach.
---
Local Flood Disaster News In Central Illinois
From your SBMF President Ric Worshill
You may have seen the news about the flooding in North Central Illinois last December. If not, I would like to let you know about one of the several SBC churches that was devastated by these floods. Watseka Baptist Church is in the center of the flood area of Iroquois County, IL. The water damaged the foundation and building beyond repair. The floor of the church building sits about three feet above ground level and the water was up about three inches above the sanctuary floor. The basement of the church was flooded and the classroom was moved off the foundation.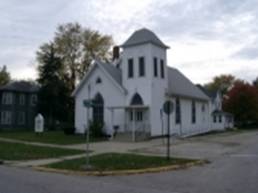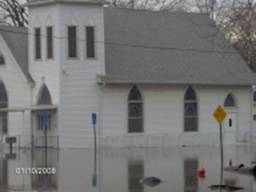 Watseka Baptist Church is a small Southern Baptist Church that is working the good work of bringing the good news of Jesus Christ in the Three Rivers (Southern) Baptist Association. This church is very limited in resources and is made up of mostly senior citizens who have limited physical abilities. This area has been resistant to the Gospel for too many years. This church is working to lead the lost to the L-rd.

Watseka Baptist Church is a small congregation who have not been able to afford flood insurance. The members are devastated as their church has been damaged as well as some of their homes.

Watseka Baptist Church is the first Southern Baptist Church to license and ordain a Southern Baptist Messianic Fellowship member as Southern Baptist Minister and Messianic Rabbi. This local church was the first to use the SBMF Messianic Rabbinic Ordination Certificate.

Please pray for this small local church as they need to find property on high ground in the area that they serve and build a new building. Their church building has been condemned. They need the L-rd to supply as there are no funds available to accomplish this acquisition of property or build a building.

There are other churches in this area that have been damaged.

Whatever you ask in My name, that will I do, so that the Father may be glorified in the Son. If you ask Me anything in My name, I will do it. [John 14:13-14]

The Church is located at:

Watseka Baptist Church

301 S. Second Street

Watseka, Illinois, 60970

Church Phone: 815-432-4400

Current Contact Information:

Pastor Richard Reeder Sr.

578 E. Grant St.

Watseka, Illinois, 60970

Home Phone: 815-432-3796
---
Come join us in Indy this June. Real food from the Tree of Life and good fellowship.
We are what we eat. Feast on the Tree of Life. Be filled with Light and Life. Read the Word.
Blessed is he who reads and those who hear the words of this prophecy, and keep those things which are written in it; for the time is near. [Revelation 1:3 NKJV]
Baruch Haíba BíShem Adonai
Blessed is he who comes in the name of the LORD! [Ps 118:26 NKJV]
---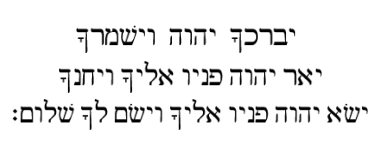 The L-rd bless you, and watch over you; The L-rd make His face shine on you, And be gracious to you; The L-rd lift up His countenance on you, And give you peace. [NASU Numbers 6:24-26]
Shalom Alechem