Southern Baptist Messianic Fellowship
News Update May 29, 2010

Shalom to all. "The grace of the Adonai Yeshua Ha'Mashiach, and the love of Elohim, and the fellowship of the Ruach HaKodesh, be with you all."
---
The Encampment is Coming in Orlando this June.
Don't forget, make your plans now. Just over one month to go.
Let us hold fast the confession of our hope without wavering, for He who promised is faithful. And let us consider one another in order to stir up love and good works, not forsaking the assembling of ourselves together, as is the manner of some, but exhorting one another, and so much the more as you see the Day approaching. [Hebrews 10:23-25]
Be healthy, be safe, be filled, be blessed, be found in Him. Our G-d is an awesome G-d.
---
Special Message & Ministry News From Your SBMF President, Mike Saffle And The SBMF Leadership Team
Your SBMF Leadership Team has been hard at work for you. We are currently working on several projects that will benefit the members of this fellowship. We have been networking and forming partnerships with NAMB, other Messianic associations and other SBC ethnic fellowships. In these six articles you will find several summaries of projects that we are working on.
#1. The SBMF Annual Meetings In Orlando, Florida.
The first project is our annual meetings in Orlando, Florida. SBMF President Mike Saffle has been working hard to bring you an inspirational and filling group of meetings. For more information about these meetings please look at the web page at SBMF 2010 Annual Meeting In Orlando, FL.
Erev Shabbat Worship starts at 7:00 p.m. on June 11, 2010 and it has been assigned to the Salon 1-2, 2nd Floor Rosen Centre. Setup will start at about 3:00 p.m.
Shabbat Yeshiva Worship starts at 9:00 a.m. on June 12, 2010 and it has been assigned to Salon 1, 2nd Floor Rosen Centre. Registration starts at 9:00 a.m.
Shabbat Yeshiva Worship Event Information
The SBMF Annual Meeting Music Worship will be led by Zemer Levav, Messianic Music Group, Galilee of the Nations Music (Integrity Music)
Our guest speaker for this yeshiva day will be: Rev. H. B. London, Vice President for Pastoral Studies, Focus on the Family
Also speaking is Brother Bruce Mills, Founding Deacon, Jerusalem Baptist Church, Jerusalem, Israel. The title of his message is: "The Most High Has A Plan."
The SBMF Youth Meeting will be held in Salon 6, 2nd Floor Rosen Centre 9:00 a.m. to 4:00 p.m.
Saturday Evening SBMF Annual Business Meeting will be held in Salon 1-2, 2nd Floor Rosen Centre 7:00 p.m. to 9:00 p.m.
Davidic Dance Training & Fellowship is between 2:00 p.m. and 4:00 p.m. on June 13, 2010 and it has been assigned to Salon 22, 2nd Floor Rosen Center
Come join us as we worship together, Jew and Gentile, one Body and one spirit. Please check our SBMF News Pages, on our web site, about this function. There may be changes to the meeting details. Please look at the event schedule located at SBMF 2010 Annual Meeting In Orlando, FL. for updates and changes.
Come and worship the L-rd with us in Orlando this June, on the Friday and Saturday before the SBC Pastors Conference.
---
#2. The SBMF Booth Project For The SBC Annual Meeting Exhibit Floor.
The second project is the SBMF Booth Project. This year we would like to let our SBC brothers and sisters know who we are and how we can help them in this race we run together, leading the nations and our Jewish kinsman to Yeshua (Jesus). To this date several SBC ministries and churches have used the services of or partnered with groups outside the SBC. We need to be more visible to our SBC brothers and sisters. We are working to build powerful partnerships with local Churches and local SBC associations all over the USA. These partnerships will work to bring the Good News of Jesus to the Jewish people in the USA. These partnerships will bring us congregational planters who are willing to start new works in Jewish evangelism. We also pray we will be able to meet and help numerous Jewish believers who are willing to be sent out to minister Yeshua as evangelists.
We need your help to fund our booth project. As of this date we don't have the needed funds to make the project work. We are asking that the saints help by sending a donation to help us fund this project that will help us become more known to the local SBC church and their members. Please pray about helping us form strong ministry partnerships with the local SBC church.
Booth Donations (If you feel the call please help us contact as many of the SBC saints as we can, so together we can all bring the gospel to our Jewish kinsman as possible.)
To send your SBMF Booth Project donations, please make them payable to the SBMF. Please mail them to SBMF, 2290 Quail Drive, Bessemer, Alabama, 35022
Please help us do this good work of Christ. Please help us by praying for the L-rd's supply and that this booth project is successful.
Brother Steve Kaplan from Jewish Outreach International is supplying Jesus Loves You "T" shirts for us to give away at the SBC Annual Meeting exhibit floor booth this year. We thank him for his love for Christ and his dedication to helping us minister to the lost and the saints alike.
---
#3. The SBMF Leadership Team And Several Members Meet With Other Messianic Ministries In A Meeting Sponsored And Funded By the North American Mission Board.
Meeting Title: "Consultation On "Messianic Congregational Planting"
On May 18th and 19th several of the SBMF Leadership Team, several Messianic ministers from outside the SBMF and several local SBMF ministry leaders met at the North American Mission Board offices in Alpharetta, Georgia. Brothers Mark Hobafcovich and Jorge Sedaca serve NAMB in the Church Planting Group. Brother Mark Hobafcovich approached SBMF President Mike Saffle and SBMF Vice-president Ric Worshill several months ago and proposed a plan to have several Messianic leaders come together, in prayer and fellowship, to build new partnerships and work together to start new congregations. This process started an interdenominational resource called the "Messianic Mission Network" and bring us together to serve the Kingdom with one mind, one heart and one spirit.
This was a peer-learning consultation. Selected leaders from the invitee list presented position papers on the subject and gave a message about their papers.

Expected Outcomes:
1. Sharing of models and strategies for Messianic Congregational Planting in North America
2. Utilize the findings to provide for a framework for implementing a Messianic congregation
planting strategy
3. Publish the findings through write-ups and white papers on extending the love of God through the sharing of the Gospel with the Jewish people in North America.
The guests in attendance from outside the SBMF were:
Anatoliy Odnoralov, SBC Church Planter Strategist, CO.
Ben Volman, Chosen People Ministries. (CAN)
Daniel Richard Muller, New Covenant Forum, Formerly from Jews for Jesus Toronto
Greg Dangar, Dangar Associates-Pro. Accountants
Murray Tilles, Light of Messiah Ministries. Atlanta, GA.
Rudy González, SWTS Prof. & Dean of the William R. Marshall Center for Theological Studies
Russ Resnik, President UMJC
Sam Nadler, Word of Messiah Ministry, NC. SBMF Affiliate and Minister Trainer
Yegor (Greg) Zhelezny, Joy of Freedom Publishing - Congregation Hope of Israel
SBMF Members

Mike Saffle, SBMF President

Ric Worshill, Illinois

Jay Isbell, Bessemer, AL.

Bruce Stokes, SBMF & UMJC Officer, CA.

Randall Clarke, Chatham, VA

Hal Garrett, Walnut Ridge, AR.

Bob McDonald, Lake Villa. IL.

John Denson, Detroit, MI.

Jeff Dumont, Byron, GA.

Robin David Rose, Dallas, TX.
Orlando Garcia, Cartersville, GA.
Gary M. Maxted, Woodstock, GA

Pastor Bill Ratliff, Woodstock, GA

Steve Kaplan, Atlanta, GA.

Jay Fielding, Marietta GA.
Mark Hobafcovich, Alpharetta, GA. NAMB Host & Urban Church Planting Consultant
Jorge Sedaca, Alpharetta, GA. NAMB Co-host & Church Planting Resource Development
Leroy A Fountain, Alpharetta, GA. NAMB Church Planting Consultant
Betsy Rogers, Alpharetta, GA. NAMB Ministry Assistant
Jason Kim, Alpharetta, GA. NAMB Metropolitan Missions Team, Coordinator and Regional Focus
The forum discussion was in reference to congregational planting techniques.

Dr.
Rudy González opened the discussion with an inspirational teaching about "To The Jew First".

We discussed several methods of ethnic missions work to the Jewish people group.

The presentation papers will be available by download at a later date.
---
#4. SBMF Leadership Vision Meeting With NAMB In Orlando.
On June 10th the SBMF members who attended the "Consultation On "Messianic Congregational Planting" will attend a vision meeting sponsored by Brother Mark Hobafcovich and NAMB. Our goal in this meeting is to compile the information we learned at the consultation in Alpharetta and come up with a plan to implement what we have learned. A summary of this meeting will follow on a later date.
---
#5. Meeting With The Leadership Of The National African American Fellowship of the SBC
On May 28th Brother John Denson organized and arranged a meeting by conference call with between the leadership of the National African American Fellowship and the SBMF. Brother Leroy Fountain (NAMB Church Planting Consultant) made the conference call possible and Brother John Denson moderated the meeting.
The outcome: On June 14th some of the SBMF leadership will gather for an informal meeting with the leadership of the National African American Fellowship. Our plan is to form partnerships to help their fellowships members reach the lost remnant of Israel with the good news of Jesus, to work together in church planting and missionary training.
---
#6. Messianic Fellowship Article By Steven A. Glover, National Multi-Ethnic Missionary

Shalom brothers and sisters,
My name is Steven Glover and I serve as the National Multiethnic Missionary for the North American Mission Board. I thank you so very much for allowing me the opportunity to write to you about the opportunities available at NAMB that can assist you in reaching the world with the good news that Yeshua Ha'Mashiach.
The Bible warns us of a time in the future when men will not endure sound doctrine…and will turn away their ears from the truth and choose instead to turn aside to myths." (2 Tim 4:3, 4) I believe we are seeing this great apostasy and deception being lived out in our world today. We have come to this period of error and I believe the Bible is clear that the teaching of Scripture is the only remedy for this dilemma. The Apostle Paul in the second chapter of his epistle written to Timothy is seen instructing this young pastor to preach the word. He encourages Timothy to use God's Word to correct and instruct those in error. John MacArthur recently stated in a sermon titled Sufficiency of Scripture that "The church is guilty of sinning against God when we do not believe the Bible is sufficient for the life and conduct."
It is my responsibility as the National Multiethnic Missionary for the People Group/Interfaith Evangelism team, to encourage members of the Southern Baptist Ethnic Fellowships to participate in our apologetic training programs. Our desire at the North American Mission Board is to help you equip God's people to evangelize people of all faiths (Islam, Judaism, Hinduism, Buddhism, etc) in a way that is loving and sensitive, yet uncompromising. The Interfaith Evangelist Specialist program's objective is to enlist leaders across North America who can help educate/train laypersons, pastors, Bible teachers, and others to reach the lost. (During these training sessions varied resources including Power Point presentations and training booklets are used).
In addition, NAMB provides training opportunities through our Certified Apologetic Program for members of the Messianic Fellowship to learn how to refute the errors taught by unbiblical philosophies such as Humanism and Darwinism in churches, conferences, and college campus settings. The primary purpose of the CAI program is to provide a Bible-based resource to be utilized by the body of Christ in order to prove the existence of God using biblical evidences in the areas of science, history, and philosophy directly from Scripture. Our goal is to engage 500 passionate Southern Baptist leaders from throughout North America who are serious about developing an Apologetics ministry.
I encourage anyone interested in receiving more information about either of these dynamic programs to contact Mike Licona (Apologetic Coordinator), Tal David (Interfaith Coordinator) or me at the North American Mission Board for more information regarding training dates and certification requirements.
Thank you once again, your brother in Yeshua,
Steven A. Glover National Multi-Ethnic Missionary
Email: sglover@namb.net
Office: 419-254-0697
Our goal at the SBMF is to work together with the local church to bring the good news of Yeshua to the lost. We encourage you to contact Brother Steve and partnership with him to do this good work.
---
Come to the SBMF Annual Meetings in Orlando, Florida, June 11th-13th, 2010. Help us minister the good news of Yeshua to the lost people in the world.
We are what we eat. Feast on the Tree of Life. Be filled with Light and Life. Read the Word of ha'Shem.
I say the truth in Christ, I lie not, my conscience also bearing me witness in the Holy Ghost, That I have great heaviness and continual sorrow in my heart. For I could wish that myself were accursed from Christ for my brethren, my kinsmen according to the flesh: Who are Israelites; to whom pertaineth the adoption, and the glory, and the covenants, and the giving of the law, and the service of G-d, and the promises; Whose are the fathers, and of whom as concerning the flesh Christ came, who is over all, God blessed for ever. Amen. [Romans 9:1-5]
For I am not ashamed of the gospel of Christ: for it is the power of G-d unto salvation to every one that believeth; to the Jew first, and also to the Greek. For therein is the righteousness of G-d revealed from faith to faith: as it is written, The just shall live by faith. [Rom 1:16-17]
Say not ye, There are yet four months, and then cometh harvest? behold, I say unto you, Lift up your eyes, and look on the fields; for they are white already to harvest. [John 4:35]
Go therefore and make disciples of all the nations, baptizing them in the name of the Father and the Son and the Holy Spirit, teaching them to observe all that I commanded you; and lo, I am with you always, even to the end of the age." [Matt 28:19-20]
Go ye into all the world, and preach the gospel to every creature. [Mark 16:15]
For Zion's sake I will not keep silent, And for Jerusalem's sake I will not keep quiet, Until her righteousness goes forth like brightness, And her salvation like a torch that is burning. [Isaiah 62:1]
Baruch Ha'ba B'Shem Adonai
Blessed is he who comes in the name of the LORD! [Ps 118:26 NKJV]
---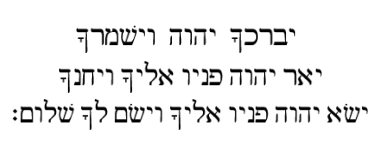 The L-rd bless you, and watch over you; The L-rd make His face shine on you, And be gracious to you; The L-rd lift up His countenance on you, And give you peace. [NASU Numbers 6:24-26]
Shalom Alechem

la'heetra'oat