Southern Baptist Messianic Fellowship
Ministry News May 29, 2010

Shalom to all. "The grace of the Adonai Yeshua Ha'Mashiach, and the love of Elohim, and the fellowship of the Ruach HaKodesh, be with you all."
---
The Encampment is Coming in Orlando this June.
Don't forget, make your plans now. Just over one month to go.
For Zion's sake I will not keep silent, And for Jerusalem's sake I will not keep quiet, Until her righteousness goes forth like brightness, And her salvation like a torch that is burning. [Isaiah 62:1]
Be healthy, be safe, be filled, be blessed, be found in Him. Our G-d is an awesome G-d.
---
Ministry news from B'nai Avraham Messianic Fellowship
On May 7th, 2010 B'nai Avraham Messianic Fellowship had their first congregational Tevilah Mikveh (Baptism). The father of the young man was blessed to Mikvah his son during the Shabbat Service. Below are some photographs from this cellibration.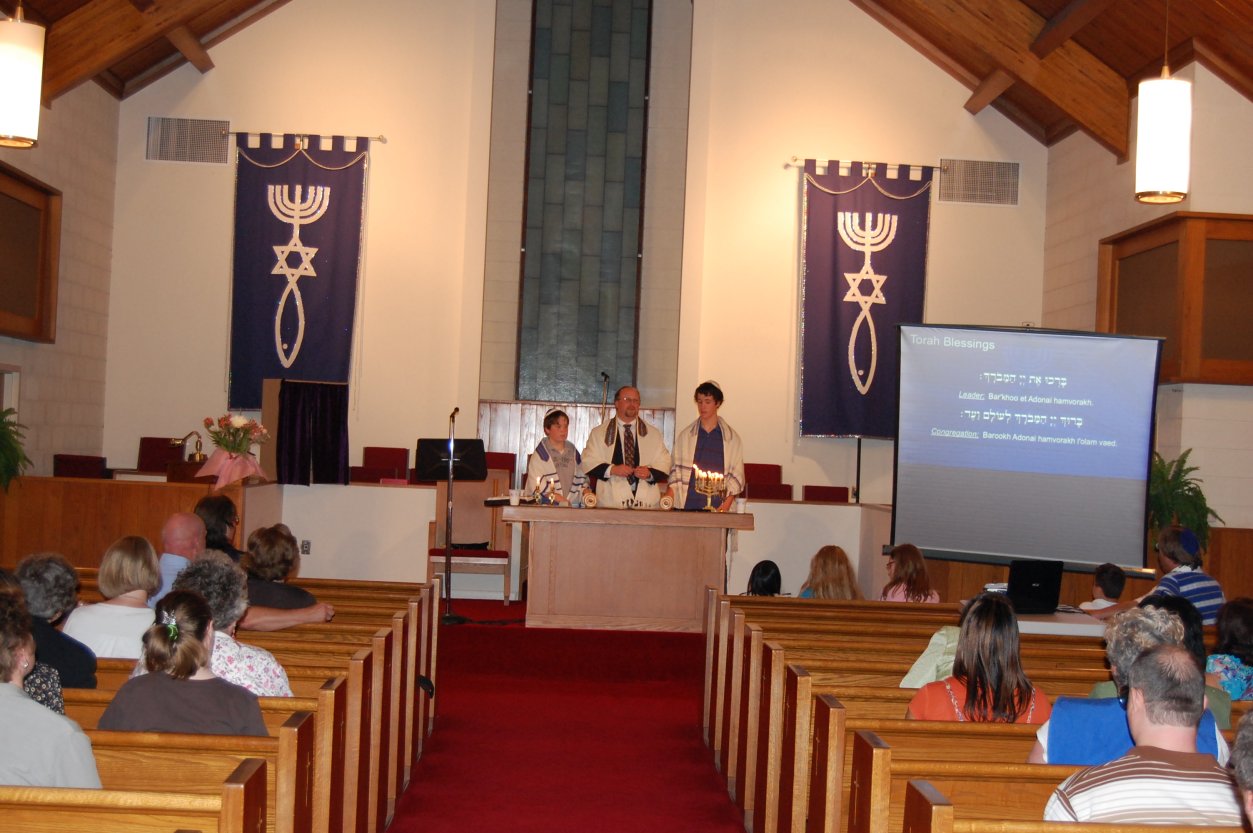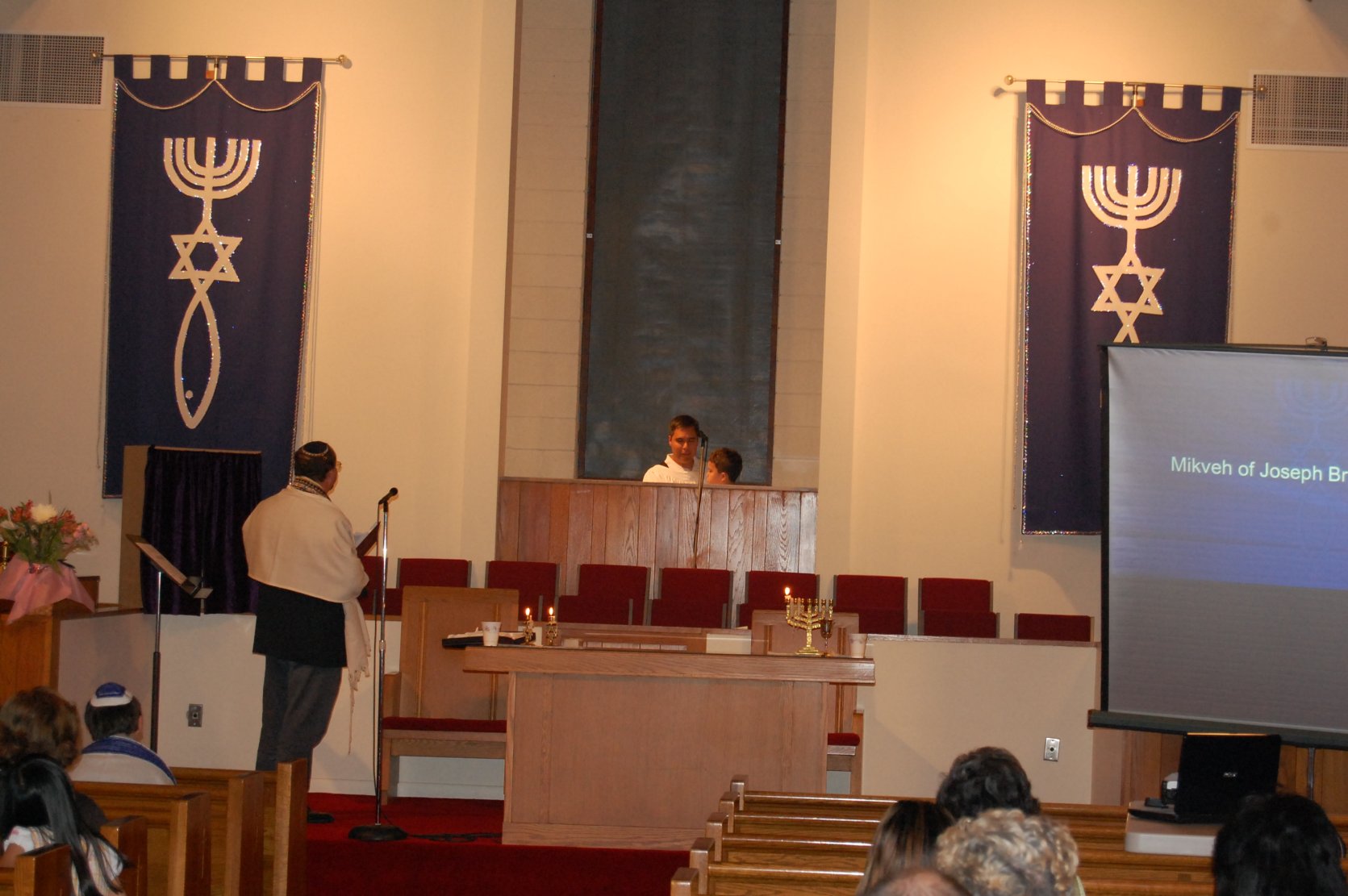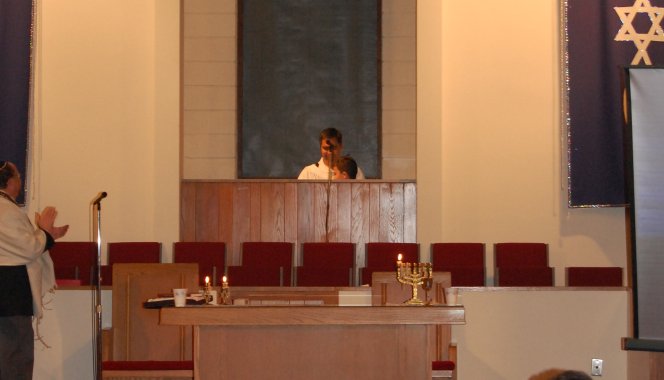 Baruch Ha'Shem Yeshua
---
Ministry news from our friends in Russia
Our vision is to see Russian Jews gathered into vibrant Messianic congregations being a light to the nations.
Praises:
1. This week has been filled with meetings which have been an encouragement to me. On Tuesday the team of IMB folks who work in Novosibirsk got together. We used to have meetings twice a month but because of circumstances we haven't met since February sometime. We do see each other at times other than our team meetings, but even so it was good to be together again. On Thursday I met with my Russian co-worker Zoya. We discussed some future plans for ministry and the vision that God has given us for reaching the Jewish community in Berdsk. Once again, I was blessed to see how united we are in our vision. We met at her house, with her 4 children (ages 15 to 10 months) running around so it was a bit distracting but fun to see her in her home and with her children. Thursday evening a woman who attends our English club came over for tea. I believe that she is a believer (not Jewish) but she doesn't go to church or read her Bible. We talked about lots of things but I didn't get to share much spiritual truth. We get along really well, and I am sure that this will not be our last meeting together. Please pray that I will have more opportunities to encourage her in her spiritual walk.
2. Last Sunday we had a meeting of the team of Russians and Americans who are part of the church plant we hope to begin in October. The turn out for the meeting was good and everyone seems very excited about the idea of doing church in a new way. This week we are going to meet in small groups. I volunteered to do the welcome/get to know you part of our time together. Please pray that I will think of a good game or something that I can do in Russian. Also pray that I will be able to follow the discussion that we will have about the book that we are reading. So far I have been able to read a chapter of the book in Russian and English every day, but it is challenging. Please pray that I will be able to continue to keep up with the reading.
3. Thank you for praying for my co-worker Liz and her family. Her dad passed away on Sunday night their time and Liz and several of her family members were able to be with him when he passed into glory. The memorial service was on Wed. and today she is back in Novosibirsk( assuming her plane arrived on time this morning). Tonight there will be a home school graduation party for her daughter Hannah. Praise God for His timing of her father's death. Please pray for Liz as she quickly gets back into the swing of things here in Novo. May this party for Hannah give glory to God and be a real celebration of what Hannah has accomplished. And of course, please pray for all of the family as they grieve the loss of her father.
4. Thanks for praying for warm weather. The temps got up to 80 for a few days (that is summer for us) and yesterday we had our first thunderstorm of the season. It looks like winter has finally taken it's leave and summer has arrived. Now let's hope that it stays for a while.
Prayer Requests:
1. Tomorrow (Sunday) is the last day of my Hebrew class for the year. I am not sure if I will continue to study there in the Fall or will do something different. Please pray that I will be able to continue to develop these relationships after our class finishes. Our English club is going to continue for another month or so so I plan to invite the people from my Hebrew class to study English. Please pray that some of them will come.
2. For a long time I have wanted to invite over some Jewish ladies that I studied Hebrew with last year. But it has been hard to find a time for us to get together. I hope to be able to meet with them sometime this week. Please pray that we can find a time that will work for many of them and that during this time I can have an opportunity to share my faith with them.
3. For Christmas I promised Erin that I would take her to an opera, ballet or concert as her Christmas gift. Here it is almost June and I still have not taken her anywhere. Shame on me! But on Friday we are going to go to an event that I think she will like. It's a surprise so I won't tell you either, until next week. Please pray that this will be a fun time to be together.
4. I am looking to develop a team of 10 super prayer warriors who would be willing to pray for me daily. I know that some of you are already doing that. If you are please let me know. I would not send you updates daily but I would send you special requests if something urgent came up or perhaps share more personal things that I don't want to share with a big group. If you would like to join this team of super prayer warriors please let me know.
The truth of the matter is, that you are all super prayer warriors. I appreciate each of you so much. I could not do what I do without your support. Please let me know how I can pray for you also. Until next week. Happy Memorial Day.
In the Lamb,
---
"I am not ashamed of the gospel, because it is the power of God
for the salvation of everyone who believes: first for the Jew, then for the Gentile."-Romans 1:16

PRAISE HIS NAME!-God bless you and your family. Thank you for supporting our ministry. Please pray for BOLDED newsletter items, our MINISTRY in general and MINISTRY in Las Vegas, Nevada May 5-10. If you are in the Atlanta area, please join us for a Memorial Day OUTREACH Party on Sunday, May 30 from 2:00PM to 10:00PM.
EDDIE AND LURA BECKFORD-A Christian Korean Film COMPANY interviewed EDDIE & LURA, and OTHERS, for a documentary about ISRAEL and the persecuted CHURCH. The film is called "RESTORATION" and clearly shares the Gospel. It was released in Korea to 60 packed theatre audiences and was shown in JERUSALEM. Please pray for this powerful work due for summer release in the US and Europe.
TUESDAY TORAH STUDY GROUP-Praise God my belief in Jesus was made known to the entire GROUP! The RABBI made some derogatory remarks toward the New Testament, and I had to challenge her! An open invitation was made to their synagogue for an Israeli independence celebration. I wore a King's Men Chess Club t-shirt with an Israeli flag on the back. The male RABBI went ballistic when I showed up and told me I had to change my shirt, but I assured him it was Israeli. Then the female Rabbi (his wife) saw me and went ballistic, but he calmed her down. I brought TODD, and we sat off to the side and prayed. ANNETTE needed a seat so we moved over. She asked if I was a member of the CONGREGATION, and I told her no. She asked why not, and I told her the Rabbis probably didn't want me to join. She asked why, and I said because I believe in Jesus!
GARAGE SALE PARTY/OUTREACH-My FRIENDS live in an apartment downtown and used my house for a garage sale so they could clean out their storage facility. We used this as an opportunity to have an outreach as well. We provided free refreshments and had a "free" table with lots of Gospel tracts and Bibles in various languages. I parked my car in front of the driveway leaving a narrow walk where people were forced to see my bumper sticker collection ("I Love Israel", "Get out of Hell Free Card" and "Jesus saves from hell"). We invited hundreds of PEOPLE we know as well as ones from signs and newspaper advertisements. I made sure to wear my "Jesus Loves You" t-shirt. There were many who came through including several Jewish non-believers. We shared with a lot of people as well as watch them look through and take items from the free table. SHELLEY flew in from St. Louis and invited her COUSINS who came over for the first time and really enjoyed themselves!
Shelley wrote: I wore my Jesus Loves You Star of David t-shirt on the way home to St. Louis from the Garage Sale Party – Passover/Resurrection Day Weekend Outreach in Atlanta. I am reluctant to wear the shirt when I travel alone. I had worn the shirt to the Easter Service at church in Atlanta; and my suitcase was packed before church, so I did not change. I had many people look at my shirt in the Atlanta and St. Louis airports. I handed out dozens of "One Million Dollar Bill" Gospel tracts to service men and women. I thanked them a million for their service to our country and told them there is a million dollar question on the back of the bill – Am I going to Heaven? I gave them to TSA agents, the washroom attendant, and people behind the counter from whom I purchased water for the plane ride. When I arrived in St. Louis my 81 year old Jewish Dad greeted me and drove me to dinner to meet with the rest of my Jewish Family. He brought me to a Thai Restaurant that was crowded with Jewish clientele. Asian food is typical for Jewish Easter dinner. My 15 year old niece rolled her eyes and added a few snickers in disapproval when she saw my t-shirt. The rest of the family pretty much ignored my shirt. My older sister is involved with the sisterhood group at her Temple. A friend from her sisterhood and her husband came over and talked at our table. Their son is in the same high school class as my other niece. They were all talking to each other. The woman talking with my sister stared at my shirt, looked me in my eyes, then my shirt. When my sister introduced me, the woman had about a half dozen more stares at my shirt. I would love to hear the conversation between my sister and this lady next time they meet. I know she'll ask my sister about me, and why I wore that shirt. I am grateful for this silent witness and pray for future doors of opportunity to open to discuss Messiah Jesus with this woman! Thank you, Jesus!
"Again I ask: Did they stumble so as to fall beyond recovery? Not at all! Rather, because of their transgression, salvation has come to the Gentiles to make Israel envious. But if their transgression means riches for the world, and their loss means riches for the Gentiles,
how much greater riches will their fullness bring!"-Romans 11:11-12
VARIOUS VISITS PLUS-We visited TODD's GRANDMOTHER at a senior home and sat at her dinner table in the dining room and shared with MARY, a Jewish Holocaust Survivor! I visited TSYLYA (Russian Jewish non-believer) in the hospital and shared with her SON and a Jewish VOLUNTEER! I visited NANCY (Jewish believer) in the hospital and another VISITOR (Jewish non-believer) was challenged by my t-shirt!
YOU NEVER KNOW?-After speaking at a FULL GOSPEL BUSINESSMEN's Luncheon in Augusta, Georgia (three hours from Atlanta) and equipping PEOPLE with Gospel tracts and "Jesus Loves You" t-shirts, SOMEONE took me to meet a Jewish WIDOW. As we pulled up he said her unemployed SON was at the house, she walked out, insisted I wasn't Jewish and wouldn't take a tract? Her son is from Woodstock, and I offered to refer him to our church jobs ministry so she took my card. I asked his name, and it turns out he was one of the Jewish PEOPLE I arbitrarily invited to our Passover Seder! We ate at a restaurant managed by a Jewish BELIEVER (from the luncheon) who wanted me to share with his Jewish EMPLOYEE. I invited my ROOMMATE's Jewish uncle to the Passover Seder even though he was hostile to Jesus. He died, shortly after and that invite might have been his last witness? My roommate's BROTHER came from London for the funeral and stayed at our house. I was visiting DENISE (Jewish non-believer) when he called needing a ride from his COUSIN's which is off the same street as Denise's. The brother said the cousin told him he had once walked downtown with a CO-WORKER who cursed out a man distributing pamphlets who turned out to be me!
DOGWOOD FESTIVAL-Thousands visited, and I distributed hundreds of Gospel tracts and shared with several Jewish PEOPLE and OTHERS. My friend DOUG (Jewish non-believer) was there and came with me and TODD to Todd's BROTHER's (Jewish non-believer) "It's Me or the Dog" party which featured Todd's brother and SISTER-IN-LAW on that episode! Another GUEST asked what I do for a living and that gave me an opportunity to share in front of both Todd's brother (who says he's on the fence about Jesus) and Doug!
DIVINE APPOINTMENTS-My FRIEND in JERUSALEM has a FRIEND in the UK who asked me to visit her pen pal EMMANUEL on death row in Georgia. Unfortunately he's a Jehovah's Witness. I shared with OTHERS including Muslims and an Irish ex-nun who told me I should be building houses instead of evangelizing? JAYNE found our Gospel tract in Gainesville, Florida and called to get some to give out! DEAN preached at a senior home, and I shared with a MAN from New York who turned out to be a teacher at an elementary school I went to on Long Island! My Jewish non-believing next door neighbor STAN has been mad at me for several months, but decided to forgive me when I ran into him at Costco. MARISA from Staten Island, New York was shopping in New Jersey and saw SOMEONE wearing a "Jesus Loves You" t-shirt and called me for one! I had a midnight urge for ice cream and went to the store and ran into ESTHER (again)! Eight Mormon MISSIONARIES showed up at Sunday night church service. BEN (my outreach minister) and I walked out of the church together and ended up spending an hour sharing with the Mormons in the church parking lot! I was excited my Jewish NEIGHBOR accepted my friend request on Facebook, until I met her at Costco, and she said it was a mistake and she detests my belief? MRS. HOROWITZ was on line behind me and told me she is offended by my t-shirt, and I told her Jesus is still the Jewish Messiah! Outside the post office RONNIE stopped his car and told me my beliefs are wrong, and I shouldn't have been at the Dogwood Festival?
KENNESAW STATE UNIVERSITY-LINDA and I set up a booth and shared with several Jewish STUDENTS and OTHERS including NOAH and ANTONIO from El Salvador who is considering praying to receive Jesus!
Above-tithe donations, payable to Jewish Outreach International
and designated for Steve Kaplan, can be sent to:
---
Ministry Flash From Tzedakah Ministries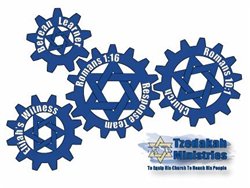 Dear Friends,
Shalom! I have an important question for you to ponder. Tzedakah Ministries seeks to live up to its mission statement -- "To Equip His Church to Reach His People." In order for this to happen, more Christians and churches have to know about the ministry and mission of Tzedakah Ministries.
Perhaps you know individuals who could be interested in hearing more about Tzedakah Ministries but do not know about this ministry. Would you considering asking permission of your friends to receive a one-time email from Tzedakah Ministries? If they are interested in receiving additional information, they could then respond back and they would be added to a mailing list. If they don't respond back, they will never hear from Tzedakah Ministries ... unless they change their mind in the future.
I know this is a lot to ask. Pray carefully before contacting your friends. For those who agree, please send Tzedakah Ministries their name and email address. Thank you for praying about this request. Shalom and God bless.
Acts 20:24,
Amy Downey
http://tzedakahministries.org/
---
Ministry News and Prayer Requests from our friends in Israel.
Dear friends, prayer partners of Holy Land Ministries,
Blessings and greetings from your brothers and sister in HLM Israel!
"My eyes shall be on the faithful of the land, that they may dwell with Me; He who walks in a perfect way, he shall serve me.." Psalms 101:6
Thank you for your faithful prayers for the residents of our shelters and for all His faithful servants, that the Lord is providing for the ministry to His people in Israel. We truly are encouraged by Him, as we are witnessing the results of your intercession in the lives of these dear people whom the Lord brought under our roof for rescue and protection.
A few days ago, on the significant day of Shavuot, (Pentecost) Helena, the mother of Arthur (16 years old) had made a covenant with the Lord Yeshua, by confessing her sins, coming to repentance and thus entering into His family.
It is very significant that this joyful event took place on the Day of Shavuot (Pentecost). It is an ancient practice of Jewish Faith to expect a special visitation from the Lord of Israel on the Day of Shavuot (Pentecost). It made perfect sense for the disciples of Yeshua to be gathered together at this specific Appointed Time ("Moed") and to be ready for His special visitation, as all of them being Jewish understood the significance and uniqueness of the Lord's Feasts.
It is not an accident of course, but Divine order, that the Church was born on this specific day two thousands years ago. In Acts 2 we see the detailed record of the Birth of the Church on the day of Shavuot (Pentecost), when Yeshua's disciples were gathered together, obeying His instruction, and received the miraculous signs of His Divine visitation. Thus His Church was born!
Praise the Lord for His faithfulness to His people and His overwhelming love and goodness to all of us from His remnant today!
Please pray with us for Helena's strengthening and protection, as she continues to face many challenges in her life. But the difference now, she is a child of the Living God. Alleluja!!We know and confess that the Lord's grace is sufficient for each of us, as it was for Rabbi Shaul (Apostle Paul) and many of His children as we are walking with Him often in the middle of challenges and tribulations, and yet rejoicing as we taste the reality and power of His love and goodness!
We also ask your prayers for God's divine authority to open the way for entry to Israel for Toral and Liv, our directors of the homeless shelter. Our faithful missionaries from Norway recently had to leave for a short vacation due to the regular visa curfew.
Every three months those of us in HLM who don't have Israeli citizenship have to leave the country in order to receive a new visa entry. Then we can continue the service for another three months. This, of course, is quite disturbing and stressful for the ministry and for all of our faithful missionaries who are subject to this regulation, but the Lord has been strengthening and supporting us all the way through for all these years.
Long awaited progress in our Desert Project--- Praise the Lord for the break through in this crucial need for our ministry. We have finally found available land for sale, which is suitable for the families and needs of our ministry.
Please pray with us for the necessary finances for this key Project of Holy Land Ministries in Israel.
Blessings and Shalom to you dear friends from your family in Yeshua in Holy Land Ministries, Israel!
May the Lord strengthen and bless you in all that He has entrusted each of us to do in these days ahead, as we are praying for His glorious Kingdom to come soon!
Your brother in the Messiah, Michael (HLM Prayer ministry & HLM Pastoral assistance)
On behalf of Holy Land Ministries, Israel
If you have a change in your e-mail address, please notify Richard & Arlene Petit, prayer list managers--arlene.petit@comcast.net
Mail: Jaffa PO Box 8466, Tel Aviv , Israel.
Address: Str. Huma Imigdal 23, Beer Sheva, Israel
Fax: + 972 3 518 8419,
Telephone + 972 5444 05 47
E-mail: holyland29@bezeqint.net
Website: www.holylandministry.org
Mail in U.S.A: PO Box 1913, Westminster, MD 21158, U.S.A
---
Come to the SBMF Annual Meetings in Orlando, Florida, June 11th-13th, 2010. Help us minister the good news of Yeshua to the lost people in the world.
We are what we eat. Feast on the Tree of Life. Be filled with Light and Life. Read the Word.
Let us hold fast the confession of our hope without wavering, for He who promised is faithful. And let us consider one another in order to stir up love and good works, not forsaking the assembling of ourselves together, as is the manner of some, but exhorting one another, and so much the more as you see the Day approaching. [Hebrews 10:23-25]
---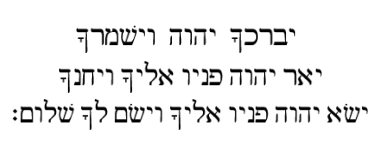 The L-rd bless you, and watch over you; The L-rd make His face shine on you, And be gracious to you; The L-rd lift up His countenance on you, And give you peace. [NASU Numbers 6:24-26]
Shalom Alechem

la'heetra'oat