Southern Baptist Messianic Fellowship
News - July 22, 2006
Shalom to all. "The grace of the Adonai Yeshua HaMeshiach, and the love of Elohim, and the fellowship of the Ruach HaKodesh, be with you all."
Good News:
But for you who fear My name, the sun of righteousness will rise with healing in His wings; and you will go forth and skip about like calves from the stall. [Malachi 4:2 NASU]
Baruch HaBah B'Shem Adonai. Blessed is He Who comes in the Name of the L-rd
I pray that all is well with you all. G-d is so good. He is blessing us all the time.
---
Urgent Prayer Request:
Christian Web Master, SBMF Brother, Craig Talley in Antioch Illinois is seriously ill and he has been out of work as a brick layer for some time. Craig is a brother who has been helping us and numerous other ministries gain a productive web presence. Craig's wife Renee has been supporting the family by herself while Craig is on the bench. The new concern is for Renee's health as it appears she has a mass of some type in the upper sigmoid colon and we are praying for a swift diagnosis of something treatable and relief from the pain and disability she is suffering. She had spent most of last week at Condell Medical Center and they where unable to directly view the problem so a diet change and a new exploratory will be upcoming.
This family has little or no health insurance.
Please lift them up in your prayers.
And if one member suffers, all the members suffer with it; if one member is honored, all the members rejoice with it. [1 Corinthians 12:25-26 NASU]
---
SBMF News:
We had a wonderful time at the Greensboro Encampment this last June. The gathering was small but the fellowship was wonderful. Many of our members were not able to attend as they were on mission trips and doing missionary work. Several of our members were not able to afford the traveling expenses. We are sad that some of you missed the meetings. We pray that you will be able to attend next year in San Antonio, TX.
We welcome the new brothers and sisters who have joined the SBMF. We also welcome all of the brothers and sisters who are inquiring about SBMF membership.
---
Ministry news from your president:
Ministry news about our brother and SBMF friend Jack Kinsella: Please pray for the new move of the Omega Letter Ministry.


From Jack: Welcome to the 2006 Omega Letter Road Tour
We are now officially on our Omega Letter Road Tour.
The objective is to personally meet with as many Omega Letter members as is possible. To this end, if you'd like us to get in touch with you when we are in your area, fill in our tour contact information form. The info goes in a restricted database specifically for this purpose -- the only one with access will be Jack and that for contact purposes only. We NEVER share or sell or trade mailing lists.
In addition, we'll be producing a journal of life on the road for members who are willing to commit to help with the expenses. If you'd like to sign up as a Road Tour partner, Contact Art and let us know you are interested. Donate Here to help support our road tour.
Jack will be honored to speak at your church or group gathering when in your area, as well. Email Jack at roadtour@omegaletter.com for details.
We'll see you on the road!
Road Tour Itinerary/Current Local
(Jack will update this often while on the road.)
Saturday, July 22, 2006
We are in Northern Illinois July 22.
A Note From Your President: Brother Jack is starting a speaking tour. He will be speaking all over the USA. Gwenn and I have learned so much from his writings. We have been reading his teachings on the internet for years. We have also read articles that have been published in some secular publications. Soon I will send an email out with a Bio and some sample Omega Letters and other writings for you to review. If you are interested in having brother Jack come and speak at your congregations, you can contact him directly or contact me. Here is a chance to bring a teaching to your congregation about how we, as kadoskim found in Yeshua, can help Israel and the people who the Covenants were given. This is also good teaching on the prophetic importance of the signs of the times.
Please let us know if you are interested in having Jack speak at your congregation. We will pass your inquiry on to Jack. Jack and his wife Gayle are now in the Northern Illinois area.
Baruch Ha'ba B'Shem Adonai
Blessed is he who comes in the name of the LORD! [Ps 118:26 NKJV]
But be sure of this, that if the head of the house had known at what time of the night the thief was coming, he would have been on the alert and would not have allowed his house to be broken into. For this reason you also must be ready; for the Son of Man is coming at an hour when you do not think He will. [Matthew 24:43-44 NASU]
---
Ministry news from your president:
Our dear friend Dr. Randy Weiss: Yesterday (07/19/06) Gwenn and I were both blessed to meet and worship with Dr. Randy Weiss (Crosstalk.org TV & Radio Messianic Ministries) at the Harvest Christian Center, in the Uptown area of Chicago, IL. We attended a small Wednesday night worship meeting together. This was the second time we have worshiped at this Church, together. Dr. Weiss spoke about "A little Leaven leavens the whole lump [1 Corinthians 5:6-8]. Dr Weiss told the fellowship that G-d lives you in the midst of persecution and how G-d is your supply when those around you have abandon you.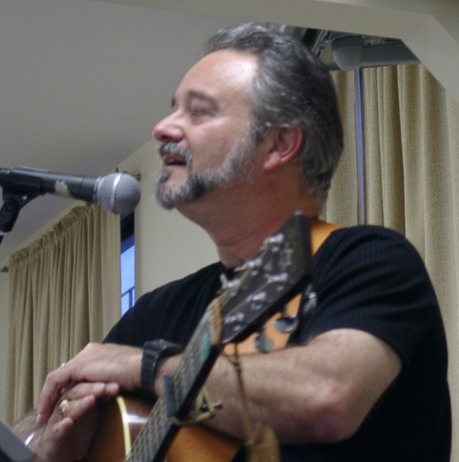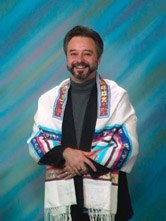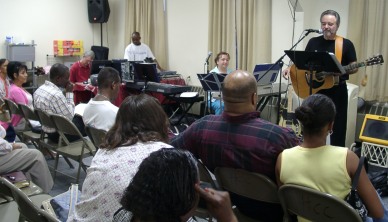 In the words of Dr. Weiss. "CrossTalk is an internationally syndicated television & radio program. The mission statement says it all: "We are boldly reaching out to change lives with the radical truth our Jewish Savior." The host of CrossTalk is Dr. Randy Weiss. He is a Jewish believer in Jesus who has been proclaiming this message since his conversion in early 1973. Tune in weekly to enjoy teaching, humor, singing, and sharing from a Jewish man's perspective. Randy teaches about the Jewish origins of the Christian faith and helps the Church be sensitized to Jewish issues. He is committed to biblical clarity, historical accuracy, and creative techniques for presenting the Gospel message to the mass media."
Dr. Weiss and his wife stopped at our house, on the way to Indiana from Montana and we went together to a Church in the heart of Chicago's Uptown Area. The Harvest Christian Center Is located at 4554 N. Broadway, Ste 221, Chicago IL 60640. This congregation is on fire for the L-rd and they love the Jewish people.
We have been actively working with Dr. Weiss this past year to help lead new believers into the Kingdom of Heaven. Please pray for Dr. Weiss and the Kingdom work of CrossTalk Ministries.
Dr. Randy has been working to produce video illustrations of the Gospel in several languages. His goal is to tell as many people about Yeshua as he can, in their language and tongues.
We are working with Dr. Weiss (CrossTalk.org) to get the SBMF a presence on the numerous Christian television networks so that more brothers and sisters will know who we are, how we can help them and how they can help us.
CrossTalk Holy Land Tours will be taking a tour to Israel on October 30,2006. This is a time when Israel needs our support. We support Israel and their need for tourist visitation. We also think that this is a way to be blessed by walking where our L-rd and Savior walked.
To learn more about Dr. Weiss please click this link: www.crosstalk.org
To learn more about the next CrossTalk Holy Land Tour: www.letsgotoisrael.com
Please pray for Randy and the work he is working for the Kingdom.
---
Outreach News from Rabbi Ken Alpren at Kol Dodi
OUTREACH REPORT – FESTIVAL - TEACHINGS
Please see below our August activities. The calender is attached for a more complete version. I'm sure more will be developing which is not yet listed, so come join us any Saturday 11am or Tuesday 7pm to be updated and involved - true chavurah / koinanea (fellowship)! We're still meeting at Calvary Baptist, 101 Bowling Av. in Nashville's West End area, right off I-440.
Please be praying for our upcoming Vanderbilt U. outreach via a messianic student organization and campus radio program - we're not home yet! Want to help? Contact me.

Our Villa Maria Manor ministry continues monthly; contact Lotti lotti.patoni@state.tn.us to get involved with these wonderful senior adults.

Contact Mark W. markwillfisk88@yahoo.com if you have an interest in prison ministry for the future.

Our food pick-up every Friday from Bread & Co. not only supplies our Oneg after Shabbat Services, but also is taken to needy folks in Nashville. Contact Mary A. jetma@bellsouth.net or Mike U. eburrutia@hotmail.com to help.

I have been asked to teach a class at Brentwood Baptist again this fall, beginning September 6 (Wednesdays 6:30-7:30pm). The title will be: "Jewish Roots: the Book of Acts & Beyond!"

Set aside the dates of October 13-15 now to travel with us to Cincinnatti for the Messianic Jewish Alliance of America's www.mjaa.org Midwest Regional. Speakers will include Rabbis David Chernoff, Jonathan Bernis, and many more; messianic music & worship by Marty Goetz and LAMB will be fantastic!
If the Lord places within your heart a desire to bless our ministry with a donation, please sent it to "Kol Dodi" at 537 Franklin Rd., Franklin, TN 37069. We greatly appreciate your support. If you have a notebook computer that you can donate for use at our Services (for songs on powerpoint), please let us know.
"August Plus" Calendar:
August 3-5 Joyce Meyers, Brian Houston, & Hillsong Austrailia at Gaylord Entertainment Center (Thurs. 7pm, Fri. 10am & 7pm, Sat. 2pm)

August 5 Saturday "What is the Significance of TISHA B'AV?" 11am Kol Dodi (9th of Av – Destruction of Temple)

August 6 Sunday 10am - Men's Brunch & Bible StudyPanera Bread, Hillsboro Rd., Green Hills

August 18 Fri. 7pm Local Outreach

August 27 Sun. ?Picnic Edwin Warner Park 10am-2pm

August 28 Villa Maria Manor - Mon. 7pm Whitebridge Rd., Nashville (every 4th Monday)

August-September: Vanderbilt U. Radio Program and Student Outreach

September 22-23 Rosh ha Shannah Services location tba

October 1-2 Yom Kippur Services – location tba

October 13-15 MJAA Regional in Cincinatti www.messianicconferences.org

Oct.-November: Israel Study Tour – call if int. in going
Shabbat Sermons on CD may now be purchased for $3 – contact Teresa B. tbandrlb@comcast.net.
I believe you will be deeply edified by some of the recent messages. Last week was on the inseperable marriage between the Holy Spirit and the Word of God - how we need both equally. Neh.8 & Lk.11 among others. We also spent time addressing Israel, Lebanon, & Syria in the Scriptures. The week prior was on the normal state of war for the follower of Yeshua - the pattern of victories and attacks - and how we win. We also looked at the future peaceful conditions when Yeshua returns. I Kg.19 & I Jn.5:4 among others.
Rav Ahavah b'Yeshua (much love in Jesus),
Rabbi Ken Alpren
Shalom u'vrachot (peace & blessings),
Kenneth B. Alpren
Pastor / Messianic Rabbi
615-243-1231
---
Radio India: Please pray for this ministry.
Brother Bill will be going to India soon. Please pray that the trip will be fruitful.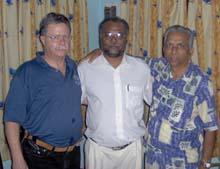 Baptism Pastors Bill - Paul - Abraham Worship
Check th
is
web site out.

http://www.radioindiaministries.com/ or for the Jungle Journal at

http://radioindiaministries.blogspirit.com
---
Evangelism at the Lake County Fair: Next week several members of the Lake County Baptist Association will be evangelizing at the Lake County Fair, Lake County, Illinois. This is a blessing to all who work the booth. Out of 30 or so booths in our building there are 6 to 7 booths spreading the Good News of Yeshua. This building is highly visited during the fair, as it is the only air conditioned building, and we will have a chance to speak to numerous people. This is a time of street evangelism, conversational engagement and feeding people Light and Life. Baruch HaShem Yeshua. Please pray for those who we speak to at the fair.
---
Check out the below SBMF ministries for details of their Services.
SBMF Members Ministries, Congregations and Worship Service Information
Dallas, TX.
Deer Park, TX
B'rit Avraham Messianic Congregation
Christian - Jewish Unity Congregation
Riverside County area of Southern California
Marietta, GA
Bessemer, AL.
B'nai Avraham Messianic Fellowship
Hampton, Virginia
West Side of Central Nashville, TN.
Princeton, WV
Detroit, MI.
Greensboro, NC
Lindenhurst, IL.
Pasche Institute Of Jewish Studies
A Ministry Of Criswell College
Dallas, TX.
Not all of our affiliated congregations have web sites. Some of of our members have not yet requested us to post links to their web sites. If you are a member of the SBMF and would like a link to your web site posted and linked, please contact us at the SBMF.
---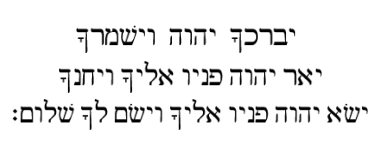 The L-RD bless you, and watch over you; The L-RD make His face shine on you, And be gracious to you; The L-RD lift up His countenance on you, And give you peace. [NASU Numbers 6:24-26]
Shalom