Southern Baptist Messianic Fellowship
News - August 1, 2006
Shalom to all. "The grace of the Adonai Yeshua HaMeshiach, and the love of Elohim, and the fellowship of the Ruach HaKodesh, be with you all."
Good News:
For just as the lightning comes from the east and flashes even to the west, so will the coming of the Son of Man be. [Matt 24:27-28 NASU]
For you yourselves know full well that the day of the L-rd will come just like a thief in the night. [1 Thessalonians 5:2 NASU]
But when the Son of Man comes in His glory, and all the angels with Him, then He will sit on His glorious throne. [Matt 25:31 NASU]
Baruch HaBah B'Shem Adonai. Blessed is He Who comes in the Name of the L-rd
---
Urgent Prayer Request - Continued:
Christian Web Master, SBMF Brother, Craig Talley in Antioch Illinois is seriously ill and he has been out of work as a brick layer for some time. Craig is a brother who has been helping us and numerous other ministries gain a productive web presence. Craig's wife Renee has been supporting the family by herself while Craig is on the bench. The continuing concern is for Renee's health as it appears she has a mass of some type in the upper sigmoid colon and we are praying for a swift diagnosis of something treatable and relief from the pain and disability she is suffering. Renee has been having procedures and tests at Condell Medical Center.
This family has little or no health insurance to pay their medical expenses.
Please lift them up in your prayers.
And if one member suffers, all the members suffer with it; if one member is honored, all the members rejoice with it. [1 Corinthians 12:25-26 NASU]
---
SBMF News:
Beth Chaim: Jay and Michele Fielding ( new members of the SBMF) are establishing Beth Chaim as a Messianic Missions Church to lead our Jewish Kinsman into the Kingdom and to provide Jewish roots teachings the local Churches. They are praying for a Baptist Church sponsor that will allow them to be a Messianic Mission of the SBC in the Atlanta area. They will be teaching the Word and holding Biblical feast calibrations and holiday services for their congregation.
Beth Chaim is meeting two Saturday's per month and one Saturday evening. Their first Havdalla Fellowship and Shabbat services went very well. The SBMF and several members of the SBMF are working with the Georgia State Convention and local ministers to help start this mission as a successful Church plant. We at the SBMF and all of our brothers and sisters in the SBC need to pray for this new ministry.
Shalom Adonai Messianic Baptist Fellowship, Wichita, KS. (Mike Saffle):
Baruch HaShem Adonai, Blessed be the name of the Lord. This summer we have been able to see amazing works of our great God. We arrived home from the SBC convention on June 18th tired and excited. I came back to Wichita with a renewed vision of the work here. Little did I Know how quickly that vision would move forward. On Monday June 19th, the day after arriving home, I met for breakfast with a brother in Christ. On my way home I passed a building that sits on the corner of a major intersection in the downtown area. Our congregation has been meeting in a little Baptist church building for nearly two years and have been praying for God's direction about moving. As I was passing this building I was compelled to turn into the little parking lot and dial the number on the for rent sign.
Over the next eight days I saw the hand of God at work. The man who answered the phone, Larry Cook, was not just any guy he is a believer. Larry is a man raised as a Baptist, attended a church that I attended for six years while I was there, and has been convicted by God about keeping Shabbat. When I called him and told him that I was the Pastor of a church interested in his building he was interested in talking to me. Within 24 hours Larry and I had talked three or four times and I had shared with him about our ministry and what we believe. Needless to say Larry was excited and so was I. Over the next seven days God moved in a mighty way. Almost all of my congregation had been notified about the building and started praying. On Saturday we had our weekly service and the unofficial vote was unanimous. The congregation was on fire. On Sunday, June 26th, one week after arriving home from the conference, we had an emergency board meeting to vote on whether to pursue the building. Within the first five minutes of the board meeting the vote was a unanimous yes without any discussion necessary. By the end of the meeting we had a new budget set which included the rent and utilities for the new building, and a commitment from all board members to raise there giving to accommodate the raise in the budget.
In the past six weeks our tithes and offerings have increased and we received a special gift of $2000 for things needed for the new building. Larry and his crew, some of which are believers, worked overtime to get the building ready for our first service on July the 22nd. And by this Saturday all of little stuff will be fixed or in place for our dedication service.
Our sign went in the window of the new building on July 21st and we have had as many calls about our ministry in two week at this location as we had in two years at the other. God is truly on the move and we are excited to see the things he is doing. Please pray for us as we seek God's face in this new place.

Love in Messiah,
Mike
We welcome all the new brothers and sisters who have joined the SBMF. We also welcome all of the brothers and sisters who are inquiring about SBMF membership.
Evangelism at the Lake County Fair (Lake County Illinois): All I can say is Baruch Ha'Shem Yeshua. The time we had at the Lake County Fair booth was awesome. G-d is good all the time. Many were praying for people to come to the booth who needed to hear the Salvation Message. Many prayers were answered. Several people came, talked and prayed to receive Yeshua (Jesus) as their Messiah. We gave out just under 3,000 fans with the words "Do You Know" on one side. The other side had the Bridge Message To Salvation as a track. We gave out numerous tracks. We passed out 119 Frisbees, to children, with the same question and John 3:16 on a sticker.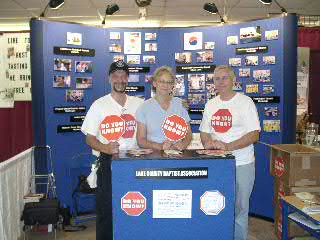 Baruch Ha'Shem Yeshua
---
Ministry news from your president:
Ministry news about our brother and SBMF friend Jack Kinsella: Please pray for the new move of the Omega Letter Ministry.
Brother Jack is starting out on a road trip speaking tour. He will be speaking all over the USA. Gwenn and I have learned so much from his writings. We have been reading his teachings on the internet for years. We have also read articles that have been published in some secular publications. The L-rd has given Jack a clear message about Biblical prophecy and the times we are in right now.
If you are interested in having brother Jack come and speak at your congregations, you can contact him directly or contact me. Here is a chance to bring a teaching to your congregation about how we, as kadoskim found in Yeshua, can help Israel and the people who the Covenants were given. This is also good teaching on the prophetic importance of the signs of the times.
Please let us know if you are interested in having Jack speak at your congregation. We will pass your inquiry on to Jack. Jack and his wife Gayle are now in the Northern Illinois area. He is working on a schedule for his road trip speaking tour.


Welcome to the 2006 Omega Letter Road Tour
Road Tour Itinerary/Current Local
(Jack will update this often while on the road.)
Saturday, July 22, 2006
We are in Northern Illinois July 22
Wednesday, July 26, 2006
Bible Study in Grayslake, Illinois.
Wednesday, August 2, 2006
Bible Study in Grayslake, Illinois.
Thursday, August 3, 2006
Bible Study in Lindenhurst, Illinois.
Ref: Ezekiel 38 & 39; Daniel 2, 7, 9, 12; Joel 2
Sunday, August 6, 2006
Calvary Chapel Lake Villa , Illinois.
Teaching - Bible Prophecy In The News Of Today
Thursday, August 10 , 2006
Bible Study in Lindenhurst, Illinois.
Ref: Signs Of The Coming Kingdom. Questions and Answers
Ezekiels wheels are on the move. The move of G-d. Grab hold and go along for the ride. Jack will be moving West soon. He will be moving out to California to meet with Hal Lindsey as the situation in Israel is progressing fast. Please pray for Jack and Gayle as they travel Westward to the state where the earth moves. Check this page for details about the road trip move Westward. http://www.omegaletter.com/roadtour/
Sunday, September 24, 2006 - 8PM & 11PM EST
Jack has been invited to be one of the people interviewed on the National Geographic Channel's production of: Doomsday: Book of Revelation. This
will air Sunday, September 24 at 8pm. Please check your local listing for the exact schedule.
Jack will be honored to speak at your church or group gathering when in your area, as well. Email Jack at roadtour@omegaletter.com for details.
Jack hopes to see you on the road!
Baruch Ha'ba B'Shem Adonai
Blessed is he who comes in the name of the L-rd! [Ps 118:26 NKJV]
But be sure of this, that if the head of the house had known at what time of the night the thief was coming, he would have been on the alert and would not have allowed his house to be broken into. For this reason you also must be ready; for the Son of Man is coming at an hour when you do not think He will. [Matthew 24:43-44 NASU]
---
A missionary's story from your president:

(About SBC Minister Eddie Lofton)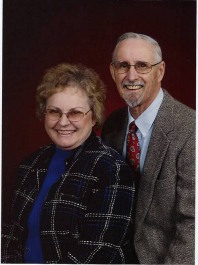 Brother Eddie Lofton, and his wife Barbara, are active members and messengers to the Lake County Baptist Association. Lake County, Illinois. We serve together in our local SBC Association.
As members of the Body, friends and fellow bond-servants in Yeshua, I think this is a story that needs to be told. So often we think that it is too hard to work the mission field. We need to hear encouraging news about missions that function by the blessing of G-d. As many in ministry, Eddie and Barbara work several ministries to build up the Body. Please pray for Brother Eddie and Barbara as they go on mission to India in October.
Missions run thick in his blood; Eddie was first exposed to missions at the age of 5 in Zion, Illinois where he and his parents attended the First Baptist Church. His father was a deacon and they were actively involved in all of the church activates.
It was not unusual during those days of the early 1950's, to have missionaries come to his house for a meal or even to spend the night. Being the only child, Eddie was usually allowed to sit around and listen to hours and hours of story about the missionary's experience. It only came natural that Eddie would surrender to preach at the young age of 16. Later, he went on to seek a high education at Luther Rice Seminary and Clarkesville School Of Theology.
In early 1973 he was given the opportunity to serve with a new missionary agency, Evangelism to Communist Lands, ministering to the needs of people behind the iron curtain. For the next 13 years he traveled on behalf of the Suffering Church Ministries. He wasn't home much, traveling 280 days a year, speaking in churches throughout the United States. There were also trips into Eastern Europe where Eddie trained carriers and introduce young Christians to Bible distribution.
He was very blessed to have the support of family and friends, especially his local church First Baptist Church of Winthrop Harbor, Illinois.
For a number of years now, Eddie and Barbara have been carrying on the ministry through New Creations Ministry. They are currently preparing for a second trip to Bangalore, India to minister with Dr. Samuel Issmer. They also serve as Minister of Missions for First Baptist Church of Winthrop Harbor, Illinois. They are supported in this work by their friends and family. Praise G-d for His supply.
A note from Brother Eddie:
India, a Mission Field Ready to Harvest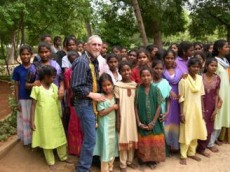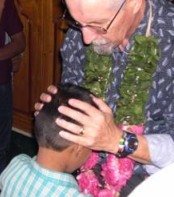 So often in this hurry up world in which we live, we may not consider that we are living in Bible Times. We are living in Bible Times just as much as Paul the apostle was. Therefore are faced with those who worship many and different gods. As the message that was given at Mars Hill by Paul the Apostle, we need also to proclaim the unknown G-d.
As we have traveled to India in the past and plan to again travel to India. It is remarkably sad to view the different gods, which the Indian people embrace.
We have had the opportunity to witness a great undertaking, by our brother Samuel Issmer and many others who have determined to minister to the physical needs as well as spiritual needs of hundreds and thousands of people in India. For many in India the need is for physical food, housing, clothing and education. Other are in need of medical care.

Through the ministry of The South Asia Council for Community & Children in Crisis, it is possible to change the life of a boy or girl, and in so doing, change the lives of an entire family.
In a country where every six hours somewhere a young married woman is burnt alive, beaten to death or driven to suicide. There is a great need for the Gospel to be preached in India.
Currently there are 67 activity projects, ministering to children, women and more requests coming in everyday.
We answer the call to help wherever we can. We need your prayers and financial support. Your support can be sent to: Community and Children in Crisis, Inc. % Eddie Lofton, Area Representative, C.C.C. Inc. 4525 21st Avenue Kenosha, WI. 53140 (262) 658-1253 eddier@ameritech.net
Click here to visit the New Creations Ministry web site
---
Radio India: Please pray for this ministry.
Brother Bill will be going on a mission trip to India in October. Please pray that the trip will be fruitful.
Pastor Abraham (CCMI Bible College Eluru India) will be in town this next week.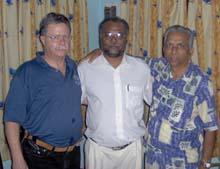 Baptism Pastors Bill - Paul - Abraham Worship
Check th
is
web site out.

http://www.radioindiaministries.com/ or for the Jungle Journal at

http://radioindiaministries.blogspirit.com
---
Check out the below SBMF ministries for details of their Services.
SBMF Members Ministries, Congregations and Worship Service Information
Dallas, TX.
Deer Park, TX
B'rit Avraham Messianic Congregation
Christian - Jewish Unity Congregation
Riverside County area of Southern California
Marietta, GA
Bessemer, AL.
B'nai Avraham Messianic Fellowship
Hampton, Virginia
West Side of Central Nashville, TN.
Princeton, WV
Detroit, MI.
Greensboro, NC
Lindenhurst, IL.
Pasche Institute Of Jewish Studies
A Ministry Of Criswell College
Dallas, TX.
Not all of our affiliated congregations have web sites. Some of of our members have not yet requested us to post links to their web sites. If you are a member of the SBMF and would like a link to your web site posted and linked, please contact us at the SBMF.
---
If you need to know more please contact us. If you are seeking the Face of G-d and looking for His Mashiach to come, please contact us. If you don't know who Yeshua is and who He can be in your life, please contact us.
If you are thinking of attending our annual meetings, please contact us. We would love to see you.
For Questions: Please click the link to SBMF Membership link in the SBMF Links section at the top right of this page. Please fill in the questions or give us your name and email address. In the space marked Current Church or Congregation type the words: "I have a question". We will get back to you soon.
---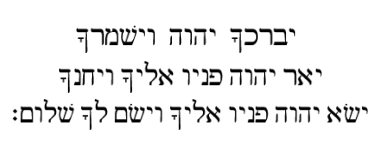 The L-RD bless you, and watch over you; The L-RD make His face shine on you, And be gracious to you; The L-RD lift up His countenance on you, And give you peace. [NASU Numbers 6:24-26]
Shalom