Southern Baptist Messianic Fellowship
News Flash For August 19, 2007

Shalom to all. "The grace of the Adonai Yeshua Ha'Mashiach, and the love of Elohim, and the fellowship of the Ruach HaKodesh, be with you all."
Please send us news, praises reports and prayer requests from your ministries.
---
Blessings Friends:
Let the peace of Christ rule in your hearts, to which indeed you were called in one body; and be thankful. Let the word of Christ richly dwell within you, with all wisdom teaching and admonishing one another with psalms and hymns and spiritual songs, singing with thankfulness in your hearts to G-d. Whatever you do in word or deed, do all in the name of the Lord Jesus, giving thanks through Him to G-d the Father. [Col 3:15-17 NASU]
Baruch Ha'ba B'Shem Adonai
Blessed is he who comes in the name of the LORD! [Ps 118:26 NKJV]
Are you ready for Him to come?
---
Special News From Your President: Ric Worshill
Shalom brothers, sisters, friends and family of the SBMF. The grace of the Adonai Yeshua HaMeshiach, and the love of Elohim, and the fellowship of the Ruach HaKodesh, be with you all.
I heard from Brother Stan Mead who serves Son of David Congregation in Gaithersburg, Maryland. Below is part of his email to me. If you or someone you know is interested in making an application for this position please contact me at the SBMF. You can also contact Son of David Congregation directly via their web site contact.
Son of David Congregation meets at a Baptist Church.
Dear Ric Worshill,
I am a member of the Transition Committee here at Son of David Congregation here in Gaithersburg, Maryland. We are the search committee looking for a replacement congregational leader. We are currently advertising our need in messianic publications and I heard that you publish a newsletter, which might be a means for accomplishing our task.
Sincerely,
Stan Mead
Treasurer at Son of David Congregation
Gaithersburg, Maryland
Or
http://www.sonofdavid.org/pages/CL-Information/CL_CoverLetter.html
Please pray that they find a sound and grounded congregational leader who will build up the kadoshim in that congregation.
---
Outreach News from Jay Fielding at Beth Chaim Messianic Fellowship

Contact:

Rabbi Jay Fielding

Servant Leader

510 Jo Ann Drive

Marietta, GA 30067

404-245-7291
Praise report: Beth Chaim and Eastside Baptist are working together to help Beth Chaim grow into a mission and new work in lifestyle evangelism.
Our Beth Chaim mission work is becoming a true blessing to the Lord.
1. We are growing in the number of individual and families that are coming regularly. 20 to 30 each week up from 10. Our recent Havdallah home fellowship had 50 guests
2. We are beginning to work with Steve in discipling new Jewish Believers.
3. We are getting outstanding comments about the love and spiritual refreshing our guests and members are experiencing each week. Our teachings are enlightening all. We have wonderful worship and Davidic dance team. Aaron leads a wonderful service. We have many volunteers that work with me on teaching. We start with a Jewish Times section that educates everyone a Jewish custom, tradition, prayer etc. and its relevance to the Church, i.e Chuppah-Marriage, Tephillin, Tizit, Mourners Kaddish, Candles, etc..
See our schedule on the web.
Please be kind enough to look at the website. We have a wonderful fall schedule, invitation to our Feast of Trumpets service and new pictures. Check out the links at the top of the page. We will have further updates. Some editing is still needed so review with Grace.
We have a major outreach program to local Southern Baptist Churches and Jewish friends. The program has been reviewed and approved by Joey Garner and Pastor Chauncey of Eastside.
September 15th Feast of Trumpets service and outreach. We have invitations mailed to 50 local SB Pastors in Cobb/Fulton area.
We also invited brothers and sisters from NAMB.
---
Ministry & Outreach

News From Ruth, Our Sister Missionary In Russia
August 15th, Praise and Prayer: Our vision is to see Russian Jews gathered into Messianic congregations being a light to the nations.
Praises:
1. I continue to stand amazed at how God answered our prayers for English camp. First of all a correction from my previous note. There were not 9 men and one woman but rather 9 women and one man. Some of the women are non-believers from my English club that I have been praying for for a long time. It was wonderful to see them build relationships with some other believers-both Americans and Russians. My goal for the week was that relationships would be built with the Russians who attended the camp. That goal was definitely met. I believe that all of us who live here in Moscow will keep in touch with some of the Russians that we met at camp. God blessed me with such a wonderful team of volunteers from the US who were willing to be flexible in the ever changing circumstances. I am so grateful for each of them and for each of the Americans who live here in Moscow who also gave up their time and money to minister with me. I am attaching a picture of our whole group in our t-shirts that were provided by Steve. Thanks Steve. And thank you Lord for doing above and beyond what we could have asked or imagined.
2. The three volunteers from Minnesota left on Monday morning. I am assuming that they arrived home safely as I haven' heard from them. Please pray for them as they recover the week and begin to share with others what God did here last week. Mary Louise returns to the US on the 18th. Please pray for her time visiting friends here and for safety as she travels back to the US.
3. After the team left I have had a few days to organize and catch up before I head out again. I leave this evening (Aug. 15th) for Budapest. Praise God for a few days of down time before my next adventure.
Prayer Requests:
1. My dad has been undergoing a series of tests over the past month and they have finally diagnosed his illness. He has lung cancer which has spread to other organs. The doctor said that chemo or radiation can slow down the cancer but not heal it. Needless to say this is not the news that we were hoping to hear. My brother and sister-in-law live near my dad and are taking good care of him. At this point my dad doesn't feel sick-just short of breath and some pain in his hip where one of the tumors is. He will probably go through radiation for the tumor on his lung. I would like to be with my family during this time but am not able to because of my travel schedule. I hope to be able to go back to the US for a visit in the Fall sometime. Please pray for comfort and peace for all of us during this time. Pray that God will give the doctors wisdom about treatment options and that my dad will be able to make informed and wise decisions about how to proceed with treatment. If you would like to send him a card or give him a call I'm sure that he would be very appreciative of that. Drop me a line and I'll be glad to give you his address and telephone number. I praise God that He is not limited by space and time and that He is present with me and with my family as well.
2. This evening (Aug. 15th) I leave for Budapest Hungry to renew my visa and then travel on to Western Hungry for a conference. Please pray for safety as I travel and some time to be renewed myself. I don't anticipate any problems with renewing my visa but it is not something to take for granted so please pray that I will be able to get it renewed without any problem. The conference that I will be attending is for people from all over the world who are involved in Jewish ministry. Please pray that it will be a great time of learning and networking.
3. I am continuing to make plans for the volunteer team that is coming in September. Please pray that I will be able to get some things in place today before I leave and be able to continue with the plans after I return in 10 days.
4. On August 26th we are going to have a get together for those who attended camp and for everyone else who attends the English club. This time we will meet in a park and have a picnic. Please pray for a good turn out and a good time of building relationships.
Thank you so much for holding the ropes this week. I'm tired but so blessed to see all that God did. May God richly bless you this week.
In the Lamb,
Ruth
---
News from Brother Steve Kaplan
Mount Vernon Baptist Church/Jewish Outreach Ministry
850 Mount Vernon Hwy
Atlanta, GA 30327
(770) 512-0743
TUESDAY EVENINGS IN SANDY SPRINGS-Please pray for our Tuesday Night Discipleship Fellowships from 7pm to 10pm. Please pray God would bring PEOPLE He wants us to minister to and protect us from distracting PEOPLE. Please join us if you can! My Jewish roommate MICHAEL now claims to believe in Jesus! DR. EMIL SANDERS (Jewish Dentist) shared his testimony with Jewish non-believers TODD, JUNE and LISA S. there! My neighbor STAN (Jewish non-believer) asked why there were so many cars that night!
THURSDAY AFTERNOONS IN DUNWOODY-LEE and I continue to meet for lunch/outreach at Perimeter Mall on Thursdays when I'm in town. SNIR (Israeli non-believer) asked me for another Bible because he gave the one I gave him to another ISRAELI! Jewish non-believers LISA, CRAIG and SANDY (from my Hebrew Class who I once ended up on a flight to Europe with) were all challenged by my "Jesus Loves You" t-shirt!
SATURDAYS IN MARIETTA-I have been partnering with BETH CHAIM, a new Messianic Congregation in Marietta. Several of the PEOPLE from our MINISTRY have been visiting there, we have been equipping believers with "Jesus Loves You" t-shirts and clothing/books were collected for my recent trip to ISRAEL.
SATURDAY NIGHT IN TOCO HILLS-I wore my "Jesus Loves You" t-shirt to the Kosher Pizza Palace in the Orthodox neighborhood late Saturday night, and some 30 Jewish PEOPLE were challenged. Afterwards, I shopped at the Kroger and several Jewish PEOPLE were challenged by my t-shirt and several believers asked me for a t-shirt. HONEY (Jewish believer new to Atlanta working at Kroger) was looking for me because our mutual friend ABRAHAM SANDLER (Jewish Missionary) in Pittsburgh told her I would be evangelizing there.
JESUS LOVES YOU T-SHIRT PARTNERSHIPS-We sent a box of Spanish "Jesus Loves You" t-shirts to my friends JONATHAN and CINDY (Jewish Missionaries) who will be ministering in Peru. Please pray for Jonathan, Cindy and their TEAM as they reach out to the locals as well as any ISRAELIS who may happen their way. JIMMY (from Beth Chaim) took several "Jesus Loves You" t-shirts to give away on his MISSION TRIP to Kenya. Several years ago while in JERUSALEM, SOMEONE erroneously told me it was illegal to evangelize in ISRAEL??? I was absolutely devastated, but minutes later this bigger then life Texan Woman named JERRIE came walking up the street wearing a "Jesus Loves Me" pin and giving out Gospel materials! I mailed a "Jesus Loves You" t-shirt to Jerrie in Texas, and her FRIEND in Pennsylvania asked for some. Then CATHERINE, a friend of the woman in Pennsylvania, who lives in Maryland asked for many for a Women's conference where CELENA saw them and wanted some for a missions trip to the Dominican Republic. After the mission trip, I received a request to send 150 "Jesus te ama" t-shirts to an orphanage in the Dominican Republic and almost cried as I mailed out the box! My new roommate HAMILTON works at the Sandy Springs Mission and took several "Jesus te ama" t-shirts to minister with. We supplied EDDIE and LURA with dozens of "Jesus Loves You" t-shirts to minister with in ISRAEL as well as produce several of their Chess Club t-shirts for their MINISTRY. My FRIEND in Moscow, Russia organized an English CAMP for the many Jewish people she ministers to, and our MINISTRY is blessed to have supplied the t-shirts for the camp!
---
Ministry & Outreach News from Rabbi Ken Alpren at Kol Dodi
OUTREACH REPORT – FESTIVAL - TEACHINGS - RADIO MINISTRY
Messianic Times is going to do a story on the radio show - should be in next issue.
Listen to "Shalom Nashville" www.wrvu.org 91.1FM
Starting March 10th Kol Dodi Congregation will meet at 10:30 am.
Hebrew class will be moved back to 9:30. (see you there)
Tuesdays at Kol Dodi (Calvary Baptist)
6:15 – 7pm Prayer Hour (Sha'at T'filah)
7 – 7:45pm "Growing in Maturity" Study - go out for Coffee after!
Upcoming Holiday Celebrations / Observances 5767-5768 (2007)
(actual Service dates posted nearer to Holiday)
• September 13 Rosh Ha Shannah (Trumpets/New Year)
• September 22 Yom Kippur (Day of Atonement)
• September 27-October 3 Sukkot (Tabernacles)
• December 4-11 Chanukah (Dedication / Lights) evenings
Donations
Mail / donations to:
"Kol Dodi", 537 Franklin Pike, Franklin , TN 37069
Contact
Messianic Rabbi / Pastor
Kenneth B. Alpren Click Here To Email Kol Dodi
Web Page: www.koldodi.org
---
Ministry Report From: Pastor John Denson at Shalom Ministries:
Shalom Ministries has a new web site Please take a look at this site and see how Brother John can help. Here is the link: http://www.shalomministry.com/
Shema's Announcements
• Rabbi Loren and Martha are in NYC with Jews for Jesus: as part of their Summer Witnessing Campaign. They are scheduled to be back in Detroit July 30th. During this time, Rabbi Loren wants you to feel free to call. His cell number is 248-631-6006. He will also be in touch by sending email updates and reports. Please remember to pray for the Jacobs and for this great outreach which is taking place in one of the most important cities in the world!
• Ann Arbor Art Fair: take a day off and join us for our annual outreach. Dates: Wednesday, July 18 to Sunday, July 22. Training for the outreach will take place again on Wednesday (7/11) after the Bible study, and the last opportunity will be this coming Shabbat before the service, from 8:00-9:00 AM (you must contact Rabbi Glenn beforehand if you want to attend the early Shabbat workshop). We want everyone to have a "Jesus Made Me Kosher" t-shirt. A new shipment just arrived and the cost is $12. Sign up sheets for the outreach team will be on the back table, and also available at the Bible Study on Wednesday evening. We still need a few people for Wednesday and Thursday mid-day. Please contact Rabbi Glenn.
• Financial Management Seminar notes: We are adding the Financial Management Seminar notes to the website. They should be on the website shortly. Go to the menu on the left on the homepage; go to Financial Management; click it on and go to the Financial Management Seminar.
• Basketball: Any men in the congregation who would like to play basketball on Monday evenings at the church are invited to do so. Contact Rabbi Glenn to let him know you are interested.
• Musicians needed: The Shema Worship Team is still (and always) looking for willing musicians. You don't have to be a pro, just willing to put your talent to work for the Lord. Talk to Rabbi Glenn if you think this is something you'd like to pursue.
• The Wednesday evening Bible Study will continue during the Summer, and on July 11th we will begin an in-depth study of the life and teachings of Messiah Yeshua as portrayed in the Gospels, emphasizing the Jewish cultural and historical backgrounds. We encourage you to attend, and to invite your friends, as well!
• Announcements from Shalom Ministry:
Shalom Ministry is looking for volunteers to hand out tracts and do street evangelism every Friday and Saturday for the month of August, 2007.
Family Counseling is available through Shalom Ministry, Tuesday through Thursday at the ministry office at Calvary Baptist Church in Hazel Park . If interested, contact Pastor John Denson at (248) 545-8800.
Pastor Denson will be preaching a special service at Bloomfield Hills Baptist Church Sunday, July 15, 2007 at 10:00 a.m.
Shalom Ministry is still in need of family recipes for the Cook Book Project. The deadline is extended to September 1, 2007.
Prayer Needs:
Neil is having painful digestive problems (may be food poisoning, but may be bacterial infection).
Dawn Gonzales' brother Dean really needs our prayers as well. He is battling brain cancer.
Donations:
P.O. Box 19695
Detroit, MI 48219
ShalomMinistry77@aol.com
[248 545 8800]
---
Ministry Report From: Pastor Brian Hawkins at Adat Derech Kol Ha'Mashiach
Please continue to pray for us about our meeting place.
Shalom b'Shem Yeshua,
Adat Derech Kol Ha'Mashiach
Pastor Brian Hawkins
5204 Alpha Ct.
Phenix City, AL 36867
---
Ministry & Outreach News from Hal and Esther Garrett, First Baptist Church Hardy, Cherokee Village, AR.
A brief summary of Esther and my ministry and work.
Hal and Esther have numerous speaking engagements.
They encourage all missionaries to register in their home states into the North American Mission Boards, Missions Service Corps.
In His service and love
Hal and Esther Garrett
---
Ministry Report and blessings from Rabbi Richard Geiger, Valley of Blessing, Greensboro, NC.
Prayer Requests Continued:
We are praying for an SBC Church location to worship.
We are praying for a member to step up to serve as treasurer,
We are praying for increased giving,
We are praying for speaking opportunities coming up (especially with an Arab congregation).
We have been led to a person who will lead us through incorporation.
The SBMF has been working with NAMB to find a location for this ministry to meet.
---
Check out the below SBMF recommended Messianic ministries for details of .
SBMF Members Ministries, Congregations and Worship Service Information
Congregations & Fellowships
Dallas, TX.
Deer Park, TX
B'rit Avraham Messianic Congregation
Christian - Jewish Unity Congregation
Riverside County area of Southern California
Marietta, GA
Bessemer, AL.
B'nai Avraham Messianic Fellowship
Hampton, Virginia
West Side of Central Nashville, TN.
Greensboro, NC
Anaheim Hills, CA
Peculiar, MO.
Charlotte, NC.
Ministries & Resources
Detroit, MI.
Princeton, WV
Pasche Institute Of Jewish Studies
A Ministry Of Criswell College
Dallas, TX.
Marietta, GA
Lindenhurst, IL.
Charlotte, NC.
Fort Worth, TX.
Mount Vernon Baptist Church - Jewish Outreach Ministry
Atlanta, GA.
Some of the above web sites have SBMF members attending or associated with those ministries. Some of these above ministries are not directly SBMF members as a congregations or ministries. The member of those ministries may be a member of the SBMF. Not all of our affiliated Messianic congregations or our member's ministries have web sites. Some of our members have not yet requested us to post links to their web sites. If you are a member of the SBMF and would like a link to your web site posted and linked, please contact us at the SBMF.
Our intention is to help resource our SBMF members in their ministries.
---
Shema Ysrael Adonai Elohaunoo, Adonai Echad
Hear Israel the L-rd our G-d, the L-rd is One
To Him who loves us and released us from our sins by His blood — and He has made us to be a kingdom, priests to His God and Father — to Him be the glory and the dominion forever and ever. Amen. BEHOLD, HE IS COMING WITH THE CLOUDS, and every eye will see Him, even those who pierced Him; and all the tribes of the earth will mourn over Him. So it is to be. Amen. "I am the Alpha and the Omega," says the Lord God, " who is and who was and who is to come, the Almighty." [Rev 1:5-8 NASU]
I was in the Spirit on the Lord's day, and I heard behind me a loud voice like the sound of a trumpet, saying, " Write in a book what you see, and send it to the seven churches: to Ephesus and to Smyrna and to Pergamum and to Thyatira and to Sardis and to Philadelphia and to Laodicea." Then I turned to see the voice that was speaking with me. And having turned I saw [Rev 1:10-12 NASU]
Remember it is about position. John heard, he turned, and he saw. To truly see you need to turn to Yeshua. I heard - I turned - I saw - I found Salvation in the L-rd.
The L-rd is knocking at the door of your heart. Will you let him in?
Baruch Shem K'vod Malchooto lay'olam vay'ed
Bless His Glorious Name Whose Kingdom is Forever and ever
---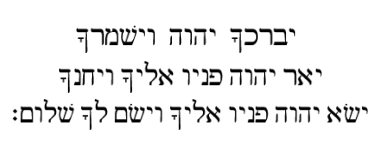 The L-rd bless you, and watch over you; The L-rd make His face shine on you, and be gracious to you; The L-rd lift up His countenance on you, and give you peace. [Numbers 6:24-26]
Shalom Alechem