Southern Baptist Messianic Fellowship
News Flash For December 5, 2007
Lots of Good News To Read
Shalom to all. "The grace of the Adonai Yeshua Ha'Mashiach, and the love of Elohim, and the fellowship of the Ruach HaKodesh, be with you all."
Please send us news, praises reports and prayer requests from your ministries.
---
Blessings Friends:
For by one Spirit are we all baptized into one body, whether we be Jews or Gentiles, whether we be bond or free; and have been all made to drink into one Spirit. For the body is not one member, but many. [1 Cor 12:13-14 KJV]
For I am not ashamed of the gospel of Christ: for it is the power of God unto salvation to every one that believeth; to the Jew first, and also to the Greek. For therein is the righteousness of God revealed from faith to faith: as it is written, The just shall live by faith. [Rom 1:16-17 KJV]
Baruch Ha'ba B'Shem Adonai
Blessed is he who comes in the name of the LORD! [Ps 118:26 NKJV]
Bo Yeshua Bo (Come Jesus come.
---
Special News From Your President: Ric Worshill
The 2008 SBMF Encampment
Will Be In Indianapolis Indiana
Another Year Of Continuing To Bear Fruit And
Building Up The Saints
(Pri Laset'yeesa - Heetstabr'yot ha'Kadoshim)
SBMF Annual Meeting News From Your President And Servant
The Erev Shabbat Worship Service, Shabbat Yeshiva and the Saturday evening business meeting are being planned down to the last detail. We are meeting on June 6th, 7th & 8th, 2008. Please pray for us as we plan another year of Praise Worship, Yeshiva Study and Fellowship.
Erev Shabbat Worship 7:00pm on June 6, 2008 - Sivan 3
Shabbat Yeshiva Worship starts at 9:00am on June 7, 2008 - Sivan 4
Davidic Dance Training & fellowship is between 2 p.m. and 4 p.m. on June 8, 2008 - Sivan 5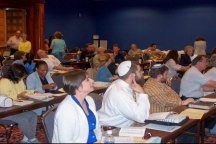 This Photo Is From The 2007 SBMF Annual Meeting In San Antonio, TX.
---
From Your President: Ric Worshill
The SBMF has been working hard to serve and build up the saints in the SBMF to lead others to Yeshua. We have been working hard to build a strong Jewish evangelism network of evangelists, missionaries, ministers and ministries, across the USA and abroad. (Acts 1:8)
G-d has been blessing the ministries involved in this small Southern Baptist fellowship of independent Messianic ministries, ministers and evangelists. In the past few years the L-rd has helped us help some new Messianic Congregations get started. The L-rd has helped us find resources for missionaries, evangelists and ministers all over the world. The L-rd has built working relationships with the Southern Baptist Convention, The International Mission Board and the North American Mission Board. We also have strong working relationships with and pray for; Word of Messiah's Ministries, Love for Israel Relief Fund, Tzedakah Ministries, Jews for Jesus, Chosen People Ministries, the Messianic Jewish Alliance of America and Today With God Ministries. There are other Jewish evangelism ministries we have been working with to bring the Good News to our Jewish kinsman. Please pray for these ministries and the work they do for the King and the Kingdom. (1 Corinthians:13-14)
---
Baruch Ha'Shem Yeshua (Praise the Name of Jesus)
G-d has blessed us and answered our prayers.
For three years we have posted the following prayer request on our web site.
We are praying that we will be recommended by NAMB to have a booth on the exhibit floor in the SBC Convention Center this year. We would like to let our SBC brothers and sisters know who we are and how we can help them in this race we run together. So many SBC brothers and sisters don't even know that a Southern Baptist Messianic Fellowship exists. We need exposure in our convention. With this exposure we could partnership with many local SBC churches to bring the Good News of Yeshua to many more Jewish people.
Again this next year we have lots of work to do in building bridges and partnerships that will work to lead the unsaved to Yeshua. We need to work to get the idea out that Jewish lifestyle evangelism is the best way to reach a people group that look at lifestyle. Many people don't understand that there is a need for lifestyle evangelism right here in North America. We must work together to lead the lost to Yeshua.
Baruch Ha'Shem Yeshua (Praise the Name of Jesus)
I am pleased, blessed and elated to advise you that our prayers have been answered.
The North American Mission Board, notified us that they are sponsoring the Southern Baptist Messianic Fellowship to have a booth on the exhibit floor of the SBC Annual Meeting in Indianapolis, IN. Baruch Ha'Shem Yeshua.
We would like to thank all of our brothers and sisters at the North American Mission Board who have worked so hard to help us in the mission fields. We are grateful to sister Carmon Keith and brothers Mark Snowden, Aslam Masih, Mark Hobafcovich. Please lift these brothers and this sister up in your prayers and praise to G-d the Father and our Savior Yeshua Ha'Mashiach.
Now this I say, he who sows sparingly will also reap sparingly, and he who sows bountifully will also reap bountifully. [2 Corinthians 9:6]
Now He who supplies seed to the sower and bread for food will supply and multiply your seed for sowing and increase the harvest of your righteousness; you will be enriched in everything for all liberality, which through us is producing thanksgiving to God. [2 Corinthians 9:10-11]
For we being many are one bread, and one body : for we are all partakers of that one bread. [1 Corinthians 10:17 KJV]
We give thanks to our be'Mashiach Yeshua (our Savior Jesus) for the chessed (lovingkindness) of ha'kadoshim (the saints). Baruch Ha'Shem Yeshua.
---
Outreach News from Rabbi Eric Herschberg at Beth Adonai Yeshua Messianic Congregation
I have some updates for you concerning Beth Adonai Yeshua. We are still small but G-D blessed us a couple of weeks ago with a new member and G-D is letting more people know about us. The Birmingham Baptist association has decided to put our small fellowship under it's watch-care program and is working with me in the mentoring program. Brother Dan from the association has been a blessing in my life as well as brother Davis, and they want to see B.A.Y grow and become a strong outreach to the Jewish community here. We need plenty of prayer and support so keep praying for us. At current we have a Friday night Erev Shabbot service which meets at 7:30 pm at Ruffner Valley Baptist Church in Irondale Alabama. Ruffner Valley Baptist church has been so gracious to us by letting us meet there and accommodating us. We thank the L-RD for them. I am very thankful to the L-RD for the heart that He has given the Birmingham Baptist Association There is such a need for Messianic Jewish evangelism here. I pray G-D will bless and grow this new work here in Birmingham Al. Please keep us in prayer. May G-D bless you in Yeshua's Name. Eric
Beth Adonai Yeshua
Presently meeting at:
Ruffner Valley Baptist Church
557 Ruffner Rd
Irondale, Alabama 35210
Questions Please Call: 205-956-1299
The above report is from one of our newest congregational plants. Please join us in praying for this new work to lead many lost to Yeshua.
We have been working with a brother in Birmingham, AL. to start a new Messianic Southern Baptist congregation. A local SBC church in Birmingham has started sponsoring this new work as a mission of that church. Please pray for Rabbi Eric Herschberg and our brothers and sisters in this new work. A short time ago he met with the local Birmingham SBC Associational Missions Team. Baruch Ha'Shem Yeshua! After they spoke for some time, finding out what a Messianic congregation is about, they decided to help make this ministry succeed. They offered to mentor brother Eric, his leadership and place the ministry in the first stage of missions work called watch-care. This is another prayer that the L-rd has answered.
Ric
---
Outreach News from Rabbi Jay Fielding at Beth Chaim Messianic Fellowship

Contact:

Rabbi Jay Fielding

Servant Leader

510 Jo Ann Drive

Marietta, GA 30067

404-245-7291

jayfielding@comcast.net
May the Lord bless you and keep you!
On behalf of Beth Chaim allow me to thank Eastside Baptist Church for a truly milestone weekend in the life of our congregation. We are very thankful for including us in the Mission weekend and giving us the opportunity to share our passion and purpose with our brothers and sisters at Eastside. As our parent/sponsor to the Southern Baptist community we were all uplifted by Eastside's co-sponsorship of our Ordinations of Aaron Evens and Kevin Dangler. I am personally grateful for your willingness to affirm my Ordination by letter. We all were joyous to be able to be part of Sunday's two services and share with the Church body our unique Hebraic-Christian style of worship. As we all witnessed this weekend, Judaism is truly a life-enriching blessing of the God of Israel when scripture based ceremony, music, dance, praise and liturgy comes from the heart of God's people worshiping our Messiah in Spirit.
We thank Joey Garner, the Deacons and Elders that joined by representing Pastor Pastor David Chauncey and Eastside Baptist Church at our service on Shabbat 10/27/07. Brother Joey Garner's talk on the purpose and traditions of Ordination were very moving and relevant. Their prayers and blessings for Kevin, Aaron and our congregation were words that laid the Holy Spirits' own hands directly on our souls.
Pastor Chauncey we appreciate your personal attention to our ministry and the loving encouragement we have receive at Eastside Baptist Church.
Even though that weekend's events were such a vital milestone in the life of Beth Chaim, it is my prayer that it will become just one step in a long walk together with the L-rd. Each step we take should be the lengthening and strengthening a Cord of Three in our mission to guide the Jewish people to their Messiah and our Church body to their Hebraic roots.
May God's people come to the L-rd and say, "Blessed is He who comes in the name of the L-rd" in our life-time!
Shalom & Blessings!
Rabbi Jay Fielding
Comments from the SBMF
On October 17, 2007 Beth Chaim and their sponsoring church Eastside Baptist Church, of Marietta, GA. questioned and voted to ordaine two Messianic Ministers into the ministry of the Gospel. Working cooperatively the leadership of Beth Chaim and Eastside Baptist Church held this questioning and ordination service for Rabbi Aaron Evans and Rabbi Kevin Dangler at Eastside Baptist Church on a Shabbat. Beth Chaim is one of our new congregational plants in the Atlanta area.
Mazel Tov is in order for Rabbi Jay Fielding for working to build a powerful partnership with the leadership of Eastside Baptist Church. Elders and Deacons were also appointed. We pray that Ha'Shem uses this team of Messianic Ministers to lead many people, Jew and Gentile alike to Yeshua Adonai.
We are also grateful to Pastor David Chauncey, Pastor Joey Garner, the Elders and Deacons of Eastside Baptist Church who participated in this questioning and ordination service. We are grateful for their support and hospitality to this new work in Jewish Evangelism in the Atlanta area. We pray that the L-rd gives them the power of His protection in this union of mission work.
Hineh matov umahnaim, shevet akhim gahm yahchad.
Behold how good and pleasant it is for brothers to dwell together in unity. [Psalms 133:1)
Please pray for this new work in the Atlanta area.
Ric
---
Ministry Report From: Pastor Brian Hawkins at Adat Derech Kol Ha'Mashiach
Please continue to pray for us about our meeting place.
Ministry News from Rabbi Brian Hawkins
There has been some more wonderful developments that happened today. Apparently the first of November there is a very big unity service at the church we are meeting at. The pastor has invited us to come and be a part of it. There will be at least 8 churches involved in this unity service this Sunday. They asked me if I could do a Christ in the Passover. Please be in prayer that this service will truly have the unity of the Holy Spirit present in the service.
It has been quite a while since I have been able to talk to you. I finally have a functioning computer that I can email as of today...Baruch ha'Shem!
I am writing this because we have had some things change within our congregation. We outgrew our building in Phenix City and asked the church there if we could possibly use their sanctuary to which they said that it would not be feasible. They said they use the sanctuary was used for other things on Friday evenings. Besides all of that the Russell Baptist Association, which is Phenix City's local SBC association, was not able to help. That is when the L-rd opened a church up in Columbus. The Columbus Baptist Association is so excited we are here. I met with the associational missionary today for breakfast and he wants us to really get involved in their association. We moved to the Southside of town in Columbus, which is a very bad area of town. We lost half of our congregation due to being in that location. I talked with the missionary (Jimmy Blanton) who in turn is helping me find a new location on the northern section of town, which is also closer to the Jewish neighborhoods.
In reference to your response the SBMF is right about going to all of the of the nations to share the Good News of Yeshua. This could be a 2nd area of focus?? I just want to see these people come to know the Lord.
As far as good news is concerned we put signs out again across the street of the reformed temple and conservative synagogue. We had a great response and had 8 Jewish people come to our sign and also 2 Israeli soldiers here in Ft. Benning for Airborne school. We also set up a Sukkah on our new property and had a lady from the neighborhood come and celebrate Sukkot with us. Praise G-D she received the L-RD that night. She is now going through our discipleship training. We are also starting midweek home bible studies starting next week.
I will be praying that G-D would give the SBMF wisdom and direction as you continue to work as the L-rd's representative for the SBC and for us.
I appreciate all of your help
Shalom b'Shem Yeshua,
Adat Derech Kol Ha'Mashiach
Pastor Brian Hawkins
5204 Alpha Ct.
Phenix City, AL 36867
---
Ministry & Outreach

News From Ruth, Our Sister & Missionary In Russia
Dear Friends,
Several months ago I sent out a list of volunteer opportunities for Moscow 2008. Several of you have been praying about the possibility of coming to join our ministry short term next year. At last I am getting around to sharing with you the particulars of the various projects. All the initial information that you need is in the included attachment. If you are not able to open it please let me know and I'll get the information to in another format.
In summary I am looking for 3 teams to come and minister here in Moscow next year:
Passover Project April 16-24, 2008 (this one is coming soon so please pray that God will call people to come and help SOON)
Prayer walking and evangelism project Aug. 22-30, 2008
Concert and Feast of Tabernacles celebration project Sept. 28-Oct. 6, 2008 or Oct. 12-20,2008.
Thank you so much for prayerfully considering how you can minister in Moscow with our team in 2008.
In the Lamb, Ruth
Please contact the SBMF if you are interested in helping this ministry missions needs.
Our vision is to see Russian Jews gathered into vibrant Messianic congregations being a light to the nations.
This week was a bit slower paced than most have been for the past several months. It was so nice to have time to review my Russian, go to gym, catch up on e-mail and simply do the daily routines of life. This coming week will be busier but I am coming into it more relaxed and refreshed and am very grateful for that.
Attendance at English club continues to be good. Last week we had 15 Russians and 3 Americans. If we keep having so many we may need to think about meeting somewhere else again, even though everyone really enjoys being in my home (including me). The two high school girls that I mentioned last week came again and I was very impressed with their maturity as I talked to them about some serious subjects, like the frailty and uncertainty of life. They are very enthusiastic about our club and want to get even more involved with it.
On Thursday we had our first Bible English Bible study since late July. Just 3 people attended, but 2 of them are not believers yet, so that was encouraging. Please pray that God will use His Word to touch their hearts and lead them to Him. Also please pray that God will continue to add to our numbers.
My friend Rachel arrived on Thursday evening and we have been having a good time catching up with each other. My friend Jenni came over on Friday night for dinner and prayer, which we haven't done for months now and then on Saturday about 16 of the IMB singles who live in Moscow and beyond got together for a night of fellowship. It has been a busy social week-end, but certainly lots of fun. Rachel will be staying here for another 2 weeks or so, as she needs to have knee surgery. Please pray that her time here will be profitable and enjoyable and that her surgery will be successful.
Thank you for your prayers for my colleague Gerald, who had a heart attack recently. He is now out of the hospital and recovering nicely.
Prayer Requests:
My team mate Donna has now completed full time language study and will begin taking on responsibility for our English club and other aspects of the English program. She will also continue to study language part time for several months. This week we will meet to discuss specifically her new responsibilities. Please pray for her as she moves into a new phase of her ministry here. Pray that God will give her creative ideas to reach more people and that He will bless her with good relationships with Jewish and non Jewish Russians.
Last week I had hoped to meet with my colleagues from another Jewish ministry about plans for the house church that I want to start soon. Unfortunately they did not have time to meet and will not have time to meet until next Saturday, after their worship service. Please pray that God will bless our meeting and that we will be able to make some concrete plans for this new group. I am so grateful for their willingness to help. Please pray for Iliya, one of my Russian colleagues with this ministry, who needs to make some major decisions about his future very soon. Pray that he will clearly know what God's direction for him is.
Thank you for your continued prayers for my dad. This past week he developed some new symptoms that have resulted in him not being able to get out of the house. My brother or someone else has been staying with him over night, as we are concerned that he could fall during the night and not be able to get up. When I talked to him last week he sounded rather discouraged about these latest developments. Please continue to pray for God's healing touch on his body and for Him to lift up his spirits. He has had several visits from relatives and friends this week. Please pray that those around him would continue to reach out to him so that he will not feel isolated and lonely. I continue to have peace about staying in Russia for right now. Please pray that I will know when it is the right time for me to go back there for another visit.
May God richly bless you this week as you faithfully continue to follow after Him.
In the Lamb, Ruth
Please pray for this sister as her father is ill and needs the prayers of the saints. Ric
---
Tzedakah Ministries News From Sister Amy Downey:
"To Equip His Church to Reach His People"
Tzedakah Ministries has just finished another Jewish evangelism video to help minister Yeshua to the Jewish people group. They also have several publications to help the local church learn how to tell the Jewish people about the Jewish Savior. Please look at their web site. www.tzedakahministries.org
The Blog: www.mysterysolvedwithmessiahjesus.wordpress.com
---
News from Brother Steve Kaplan
Mount Vernon Baptist Church/Jewish Outreach Ministry
850 Mount Vernon Hwy
Atlanta, GA 30327
(770) 512-0743
JEWISH OUTREACH INTERNATIONAL-Please pray as we finish administrative tasks in order to establish and continue our ministry under our new organization, JEWISH OUTREACH INTERNATIONAL, beginning in January 2008. A big thank you to BRIAN PILLSBURY (MVBC Missions Pastor), ANNE RUSSO (MVBC Accounting) and Mount Vernon Baptist CHURCH for allowing us to operate under their accountability since March 2002 and for helping us establish the new organization. We couldn't possibly measure the full impact our ministry has had since March 2002, but thanks to God and your support we do know:
Millions of people worldwide have been challenged by our evangelistic clothing items

Almost 400,000 Gospel tracts have been distributed worldwide

Over 7,000 Evangelistic clothing items have been distributed worldwide

5,000 Testimony letters were sent to Jewish surnames in the Atlanta area and beyond

Hundreds of Jewish people are continually contacted through our ministry

227 People (98 with Jewish roots) have prayed with us to receive Jesus

120 Hebrew New Testaments were given to open Israelis
Some "God Moments" included: Sharing the Gospel with Ray Comfort (International Jewish Evangelist)'s brother while in Sydney, Australia. Witnessing to four Israelis in Cork, Ireland minutes after arriving there. Witnessing to a 40 member tour group of American Jews in St. Tropez, France who became even more interested after we found out we were related! Praying for the man (and his family) who threw me out of a synagogue in St. Louis, Missouri and then meeting and witnessing to his son at a Passover Seder in Kathmandu, Nepal! Praying we would find Mike's step-father and that he would come to our Bible study and get saved, and then I met him, he came to the study and prayed to receive Jesus at age 89! Attending services at an Orthodox Synagogue in Athens, Greece while wearing a "Jesus Loves You" t-shirt (my luggage got lost) and being allowed to stay because they needed me for the Minyan! Receiving a letter from a 14 year old boy in Virginia wanting to reach Jewish people and then having this boy introduce me to a ministry in Belarus where I prayed with 40 Jewish people to receive Jesus! Running into cousins while on outreach in California, Massachusetts and New Jersey! While on outreach in Buenos Aires, Argentina, my friend translated and we prayed with an Orthodox Rabbi to receive Jesus! Challenging two Atlanta Jewish families while running into them on outreach in Cape Town, South Africa! After an Israeli had seen me in Nepal, India and several places in Las Vegas, he finally took a Hebrew New Testament! Meeting and ministering with a Pastor at a mall in North Miami Beach, Florida who turned out to be the one who bought my Grandfather's house on Miami Beach! After a debate with Michael Brown in Montreal Canada, Shmuli Boteach picked me out of a crowd and asked me why Jesus didn't fulfill all the prophecies. I told him Jesus fulfilled all the prophecies pertaining to his first coming, and for a split second I saw light in Shmuli's eyes! While distributing Gospel tracts in Marseille, France, doors opened up and I distributed about 200 Gospel tracts within 10 minutes not knowing a Mosque was letting out! While walking down the "wrong" street in Sao Paulo, Brazil, we met and challenged the Head Rabbi of Brazil! I will never forget the looks on the faces of Yeshiva students as their bus passed our evangelistic t-shirts in Polanco, Mexico!
JESUS LOVES YOU T-SHIRT PARTNERSHIPS: Some time ago while at the mall looking for ISRAELIS, I met ED (Gentile believer) who sells Christian t-shirts (www.wearyourfaith.com). Ed likes our "Jesus Loves You" Jewish star t-shirts and actually offers them for free on his website! Thanks to Ed and his website, we have mailed out dozens of the "Jesus Loves You" t-shirts to equip believers around the world! Because of Ed, we equipped JASON in Georgia, MARGARITO in Texas, LINDA's softball team in Michigan, NIKITA in Minnesota and DEE in Kentucky with "Jesus Loves You" t-shirts last month! Through our ministry, WALTER in Georgia/Alabama, WOODY in Nevada, GREG in Oregon, ROSALIND in Indiana, COACH in Georgia and a FRIEND in Russia (asked for 20 of our new Russian "Jesus Loves You" Jewish star t-shirts) were equipped with "Jesus Loves You" items last month!
---
Ministry & Outreach News from Rabbi Ken Alpren at Kol Dodi
OUTREACH REPORT – FESTIVAL - TEACHINGS - RADIO MINISTRY
Messianic Times is going to do a story on the radio show - should be in next issue.
Listen to "Shalom Nashville" www.wrvu.org 91.1FM
Starting March 10th Kol Dodi Congregation will meet at 10:30 am.
Hebrew class will be moved back to 9:30. (see you there)
Tuesdays at Kol Dodi (Calvary Baptist)
6:15 – 7pm Prayer Hour (Sha'at T'filah)
7 – 7:45pm "Growing in Maturity" Study - go out for Coffee after!
Upcoming Holiday Celebrations / Observances 5767-5768 (2007)
(actual Service dates posted nearer to Holiday)
• December 4-11 Chanukah (Dedication / Lights) evenings
Donations
Mail / donations to:
"Kol Dodi", 537 Franklin Pike, Franklin , TN 37069
Contact
Messianic Rabbi / Pastor
Kenneth B. Alpren Click Here To Email Kol Dodi
Web Page: www.koldodi.org
---
Ministry Report From: Pastor John Denson at Shalom Ministries:
Shalom Ministry cordially invites you to their
2007 Dessert Reception & Silent Auction
Shalom Ministry is hosting their 2nd Annual 2007 Dessert Reception & Silent Auction on Friday, December 7, 2007 at Bloomfield Baptist Church, 3600 Telegraph Road, Bloomfield Hills, MI, 48302.
Doors will open at 6:30 pm and the reception will start at 7:00 pm. (For those who are interested in our silent auction, early bidding will begin at 6:45 pm.)
The reception is to benefit Shalom Ministry, an exciting and unique ministry that reaches out to the Jewish people by telling them about the Prince of Peace – Yeshua – Jesus the Messiah. Shalom Ministry is also dedicated to bringing peace between the African American and Jewish communities as well as building bridges between the Gentile Church and the Messianic Jewish community.
Our special guest speaker will be Jhan Moskowitz, North American Director, Jews for Jesus. Jhan, a messianic Jew, will be sharing what God has put on his heart. Jhan was one of the "original" Jews for Jesus volunteers, even before the organization's incorporation in 1973. He co-founded the New Jerusalem Players (a mobile drama team of Jews for Jesus) and toured the U.S. as leader of that team for five years. He has directed the New York branch, where he also served as spiritual leader of a messianic congregation in Manhattan. He served as director of the Chicago branch of Jews for Jesus for 25 years. During that time, he taught a Bible study for the legal community of downtown Chicago. Jhan has served as a platform speaker for Promise Keepers, bringing the message of reconciliation through Messiah Jesus to tens of thousands of men.
Our program for the evening will also include a ministry report from Reverend John Denson, Director and Missionary, Shalom Ministry, a testimony from Andrea Werber, and our special music soloist, Alicia Jones. Rabbi Glenn Harris, Congregation Shema Yisrael, will bring an appeal to the audience for their support of Shalom Ministry as God leads them to give. Following the program, the silent auction will continue until 9:00 pm at which time the bidding will end and winners posted.
We welcome all who can come and be a part of our celebration and support of Shalom Ministry. Please RSVP by calling 248-636-5338 or by email: mjanski0712@wowway.com. For further information about Shalom Ministry, please check our website: www.shalomministry.com.
Donations:
P.O. Box 19695
Detroit, MI 48219
ShalomMinistry77@aol.com
[248 545 8800]
---
Ministry & Outreach News from Hal and Esther Garrett, First Baptist Church Hardy, Cherokee Village, AR.
A brief summary of Esther and my ministry and work.
Hal and Esther have numerous speaking engagements.
They encourage all North American missionaries to register in their home states into the North American Mission Boards, Missions Service Corps.
The last of October thru the 1st week of November, we spent a week in Budapest, Hungary with ABSC. The SBC is trying to start five new churches in Budapest. The city of Budapest has about 2.5 million people including 30,000 Jewish people and a total of 11 Baptist churches. The is no work going on in the Jewish community.. People there are searching but there are few to tell them the Truth.
In His service and love
Hal and Esther Garrett
---
Ministry Report and blessings from Rabbi Richard Geiger, Valley of Blessing, Greensboro, NC.
Prayer Requests Continued:
We are praying for an SBC Church location to worship.
We are praying for increased giving,
We have been led to a person who will lead us through incorporation.
The SBMF has been working with NAMB to find a location for this ministry to meet. Please pray for a mighty work of the Holy Spirit in this congregation dedicated to ministering Yeshua to all who they come in contact with.
---
Check out the below SBMF recommended Messianic ministries for details of .
SBMF Members Ministries, Congregations and Worship Service Information
Congregations & Fellowships
Dallas, TX.
Deer Park, TX
Marietta, GA
Beth Adonai Yeshua (URL to come soon)
Birmingham, AL.
Bessemer, AL.
B'nai Avraham Messianic Fellowship
Hampton, Virginia
West Side of Central Nashville, TN.
Greensboro, NC
Anaheim Hills, CA
Peculiar, MO.
Charlotte, NC.
Adat Derech Kol Ha'Mashiach
Phenix City, AL & Columbus, GA.
Ministries & Resources
Detroit, MI.
Princeton, WV
Pasche Institute Of Jewish Studies
A Ministry Of Criswell College
Dallas, TX.
Marietta, GA
Lindenhurst, IL.
Charlotte, NC.
Fort Worth, TX.
Mount Vernon Baptist Church - Jewish Outreach Ministry
Atlanta, GA.
Some of the above web sites have SBMF members attending or associated with those ministries. Some of these above ministries are not directly SBMF members as a congregations or ministries. The member of those ministries may be a member of the SBMF. Not all of our affiliated Messianic congregations or our member's ministries have web sites. Some of our members have not yet requested us to post links to their web sites. If you are a member of the SBMF and would like a link to your web site posted and linked, please contact us at the SBMF.
Our intention is to help resource our SBMF members in their ministries.
Please pray for the above ministries.
---
Shema Ysrael Adonai Elohaunoo, Adonai Echad
Hear Israel the L-rd our G-d, the L-rd is One
To Him who loves us and released us from our sins by His blood — and He has made us to be a kingdom, priests to His God and Father — to Him be the glory and the dominion forever and ever. Amen. BEHOLD, HE IS COMING WITH THE CLOUDS, and every eye will see Him, even those who pierced Him; and all the tribes of the earth will mourn over Him. So it is to be. Amen. "I am the Alpha and the Omega," says the Lord God, " who is and who was and who is to come, the Almighty." [Rev 1:5-8 NASU]
I was in the Spirit on the Lord's day, and I heard behind me a loud voice like the sound of a trumpet, saying, " Write in a book what you see, and send it to the seven churches: to Ephesus and to Smyrna and to Pergamum and to Thyatira and to Sardis and to Philadelphia and to Laodicea." Then I turned to see the voice that was speaking with me. And having turned I saw [Rev 1:10-12 NASU]
Remember it is about position. John heard, he turned, and he saw. To truly see you need to turn to Yeshua. I heard - I turned - I saw - I found Salvation in the L-rd.
The L-rd is knocking at the door of your heart. Will you let him in?
Baruch Shem K'vod Malchooto lay'olam vay'ed
Bless His Glorious Name Whose Kingdom is Forever and ever
---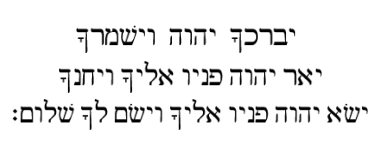 The L-rd bless you, and watch over you; The L-rd make His face shine on you, and be gracious to you; The L-rd lift up His countenance on you, and give you peace. [Numbers 6:24-26]
Shalom Alechem