Southern Baptist Messianic Fellowship
News Updated December 21, 2006

Shalom to all. "The grace of the Adonai Yeshua Ha'Mashiach, and the love of Elohim, and the fellowship of the Ruach HaKodesh, be with you all."
---
Good News - Encampment is Coming in June:
I thank my God, making mention of you always in my prayers, hearing of your love and faith which you have toward the Lord Jesus and toward all the saints, that the sharing of your faith may become effective by the acknowledgment of every good thing which is in you in Christ Jesus. [Philem 6 NKJV]
Baruch Ha'bah B'Shem Adonai. [Psalms 118:26]
Blessed is He Who comes in the Name of the L-rd. [Matthew 23:29]
Let us hold fast the confession of our hope without wavering, for He who promised is faithful. And let us consider one another in order to stir up love and good works, not forsaking the assembling of ourselves together, as is the manner of some, but exhorting one another, and so much the more as you see the Day approaching. [Hebrews 10:23-25]
We pray that all is well with you. G-d is so good. He is blessing us all the time. Be blessed, be healthy, be found in Him.
---
Come to the San Antonio Encampment
Where The Ha'Kadoshim (the saints) Of The SBMF Will Gather Together
SBMF Annual Meeting News From Your President And Servant
Prepare for the SBMF Annual Meeting.
The SBMF Annual meeting will be coming up soon in San Antonio, TX. We recommend that you contact the SBC Lodging Agency for reservations.
Housing Telephone:
International Phone Number: To Come Soon
Housing Coordinator: 615-782-8612
Fax: 210-207-6702
FAXED / EMAIL / MAILED RESERVATIONS:
Faxed reservations should be faxed to the SBC Housing Bureau at 210-207-6702.
Email: sahousing@sanantoniovisit.com
Mailed reservations should be mailed to SBC Housing Bureau at:
203 S. St. Mary's,
2nd Floor, San Antonio, TX 78205.
Plans for the meetings:
We will again look into childcare for the times that we have meetings. There may be some of you who would like to attend but you need help with your children. Please let us know if you have childcare needs for these meetings. Please let us know if any of your young adults that are attending would like to work with the children as serving ones.
We have tentative plans in the works. As of this date we are scheduled to meet Saturday for Yeshiva and Business meetings. We are praying that a Messianic Congregation in the area will help us with worship music and a place to meet on Erev Shabbat (Friday Evening) for corporate worship. If you know of a congregation in the San Antonio, TX. area please contact me via e-mail. We will be contacting the local SBC associations in the San Antonio area in hopes to find a congregation who will give us hospitality for Friday evening Erev Shabbat celebration.
The dates for our meetings are scheduled for June 8th, 9th & 10th, 2006. Many of the brothers and sisters wish to attend the SBC Pastors Conference that starts Sunday evening. We plan to have Davidic Worship Dance training on Sunday afternoon.
Now as I looked at the living beings, behold, there was one wheel on the earth beside the living beings, for each of the four of them. The appearance of the wheels and their workmanship was like sparkling beryl, and all four of them had the same form, their appearance and workmanship being as if one wheel were within another. Whenever they moved, they moved in any of their four directions without turning as they moved. As for their rims they were lofty and awesome, and the rims of all four of them were full of eyes round about. Whenever the living beings moved, the wheels moved with them. And whenever the living beings rose from the earth, the wheels rose also. Wherever the spirit was about to go, they would go in that direction. And the wheels rose close beside them; for the spirit of the living beings was in the wheels. Whenever those went, these went; and whenever those stood still, these stood still. And whenever those rose from the earth, the wheels rose close beside them; for the spirit of the living beings was in the wheels. [Ezekiel 1:15-21]
The wheels are on the move. We need to grab hold and go along for the ride.
We are on the move. We are speaking to two wonderful speakers. Baruch HaShem Yeshua. As soon as we can we will give you some information about the speakers.
We do want to thank the SBC Convention Relations Staff and the NAMB as they help us with arrangements for our meetings and supply the room for our meetings. They have been such a blessing to us. Please lift them up in your prayers as they work hard to make the SBC Annual Meeting and all of the associated events a wonderful experience for all who attend.
Please Pray: We are praying that we will be sponsored by NAMB to have a booth in the Convention Center this year. We would like to let our SBC Brothers and Sisters know who we are and how we can help them in this race we run together. This would be a great chance for us to work with NAMB in illustrating to the SBC Brothers and Sisters, how we can help as an arm of NAMB. We do not know if NAMB can help us with this booth. We are in prayer with an expectation of answered prayer.
And all things you ask in prayer , believing, you will receive. [Matthew 21:22]
We are looking forward to seeing you at the 2007 SBMF Annual Meetings. Unless we hear the Shofar sound and a call from above, "Come up here". Then we look forward to seeing you up there.
Baruch Ha'bah B'Shem Adonai
Blessed is He who comes in the name of the L-rd.
Come Yeshua come.
---
Other Good News:
We need to be of one Body, one mind and one spirit. There is one Body and we need to work together to the Glory of G-d and the growth of His Kingdom.
As Messianic Believers (Christians) we need to work the good work with all of our Brothers and Sisters in Mashiach (Christ).
---
Outreach News from Rabbi Ken Alpren at Kol Dodi
OUTREACH REPORT – FESTIVAL - TEACHINGS - RADIO MINISTRY
Radio Talk Show at Vanderbilt University
Answered Prayer: "Shalom Nashville "
This year the most exciting answer to prayer undoubtedly has been the "great an effective door" which the Lord "has opened for me" (I Cor.16:9) via a radio show on a totally secular station! For over three years I prayed about having a radio ministry - not to Christians, but to the lost. I remember tuning in to a very strong signal several times in my car – a station with quite unusual music – good, but different and unfamiliar. I prayed, "Lord, wouldn't it be great to be able to be on THIS station with a creative outreach?" But I had no idea from where it was broadcast. I soon learned it to be from the heart of Vanderbilt University , which was perfect! This is where I wanted a focus in our outreach – why we had moved our Services nearer that area. Besides the many un-reached students from other states and countries, Vanderbilt's Jewish student population has risen from 3% to 12% in the last five years!
Well, I'd be happy to give you all the miraculous details of the rest of the story personally, but basically, I went to speak to the management and approached them with the idea of a Jewish –oriented music / talk show, went through the required DJ training - passed, pursued the idea further, and miraculously, "Shalom Nashville" was born! We are now three months old and reach all of middle Tennessee on FM, and the world on the internet! Realize that there are no religious or Christian programs on this station - our audience is secular, not Christian! What an open door from the Lord – a mission field opportunity! We have received many phone calls on the show (many Jewish) and emails from Jewish artists abroad, had some great Israeli guests, and also strategic opportunities to do special editions of our show at various times when subbing for other DJs.
Please tune in and listen to us live (Saturday from

until or later C.S.T.) at 91.1 FM locally or on line at www.wrvu.org from anywhere in the world! You can even call in live at 615-421-7625 or email during the week at shalomnashville@yahoo.com. Samuel is developing a myspace at myspace.com/shalomnashville. Please "pray for us, that the Word of the Lord will spread rapidly and be glorified" (2 Thess.3:1) as we move into 2007.
We have also officially registered a Messianic Student Fellowship (MSF) as a student organization at Vanderbilt – please pray for its development this year. I believe that if we are faithful to pray and persevere, "the Lord has much more to give [us] than this'" (2 Chron.25:9), for "the fruit of the righteous is a tree of life, and he who is wise wins souls." (Prov.11:30).
We look forward to a thrilling Congregational Chanukah Celebration this week as well as a large Chanukah Party / Outreach for many Israelis (non-believers) hosted by Lori & Keith's wonderful family.
Listen to "Shalom Nashville" www.wrvu.org
Saturdays midnight - 1am CST 91.1FM
myspace.com/shalomnashville
In addition to our normal time,
Saturday 12 midnight - 1 or 2am Sunday (no show Dec.30):
Friday, Dec.22, 2-4pm
Monday, Jan.1, 4-6pm
Friday, Jan.5, 6-8pm
Friday, Jan.12, 6-8pm.
91.1FM or listen on line at www.wrvu.org all times listed are C.S.T
Donations
Mail / donations to:
"Kol Dodi", 537 Franklin Pike, Franklin , TN 37069
Contact
Messianic Rabbi / Pastor
Kenneth B. Alpren Click Here To Email Kol Dodi
Web Page: www.koldodi.org
---
Ministry Report From: Pastor John Denson at Shalom Ministries
Shalom Ministries has a new web site Please take a look at this site and see how Brother John can help. Here is the link: http://www.shalomministry.com/
Brother John has a new brochure to send out with speaking topics. Please contact him if you are interested in having him come and speak at your Church or Congregation.
P.O. Box 19695
Detroit, MI 48219
ShalomMinistry77@aol.com
[248 545 8800]
---
Ministry Report From: Pastor Brian Hawkins at Adat Derech Kol Ha'Mashiach
G-d is awesome!! We had our first Chanukah service this past weekend and lit a 8 ft' Chanukiyah. We had a record breaking crowd of 42 people. We had 5 people rededicate their lives to the L-rd. We have also been praying for you and your family. I got the prayer request you sent out about their car accident...Baruch ha'Shem no one was hurt seriously.
While at the hospital on other business "by accident" when Pastor Hawkins walked in the room it was not where he intended to go. It was a different person all together. A 20 year old young lady was in the room. She asked me who I was and I told her I was a Pastor. She started to cry and I was able to minister that day. Well the next day I felt the Ruach lead back to the room. I talked to her further and she ended up receiving Yeshua as her Savior, Amein. As soon as she gets out of the hospital we are going to baptize and start discipling her. Baruch ha'Shem Yeshua!
---
Ministry Report From: Pastor Bill Liniewicz for Radio India Ministries
Pastor Bill is back from India. Please be in prayer for this mission of Yeshua. Baruch HaShem Yeshua. Please pray for those who he spoke to while he was in India. Please pray that many hearts and minds will come to faith in Yeshua as their L-rd and Savior.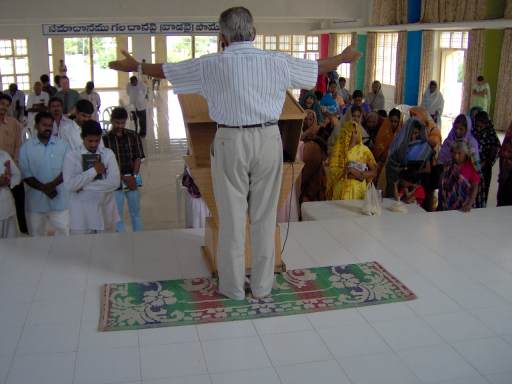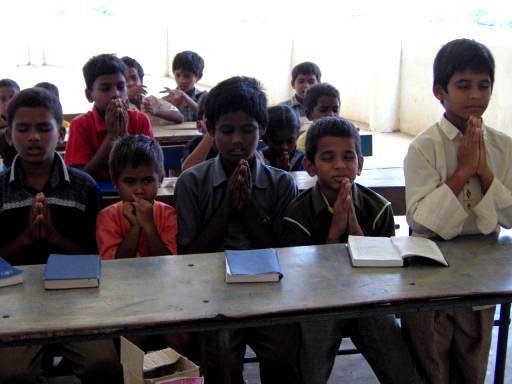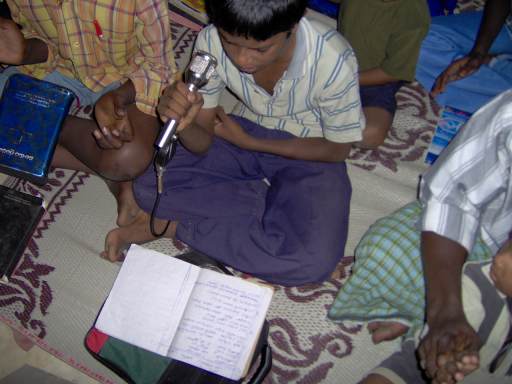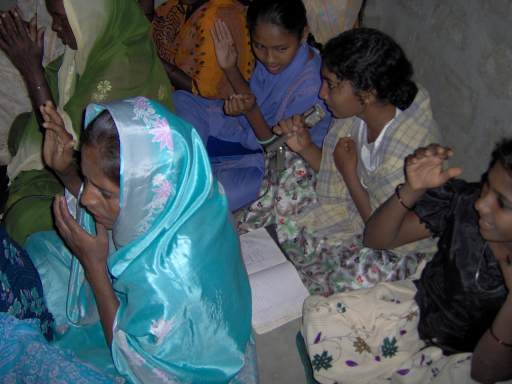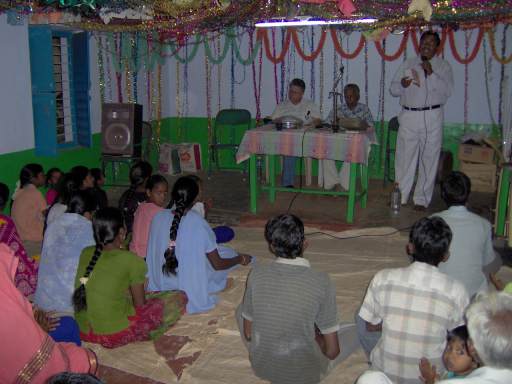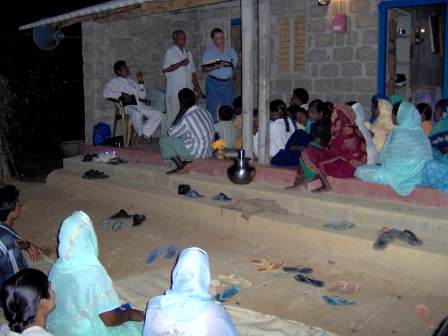 They came from miles around to hear the Truth in Christ.
Check this web site out. http://www.radioindiaministries.com/ or for the Jungle Journal at: http://radioindiaministries.blogspirit.com
---
Ministry News From Your SBMF President And Dr. Randy Weiss Of CrossTalk
CrossTalk is an internationally syndicated television & radio program. The mission statement says it all: "We are boldly reaching out to change lives with the radical truth our Jewish Savior."
We at the SBMF have been praying for Dr. Weiss and his mission to translate the Visual Bible into every language and tongue. Last month we met with Dr. Randy and some others to work on funding for this ministry. There are several people from several Christian groups praying and working on this project. Many hearts and minds could be lead to Light and Life in Yeshua. If you are interested in supporting this ministry please check out the web site.
The web site for this ministry is http://www.todaywithgod.org/
---
News From Our Missionary In Russia
Our vision is to see Russian Jews gathered into Messianic congregations being a light to the nations.
Praises:
Thank you so much for praying for a place for Joe to stay while he is here in Moscow . A couple who are helping with the English couple have invited him to stay with them. They live very close, for Moscow standards and I am sure that they will make Joe feel very much at home.
On Sunday, my MK friend Grace came over to help me bake Christmas cookies. We had a great time together and also got a lot of baking done. I am so glad that God has put young people like Grace, into my life.
My plans for my trip to South Africa in January are continuing to come together. Some friends in Johannesburg have invited me to stay with them while I am there. In addition to my friends who live in South Africa I will probably also get to see friends who live in some of the surrounding countries who will be in Johannesburg at a conference while I am there. I am very excited about how God has worked that out. Please continue to pray for my plans to come together. Especially pray that I will be able to get together with my Jewish friends, who are not yet believers.
We still don't have snow yet but at least my apartment is looking like Christmas. My friend Rachel came over this week and helped me decorate my Christmas tree and I think it looks lovely. Ariela (my active cat) has tried to climb it a few times but so far has not knocked off anything or tipped over the tree. In fact, it seems like she is actually getting used to it. Hallelujah. She has destroyed my trees the past 2 years.
Prayer Requests:
Tonight, Dec. 15th, is the first evening of Hanukkah. I had invited a family over for dinner tonight but they were not able to come because of illness. I am also feeling a bit under the weather so am actually relieved that they can't come. Please pray that Astrid and I will recover quickly and be able to get back to all of our normal activities. Even though I won't be celebrating Hanukkah as I planned tonight I will get the chance to celebrate it a total of 5 times in the next week. Tomorrow, Dec. 16th the congregation that I normally attend will be having their Hanukkah celebration. Please pray that many new people will come and that their hearts will respond to their Messiah. On Sunday, Dec. 17th our English club will have our Hanukkah lesson and party. I will be leading the club this week. Please pray that God will help me as I prepare and that He will draw many people to Himself during this holiday season. On Tuesday, Dec. 19th a friend of mine who is a Jewish believer is planning a Hanukkah outreach for Jewish people that she knows. She has also invited me and some other believers. Please pray that God will direct her as she plans and that those who attend will respond to the Gospel as it is shared in the context of Hanukkah. On Thursday I will be celebrating Hanukkah with some other believers. And finally on Saturday, Dec. 23rd my English club and another ministry to Jewish young people will be having a joint Hanukkah-Christmas party. Whew! I'm tired just writing about all of these celebrations. Please pray that at all of these celebrations God will be glorified and that Jews will be drawn to Himself. Also please pray for those who are responsible for organizing these various events.
With all of the Hanukkah celebrations that I will be involved in I am afraid that I will forget about Christmas. I do actually plan to celebrate Christmas as well. Those plans are still coming together. Please pray that I will be able to spend the holiday with those that God wants me to be with. Also please pray during this season for those who will be celebrating the holidays for the first time without a loved one and also for those who will be separated from their families during this time of year.
Joy to the world the Lord has come let earth receive her King. Let every heart prepare Him room and heaven and nature sing. In the Lamb,
Our Dear Sister in Russia.
---
Praise and Prayer From Your President: Ric Worshill
I pray that you have a wonderful Chanukah Tov and a Chag HaMolad Sameach (Merry Christmas Celebration), Sameach Yom Kol Yeshua Tov (Joyous Day of Yeshua).
We had a wonderful trip to Bessemer, AL. where we met with SBMF V.P. Jay Isbell and his wife Penny. We were able to get lots of work done. We have some wonderful plans for the SBMF in 2007. We are working on bringing the SBMF into a new move of G-d's work here on His earth. Soon we will be sending out a flash message via email about our prayers, plans, hopes and dreams. Please lift us up in your prayers as we work to make the SBMF more resourceful to you. We were able to Worship at Beth El Shaddai in Bessemer. We were blessed to see a congregation where there was chessed (Love) for the Word and the congregational members is evident and in practice.
While we were in Bessemer we met with new member and a Messianic Minister, Rev. Brian Hawkins. Rav. Hawkins has a new work in Adat Derech Kol Ha'Mashiach (Congregation Way Of The Messiah). This Ministry is located in Phenix City, AL. Please pray for this new work for the Kingdom. We at the SBMF look forward to working with Rav. Hawkins.
Please lift up Rav. Jay Fielding and his wife Michele, in your prayers as they start a new Messianic Jewish Congregation in Marietta, GA.
Adat Shalom in Dallas, TX. (Rabbi Robin Rose) has a new web page. Pray for this new web presence to have a great effect on those who are seeking.
Please lift up Shalom Ministries (Pastor John Denson) as their new web presence illustrates their ministry to those who need to know.
Please pray for the ministry of Today With G-d. Translators and financial support is needed to bring the message to those in nations who speak in different tongues.
Please pray for our brothers and sisters who are working all over this world in missions service. Our Brothers and Sisters in the International Mission Board, the North American Mission Board and all missionaries all over the world.
Again Please Pray: We are praying that we will be able to be sponsored by NAMB so we can have a booth in the Convention Center this year. We would like to let our SBC Brothers and Sisters know who we are and how we can help them in this race we run together, leading the nations and our Jewish kinsman to Yeshua.
For I am not ashamed of the gospel of Christ: for it is the power of God unto salvation to every one that believeth; to the Jew first, and also to the Greek. For therein is the righteousness of God revealed from faith to faith: as it is written, The just shall live by faith. [Rom 1:16-17 KJV]
I am telling the truth in Christ, I am not lying, my conscience testifies with me in the Holy Spirit, that I have great sorrow and unceasing grief in my heart. For I could wish that I myself were accursed, separated from Christ for the sake of my brethren, my kinsmen according to the flesh, who are Israelites, to whom belongs the adoption as sons, and the glory and the covenants and the giving of the Law and the temple service and the promises, whose are the fathers, and from whom is the Christ according to the flesh, who is over all, God blessed forever. Amen. [Romans 9:1-5 NASU]
---
As I said before we need to grab hold of Ezekiel's Wheels and hang on as we move with the move of G-d. As we do this we must hold to one another running the race hand and hand. There should be no competition between the kadoshim (saints). As we hold onto one another we run together, supported by each other, until He finishes that which He has begun in us.
---
Check out the below SBMF recommended Messianic ministries for details of .
SBMF Members Ministries, Congregations and Worship Service Information
Dallas, TX.
Deer Park, TX
B'rit Avraham Messianic Congregation
Christian - Jewish Unity Congregation
Riverside County area of Southern California
Marietta, GA
Bessemer, AL.
Hampton, Virginia
West Side of Central Nashville, TN.
Princeton, WV
Detroit, MI.
Greensboro, NC
Lindenhurst, IL.
Pasche Institute Of Jewish Studies
A Ministry Of Criswell College
Dallas, TX.
Some of the above web sites have SBMF members attending or associated with those ministries. Some of these above ministries are not directly SBMF members as a congregations or ministries. The member of those ministries may be a member of the SBMF. Not all of our affiliated Messianic congregations or our member's ministries have web sites. Some of our members have not yet requested us to post links to their web sites. If you are a member of the SBMF and would like a link to your web site posted and linked, please contact us at the SBMF.
Our intention is to support our SBMF members in their ministries.
---
We are what we eat. Feast on the Tree of Life. Be filled with the Light and Life of Yeshua. Read the Word.
Blessed is he who reads and those who hear the words of this prophecy, and keep those things which are written in it; for the time is near. [Revelation 1:3 NKJV]
Say not ye, There are yet four months, and then cometh harvest? behold, I say unto you, Lift up your eyes, and look on the fields; for they are white already to harvest. [John 4:35 KJV]
Baruch Ha'ba B'Shem Adonai
Blessed is he who comes in the name of the LORD! [Ps 118:26 NKJV]
---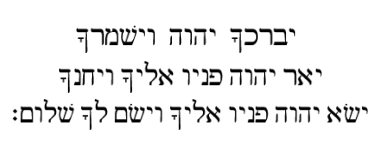 The L-rd bless you, and watch over you; The L-rd make His face shine on you, and be gracious to you; The L-rd lift up His countenance on you, and give you peace. [Numbers 6:24-26]
Shalom Alechem