Southern Baptist Messianic Fellowship
Ministry News December 31, 2013

Shalom to all. "The grace of the Adonai Yeshua Ha'Mashiach, and the love of Elohim, and the fellowship of the Ruach HaKodesh, be with you all."
---
The Encampment is Coming in Baltimore, MD. this June.
Don't forget, make your plans now.
For Zion's sake I will not keep silent, And for Jerusalem's sake I will not keep quiet, Until her righteousness goes forth like brightness, And her salvation like a torch that is burning. [Isaiah 62:1]
Be healthy, be safe, be filled, be blessed, be found in Him. Our G-d is an awesome G-d.
---
SBMF Ministry News
Shalom Atechah. "The grace of the L-rd Jesus Christ, and the love of G-d, and the fellowship of the Holy Spirit, be with you all." [2 Cor 13:14 NASU]
Your brothers and sisters of the Southern Baptist Messianic Fellowship (SBMF) wish you blessings and peace.
Ho-doo L'adonai key tov, key l'oh-lahm chas-doe.
Give thanks to the Lord for He is good, and His loving-kindness endures forever.
[1 Chron. 16:34,41; 1 Chron. 20:21; Psa. 106.1; Psa. 118:1; Psa. 136:1,3]
If you have been following the SBMF on our web site and our Facebook page we have been busy these past several years. We have been helping missionaries, new works leaders, evangelistic ministries and congregations by helping with training and resources.
The SBC Executive Committee has recognized the SBMF and all the other ethnic ministries in all aspects of the Southern Baptist Convention. We are part of the North American Mission Board (NAMB), Many Faces of SBC group. This is a major accomplishment and a blessing for out fellowship. We work together with all the ethnic ministry fellowships to better serve the Kingdom growth. This wonderful blessing came true in 2011. Please look at our SBMF news page for those SBC Annual Meetings.
The New Orleans Baptist Theological Seminary, Georgia Extension Center has been working with us to start a diploma program in Messianic Studies that is available on line. We are looking for qualified instructors to serve in teaching the classes listed on their web site. Some SBMF members have been credentialed as instructors for some of the classes. This curriculum is offered on line for anyone interested in receiving a diploma in this ministry field.
We are also setting up a web page that will list our active members and the ministry services that they provide. For example we will publish the name of the member with a list of speaking or teaching engagements that they can bring to any association, church or congregation. Some examples are: Biblical feast teachings, Jewish evangelism trainings, congregational strengthening and congregational new works trainings. This will be similar to the on-line lists that CPM and J4J have for their missionaries. This is a way for people to find out who to contact when they need a speaker to come and teach at their local church or associational meeting.
Last year we met in Houston, TX and had a wonderful time at Beth Yeshua HaMashiach Messianic Jewish Synagogue. We had a wonderful turnout of attendees. We had five wonderful speakers bring challenging messages to the attendees. Four messages were presented by SBMF members and one was given by Dr. Bob Burton from the North American Mission Board (NAMB). The worship music was led by our dear sister Kathy Elowitz and the Beth Yeshua HaMashiach Messianic, Jewish Synagogue, Worship Team.
Next year we will meet on June 6th and 7th, for the 2014 SBMF Annual Meetings and worship services. These meetings will be held before the SBC Pastors Conference and the SBC Annual Meetings, in Baltimore, MD. We would love to see you there.
The reason we are contacting you is to encourage you to contribute your annual dues. The SBMF operates solely on the annual membership dues that you send to keep your membership active. Below is the schedule of the membership dues and where to send them.
If you have not sent in your dues yet, it is time to renew your SBMF Membership. An email like this is going out to all of our members, past and present. If you are up to date on your membership we thank you for your cooperation.
The individual membership rule was in effect until our meetings in New Orleans, last year. After that meeting the group membership fees will apply to congregational membership.
Individual membership will still cost $25 per year.
Congregational membership of a congregation of up to 50 people will cost $250 per year. With this type of membership we will need each congregation to submit a list of those members names, addresses, phone numbers and email addresses, who wish to be listed as SBMF members.
For a congregation of 50 to 100 members the congregational membership cost will be $350 per year. With this type of membership we will also need each congregation to submit a list of those members names, addresses, phone numbers and email addresses, who wish to be listed.
There is one restriction related to voting. Only active members, attending the SBMF Annual Meetings will be eligible to vote on any SBMF business.
Please make the check out to "SBMF" and mark in the notes field "Membership". Mail your dues to SBMF in care of Hal Garrett, Eastwood Circle, Walnut Ridge, AR. 72476
If you wish to be removed from our membership list please send me an email with that request.
We pray that you will be encouraged by the news about the SBMF and our activity. We pray that you will continue to be a part of this wonderful ministry function. We at the SBMF are dedicated to helping messianic ministers, evangelists and all of our members succeed in their ministry mission.
If you have prayer requests that you would like to have forwarded to prayer warriors, please send them to me. Please let me know if you would like to receive our members prayer requests.
If any of your contact information has changed please send me the corrected contact information. We need to keep our members records current so we can contact you or refer people to you who may need your help.
Peter Deyneka Jr., founder of the Slavic Gospel Association often reminded believers that where there's much prayer, there's much power!. Where there's little prayer, there's little power, and where there's no prayer, there's no power...
Please contact us as soon as you can. We would love to hear from you. We would also like to see you at our next annual meetings in Baltimore, MD. If you can't attend but you have suggestions or recommendations, please send them to me. We must continue to work together to the growth of the Kingdom and the glory of Yeshua ha'Meshiach.
The L-rd bless you, and watch over you; The L-rd make His face shine on you, and be gracious to you; The L-rd lift up His countenance on you, and give you peace. [Numbers 6:24-26]
Shanah Tova = Happy New Year
Your brother in Yeshua, servant and fellow bond-servant in the L-rd.
Ric Worshill
President of and servant to the
Southern Baptist Messianic Fellowship
Serving the L-rd, the Church, NAMB & SBC
---
I am telling the truth in Christ, I am not lying, my conscience testifies with me in the Holy Spirit, that I have great sorrow and unceasing grief in my heart. For I could wish that I myself were accursed, separated from Christ for the sake of my brethren, my kinsmen according to the flesh, who are Israelites, to whom belongs the adoption as sons, and the glory and the covenants and the giving of the Law and the temple service and the promises, whose are the fathers, and from whom is the Christ according to the flesh, who is over all, G-d blessed forever. Amen. [Romans 9:1-5]
Brethren, my heart's desire and my prayer to G-d for them is for their salvation. [Romans 10:1]
For I am not ashamed of the gospel, for it is the power of G-d for salvation to everyone who believes, to the Jew first and also to the Greek. For in it the righteousness of G-d is revealed from faith to faith; as it is written, "But the righteous man shall live by faith." [Romans 1:16-17]
Do you not say, 'There are yet four months, and then comes the harvest'? Behold, I say to you, lift up your eyes and look on the fields, that they are white for harvest. [John 4:35]
Go therefore and make disciples of all the nations, baptizing them in the name of the Father and the Son and the Holy Spirit, teaching them to observe all that I commanded you; and lo, I am with you always, even to the end of the age. [Matthew 28:19-20]
And He said to them, "Go into all the world and preach the gospel to all creation. [Mark 16:15]
For Zion's sake I will not keep silent, And for Jerusalem's sake I will not keep quiet, Until her righteousness goes forth like brightness, And her salvation like a torch that is burning. [Isaiah 62:1]
But you, be sober in all things, endure hardship, do the work of an evangelist, fulfill your ministry. [2 Timothy 4:5]
---
Come to the SBMF Annual Meetings in Baltimore, MD., June 6th-7th, 2014. Help us minister the good news of Yeshua to the lost people in the world.
We are what we eat. Feast on the Tree of Life. Be filled with Light and Life. Read the Word.
Let us hold fast the confession of our hope without wavering, for He who promised is faithful. And let us consider one another in order to stir up love and good works, not forsaking the assembling of ourselves together, as is the manner of some, but exhorting one another, and so much the more as you see the Day approaching. [Hebrews 10:23-25]
---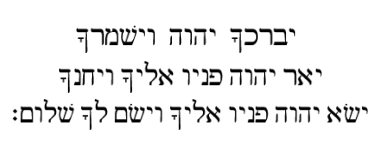 The L-rd bless you, and watch over you; The L-rd make His face shine on you, And be gracious to you; The L-rd lift up His countenance on you, And give you peace. [NASU Numbers 6:24-26]
Shalom Alechem

la'heetra'oat