Southern Baptist Messianic Fellowship
Messianic Ministry Training News

Shalom to all. "The grace of the Adonai Yeshua Ha'Mashiach, and the love of Elohim, and the fellowship of the Ruach HaKodesh, be with you all."
---
SBMF Ministry Training News
Shalom Atechah. "The grace of the L-rd Jesus Christ, and the love of G-d, and the fellowship of the Holy Spirit, be with you all." [2 Cor 13:14 NASU]
There is a ministry training available in February. Please pray about attending. Click on the below image to go to the Word of Messiah Ministries web page.
Word of Messiah Ministries
Regional Conference: Florida 2014!"
THE VISION: To cultivate a community of
Messianic believers who testify of God's faithfulness in Yeshua to His people
through healthy Messianic congregations.

COST: Registration - $150.00
per-person , teaching materials are included.
The L-rd bless you, and watch over you; The L-rd make His face shine on you, and be gracious to you; The L-rd lift up His countenance on you, and give you peace. [Numbers 6:24-26]
Shanah Tova = Happy New Year
Your brother in Yeshua, servant and fellow bond-servant in the L-rd.
Ric Worshill
President of and servant to the
Southern Baptist Messianic Fellowship
Serving the L-rd, the Church, NAMB & SBC
---
The SBMF encampment is coming in Baltimore, MD. this June.
Don't forget, make your plans now.
Let us hold fast the confession of our hope without wavering, for He who promised is faithful. And let us consider one another in order to stir up love and good works, not forsaking the assembling of ourselves together, as is the manner of some, but exhorting one another, and so much the more as you see the Day approaching. [Hebrews 10:23-25]
Come to the SBMF Annual Meetings in Baltimore, MD., June 6th-7th, 2014. Help us minister the good news of Yeshua to the lost people in the world.
We are what we eat. Feast on the Tree of Life. Be filled with Light and Life. Read the Word.
Be healthy, be safe, be filled, be blessed, be found in Him. Our G-d is an awesome G-d.
---
Do you not say, 'There are yet four months, and then comes the harvest'? Behold, I say to you, lift up your eyes and look on the fields, that they are white for harvest. [John 4:35]
Go therefore and make disciples of all the nations, baptizing them in the name of the Father and the Son and the Holy Spirit, teaching them to observe all that I commanded you; and lo, I am with you always, even to the end of the age. [Matthew 28:19-20]
---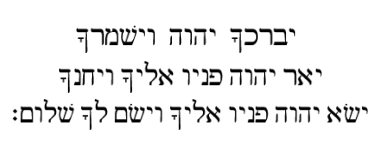 The L-rd bless you, and watch over you; The L-rd make His face shine on you, And be gracious to you; The L-rd lift up His countenance on you, And give you peace. [NASU Numbers 6:24-26]
Shalom Alechem

la'heetra'oat