Southern Baptist Messianic Fellowship
News - August 6, 2005

Shalom to all. "The grace of the Adonai Yeshua HaMeshiach, and the love of Elohim, and the fellowship of the Ruach HaKodesh, be with you all."
Good News:
But for you who fear My name, the sun of righteousness will rise with healing in His wings; and you will go forth and skip about like calves from the stall. [Malachi 4:2 NASU]
Baruch HaBah B'Shem Adonai. Blessed is He Who comes in the Name of the L-rd
I pray that all is well with you all. G-d is so good. He is blessing us all the time.
Other Good News:
We have some new brothers and sisters who have joined or are thinking of joining the SBMF.
---
Breaking Down The Walls Of Division And The Blessings Received:
Dr. Randy Weiss: The end of last month I was blessed to meet and worship with Dr. Randy Weiss (Crosstalk.org TV & Radio Messianic Ministries). In the words of Dr. Weiss. "CrossTalk is an internationally syndicated television & radio program. The mission statement says it all: "We are boldly reaching out to change lives with the radical truth our Jewish Savior." The host of CrossTalk is Dr. Randy Weiss. He is a Jewish believer in Jesus who has been proclaiming this message since his conversion in early 1973. Tune in weekly to enjoy teaching, humor, singing, and sharing from a Jewish man's perspective. Randy teaches about the Jewish origins of the Christian faith and helps the Church be sensitized to Jewish issues. He is committed to biblical clarity, historical accuracy, and creative techniques for presenting the Gospel message to the mass media."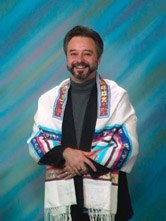 Dr. Weiss and I met at a Church in the heart of Chicago's Uptown Area. The Harvest Christian Center Is located at 4554 N. Broadway, Ste 221, Chicago IL 60640. This congregation is on fire for the L-rd and they love the Jewish people.
I pray that we can work together with Dr. Weiss to save lives and walk hand in hand, together, with them all into the Kingdom of Heaven. I pray that we can help each other in our ministries. Pleas pray for Dr. Weiss and CrossTalk Ministries.
To learn more about Dr. Weiss please click this link: www.crosstalk.org
---
Radio India: On Tuesday August 2nd and (Erev Shabbat) Saturday evening August 6th Gwenn and I were blessed to meet and break bread, with Pastor Abraham Eliphaz Motakatla (Senior Pastor of Calvary Chapel bible College India). Pastor Abraham Eliphaz Motakatla and Pastor William Liniewicz (Calvary Chapel Lake Villa , IL. USA) have been preparing for a Christian radio station in India. Pastor Abraham had met with "high level" officials and was given the government authorization to move ahead in building a 50,000 watt (or larger) am/fm broadcast facility. This radio station is the one mentioned at the SBC Pastors Conference.
FYI. Brother Bill Liniewicz is a dear brother in the L-rd who I met several years ago. The L-rd is working in and through him. We have grown close to them as they too have a heart for the salvation of the Jewish people and Israel as a nation.
Here are some photos taken in India during Brother Bill's last trip. The seminary in this photograph trains about 20 new ministers per year and sends them out into the jungle to start churches and save lives. The new ministers are trained sent out with the resources needed to succeed and after about 6 months to one year later they are ordained by the seminary. Brother Bill tells me that the people in India are hungry for the truth. The last time he was in India a family of 9 came to faith. They never heard about sin and never heard that forgiveness and eternal salvation was about making a choice. When they hear the Gospel of Mashiach they find peace like they have never had before. Baruch HaShem Yeshua.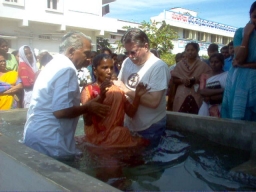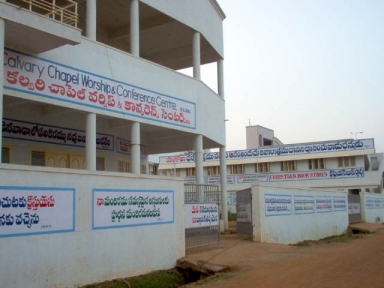 Psator Abraham Left / Bill Liniewicz to the left
Center: New life in Christ, in Mikvah
Check th
is
web site out.

http://www.radioindiaministries.com/ or for the Jungle Journal at

http://radioindiaministries.blogspirit.com
---
News From Hope of Israel in Jonesboro, GA. Shalom from Evonne Mandella with Hope of Israel in Jonesboro, GA. Rob will be performing a believer's mikvah for a new Jewish believer that came to us. Also, two children will have their mikvah as well this Saturday- Praise Adonai! We are also excited because we are adding a Friday night service this August. Please pray for us to serve the Lord wisely.
Evangelism at the Lake County Fair: Lake County Baptist Association and Congregation B'nai Ohr were both evangelizing at the Lake County Fair, Lake County Illinois. This was a blessing to all who worked the booths. Out of 30 booths in our building there were 6 to 7 booths spreading the Good News of Yeshua. The LCBA and B'nai both had booths. This building is highly visited during the fair and we had a chance to speak to numerous people. This was a time of street evangelism, conversational engagement and feeding people Light and Life. Baruch HaShem Yeshua. Please pray for those who we spoke to at the fair.
The SBMF Annual Meeting in Nashville: Please see the SBMF web news page dated July 7th..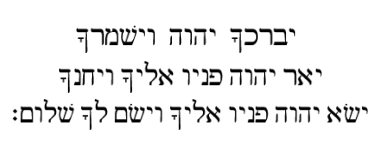 The L-RD bless you, and watch over you; The L-RD make His face shine on you, And be gracious to you; The L-RD lift up His countenance on you, And give you peace. [NASU Numbers 6:24-26]
Shalom