Southern Baptist Messianic Fellowship
News Update March 17, 2006

Shalom to all. "The grace of the Adonai Yeshua Ha'Mashiach, and the love of Elohim, and the fellowship of the Ruach HaKodesh, be with you all."
---
Don't Forget - Encampment is Coming in June:
Let us hold fast the confession of our hope without wavering, for He who promised is faithful. And let us consider one another in order to stir up love and good works, not forsaking the assembling of ourselves together, as is the manner of some, but exhorting one another, and so much the more as you see the Day approaching. [Hebrews 10:23-25]
Be healthy, be safe, be blessed, be found in Him.
---
Ministry Report From: SBMF President Ric Worshill
Mazel tov is in order for Rabbi Bob McDonald. On March 5th, 2006, one of our members, Bob McDonald was ordained in Pastoral Ministry as Messianic Minister and Rabbi. Rabbi McDonald was sponsored for ordination by Watseka Baptist Church in Watseka Illinois. Watseka Baptist Church in unity with the Three Rivers Baptist Association (Illinois) Credentials Committee and the Southern Baptist Convention questioned and voted to ordain Rabbi McDonald.
Baruch HaShem Yeshua
Mazel Tov Brother Bob
---
Prayer Requests From Your President: Ric Worshill
New Works In Flint & Detroit Michigan
New Hope New York
North Star Church: I found out about this new work while making arrangements for the SBMF Annual Meeting. This is a new work in the Greensboro, NC area. Jon Smith and Jennifer Hess are the missionaries starting this new work. This is not a Messianic Ministry but it is a new work in Yeshua and they need our prayers. Also Please pray for Jon and Jennifer as they will be married on April 8th. Please pass this on to your brother and sister prayer worriers. They meet at 8432 Norcross Rd. Colfax, NC. 27235
Please keep all of these new works in your prayers.
Please pray for our brother Rabbi Bob McDonald.
Please pray for the Greensboro Encampment. We also need someone to step up and lead us in Music Worship.
To this end also we pray for you always, that our God will count you worthy of your calling, and fulfill every desire for goodness and the work of faith with power, so that the name of our Lord Jesus will be glorified in you, and you in Him, according to the grace of our God and the Lord Jesus Christ. [2 Thessalonians 1:11-12]
And all things you ask in prayer , believing, you will receive. [Matthew 21:22]
If you would like to help these new works, please contact us.
---
Pesach - Passover is coming.
Check out the below SBMF ministries for details of their Pesach Services and Seders.
SBMF Member Pesach Celebrations
Please look at the web pages of these SBMF Congregations to view their plans for celebrating Pesach.
Dallas, TX.
North Side of Atlanta, GA.
South Side of Atlanta, GA.
West Side of Central Nashville, TN.
Pasadena, TX
Jewish-Christian Unity Congregation
Riverside County area of Southern California
Not all of our affiliated congregations have web sites. Some of of our members have not yet requested us to post links to their web sites. If you are a member of the SBMF and would like a link to your web site posted and linked, please contact us at the SBMF.
---
Come to the 2006 SBMF Greensboro Encampment
SBMF Annual Meeting News From Your President And Servant
Prepare for the SBMF Annual Meeting.
The SBMF Annual meeting will be coming up soon in Greensboro, NC. I recommend that you contact the SBC Lodging Agency for reservations. Many of us are lodging in the area of the Sheraton Greensboro Hotel at Four Seasons or the Greensboro Coliseum Complex.
Housing Telephone:
Toll Free (USA): 1-877-384-8056
International: 336-174-2282
Fax: 336-378-4484
Mail:
SBC Housing Bureau c/o GACVB
317 S. Greene Street, Greensboro, NC. 27401, United States
---
For More Greensboro Encampment News:
Please click on the 2006 SBMF Annual Meeting Updates web page for the Encampment schedule and plans.
We are looking forward to our coming together in praise, fellowship and learning. Remember Hebrews 10:23-25
We are looking forward to seeing you at the 2006 SBMF Annual Meetings. Unless we hear the shofar sound and a call from above, "Come up here".
Baruch Ha'bah B'Shem Adonai
---
Come join us in Greensboro this June. Real food and good fellowship.
We are what we eat. Feast on the Tree of Life. Be filled with Light and Life. Read the Word.
Blessed is he who reads and those who hear the words of this prophecy, and keep those things which are written in it; for the time is near. [Revelation 1:3 NKJV]
Baruch Ha'ba B'Shem Adonai
Blessed is he who comes in the name of the LORD! [Ps 118:26 NKJV]
---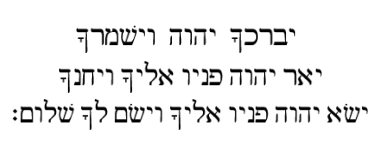 The L-rd bless you, and watch over you; The L-rd make His face shine on you, And be gracious to you; The L-rd lift up His countenance on you, And give you peace. [NASU Numbers 6:24-26]
Shalom Alechem