Southern Baptist Messianic Fellowship
News Update April 6, 2006
Pesach Is Coming

Shalom to all. "The grace of the Adonai Yeshua Ha'Mashiach, and the love of Elohim, and the fellowship of the Ruach HaKodesh, be with you all."
---
Special Event News: Rabbi Ken Alpren
Come Experience The Last Supper
As Jesus Celebrated Pesach
2006 Passover Seder
Monday, April 10th, 2006
The Seder begins promptly at 6:00 p.m.
Seating begins at 5:30
Dinner is served at 7:30
Seder ends at 8:45
$25 for Adult, $15 children 12 & under
Per-family cost to not exceed $60!
Purchase your tickets by Thursday, April 6th
online @ www.BrentwoodBaptist.com/Seder
or by phone @ 615.324.6164
Additional reservation required for childcare by calling 615.324.6160
Celebrate God's redemptive plan through teaching, music, comedy and dance. Our Seder is led by Marty Goetz, a wonderful born-again Jew who will teach us about the lamb that was slain, Jesus our Messiah! Come and learn about our Jewish roots in the Last Supper and communion and enjoy the Passover Feast with church family and friends.
| | |
| --- | --- |
| | Marty Goetz nationally acclaimed singer, pianist, Messianic Jew and modern day Psalmist along with Rabbi Ken Alpren of Kol Dodi Messianic Congregation will lead a traditional Seder meal, and teach about the origins and significance of communion from the perspective of the Jewish believer. |
---
Pesach - Passover is coming.
Check out the below SBMF ministries for details of their Pesach Services and Seders.
SBMF Member Pesach Celebrations
Please look at the web pages of these SBMF Congregations to view their plans for celebrating Pesach.
Dallas, TX.
North Side of Atlanta, GA.
South Side of Atlanta, GA.
West Side of Central Nashville, TN.
Pasadena, TX
Jewish-Christian Unity Congregation
Riverside County area of Southern California
Not all of our affiliated congregations have web sites. Some of of our members have not yet requested us to post links to their web sites. If you are a member of the SBMF and would like a link to your web site posted and linked, please contact us at the SBMF.
---
Special Event News: Rabbi Rob Mandella & Rabbi Jay Fielding
Invitation to our Messianic Judaism Seminar
Saturday June 17th 10:00 AM to 2:30 PM
Bring bag lunch. Seminar Material Provided.
No charge-Love Offering Appreciated
R.S.V.P. and more details on www.elsminstries.com / Messianic Seminars
Handouts will be available for those who R.S.V.P.
jay@elsministries.com
Seminar Location: Messianic Congregation Hope of Israel
directions on www.hopeofisraelonline.com
meeting in First Baptist Church Jonesboro,
148 Church Street, Jonesboro, GA 30237 770-471-0617
"God's purpose and passion to bless the Church and the Jewish people through Messianic Judaism"
The Purpose and Passion of our Messianic Seminar
Join us and develop a deeper understanding of God's desire to bless the Church-Messianic Body and the unsaved Jewish people through the growing end-time Messianic Judaism movement. In addition, you will learn why and how to practically apply Messianic Jewish scriptural principles in your churches, congregations, and personal ministries.
Agenda:
Introduction to Messianic Judaism and its role in blessing the Church
Understanding Jesus' and Paul's call to the Church to minister to the unsaved Jews
The Relevance of Israel and Biblical Judaism for all Believers
Practical ways for Churches and Believers to minister to the unsaved Jewish people.

Jesus wants to unite both Jews and Gentiles by faith in him into one family of God. He wants his own people to share in the wedding feast upon His messianic return. This is why the Holy Spirit has anointed an accelerating end-time Messianic Jewish movement within the Church. The Messianic Jewish movement's mission is to guide the Jewish people to receive Jesus as their prophesized Jewish Messiah. In addition, the Messianic Jewish movement has a calling to help the primarily Gentile Church be blessed with renewed appreciation for Biblical Judaism, and to become more effective in their calling to share the Gospel to both Jews and Gentiles.



Jay Fielding, Messianic Minister and Founder of Eternal life Style Ministries will lead the seminar. Jay is a Jewish Believers with over 15 years of experience in serving in Protestant denominations and 6 years in Messianic Judaism. His unique Jewish and Protestant perspective of Christianity will be an exciting and relevant aspect to the Messianic Judaism seminar.
The seminar will take place at Hope of Israel Messianic Congregation located inside First Baptist Church of Jonesboro, led by Congregation Leader Rob Mandella. Interestingly, Rob Mandella is a gentile Believer and Pastor who has chosen to lead a Messianic Jewish life-style and lead a Messianic Congregation. Rob will share why he felt called to Messianic Judaism and share about his congregation as an example for all of us to learn from.
---
Come to the 2006 SBMF Greensboro Encampment
SBMF Annual Meeting News From Your President And Servant
Don't Forget - Encampment is Coming in June:
Let us hold fast the confession of our hope without wavering, for He who promised is faithful. And let us consider one another in order to stir up love and good works, not forsaking the assembling of ourselves together, as is the manner of some, but exhorting one another, and so much the more as you see the Day approaching. [Hebrews 10:23-25]
Prepare for the SBMF Annual Meeting.
The SBMF Annual meeting will be coming up soon in Greensboro, NC. I recommend that you contact the SBC Lodging Agency for reservations. Many of us are lodging in the area of the Sheraton Greensboro Hotel at Four Seasons or the Greensboro Coliseum Complex.
Housing Telephone:
Toll Free (USA): 1-877-384-8056
International: 336-174-2282
Fax: 336-378-4484
Mail:
SBC Housing Bureau c/o GACVB
317 S. Greene Street, Greensboro, NC. 27401, United States
---
For More Greensboro Encampment News:
Please click on the 2006 SBMF Annual Meeting Updates web page for the Encampment schedule and plans.
We are looking forward to our coming together in praise, fellowship and learning. Remember Hebrews 10:23-25
We are looking forward to seeing you at the 2006 SBMF Annual Meetings. Unless we hear the shofar sound and a call from above, "Come up here".
Baruch Ha'bah B'Shem Adonai
---
Come join us in Greensboro this June. Real food and good fellowship.
We are what we eat. Feast on the Tree of Life. Be filled with Light and Life. Read the Word.
Blessed is he who reads and those who hear the words of this prophecy, and keep those things which are written in it; for the time is near. [Revelation 1:3 NKJV]
Baruch Ha'ba B'Shem Adonai
Blessed is he who comes in the name of the LORD! [Ps 118:26 NKJV]
---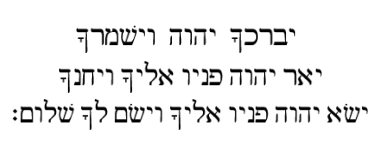 The L-rd bless you, and watch over you; The L-rd make His face shine on you, And be gracious to you; The L-rd lift up His countenance on you, And give you peace. [NASU Numbers 6:24-26]
Shalom Alechem